Bumblebee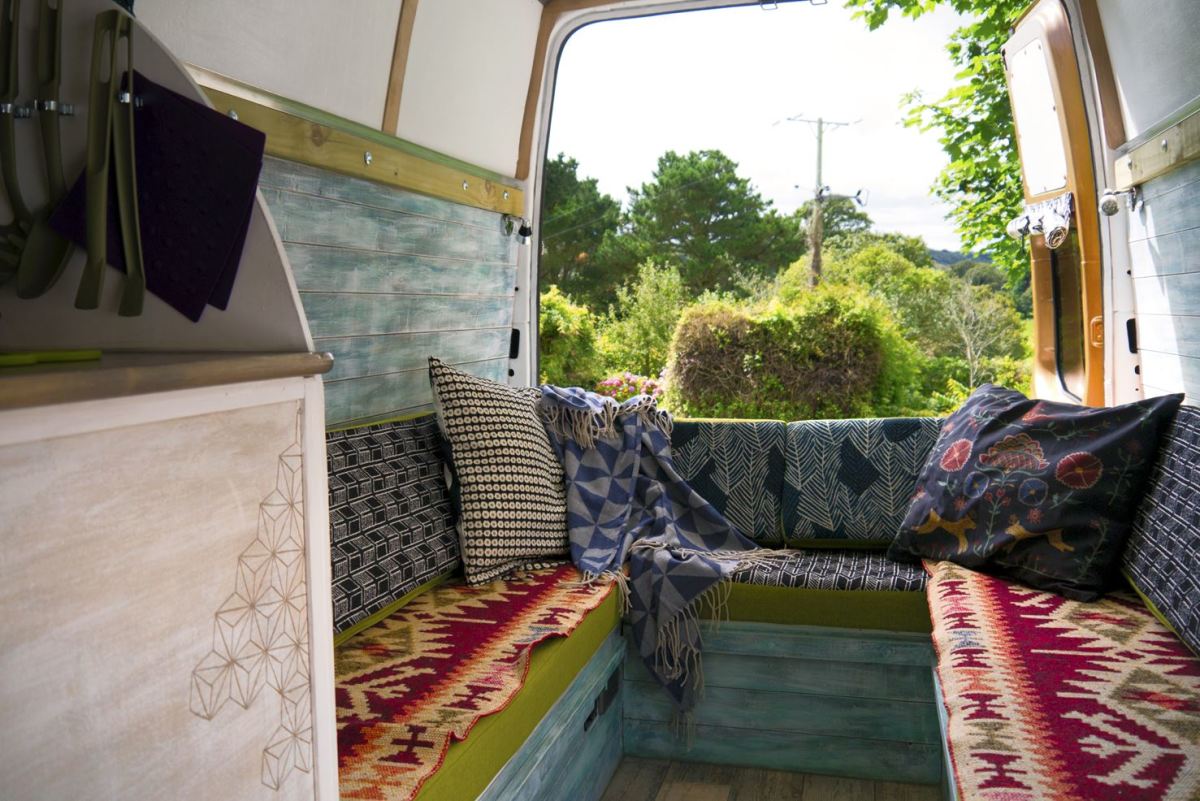 Falmouth
5 Belted seats 3 Adult berths 2 Child berths
Bumblebee is a fabulously cheery, 5-berth camper van based in the South West of the UK. She might be bright and bold on the outside, but inside she is calm, rustic and skilfully handcrafted from lots of upcycled and reclaimed materials. Bumblebee has excellent storage facilities and modern amenities like a 240v hook up and an extremely efficient diesel heater that quickly heats up the van, even in the depths of winter. Suitable for a family holiday, or for a romantic couple's retreat, this campervan hire Cornwall includes a top bunk for two children to stowaway, with removable netting for safety. For bigger kids, extra slats for the top bunk can be added. Bumblebee is ideal for those seeking adventure, and for those who enjoy their creature comforts. The best of both worlds!
Essential Information
Hob
Heater
Refrigerator
Kitchen Sink
Extra Storage
Queen Beds: &nbsp1
EU Travel Allowed
About the Campervan
Description of Beds: Wide bed (173cm wide by 190cm long- just under super-king size) can sleep 3. Top bunk for 2 children is fixed in place up to half way (152cm wide by 96cm long) it will sleep 2 children as it is and 2 tall children with the extra removable slats in place if needed (max combined weight 80kg)

Description of Seating: The drivers seat and a double seat in the front all have 3 point seat belts. In the back, behind the front passenger seats there are 2 rear facing seats (crash tested) with 3 point belts and isofix points. These rear facing seats should only be used with child seats that have isofix points.

About the area: Bumblebee lives on a private drive near Penryn, Cornwall where you can leave your vehicle when you pick Bumblebee up. There is a train station in Penryn which goes to and from Falmouth and Cornwall. It is also close to the picturesque villages of Mylor Bridge and Flushing. All of which are on bus routes. There are many many beautiful campsites all around Cornwall, ranging from top-end with all the amenities and facilities you could dream of to an off grid field or coastal overnight car-park. Falmouth Maritime Museum and Pendennis Castle are very close to where Bumblebee lives and there are many other attractions throughout Cornwall.

Parking: Off street parking

Cooking Equipment: Cutlery for 6 | Set of 5 large plastic utensils | 10 plates | 6 bowls | 4 mugs | 4 tumblers | 2 wine glasses | cocktail shaker | tin opener | potato peeler | 3 frying pans | 1 cooking pot | kettle | Bottle opener | Bread knife | Small sharp knife | Gas lighter | Dustpan and brush | 2 collapsible buckets | Collapsible colander | Tea towels and sponge/cloth | 1 collapsible drainer with tray | 4 heat mats | fire blanket.

Water Facilities: Water tank underneath the van feeds directly to the tap inside through pump.

Audio Equipment: Factory fitted CD player in the cab.

Type of Heating: Diesel Heater

Conversion Story: I bought Bumblebee in February 2017 as an ex-highway maintenance van. Bumblebee is a labour of love made to make family holidays affordable and as a source of income. I worked tirelessly on converting Bumblebee until August 2017, I used as much reclaimed wood and other materials as I could trying to create that hygge feel for adventuring in comfort and style! Bumblebee is double insulated with reflective bubble wrap insulation and recycled plastic insulation. My three year old son helped me with the name and the black stripes idea as he loves Bumblebee the Transformer!
Pick up / Drop off Times
| - | Pick up | Drop off |
| --- | --- | --- |
| Sunday | 12:00PM - 5:00PM | 12:00PM - 5:00PM |
| Monday | 3:30PM - 5:00PM | 3:30PM - 5:00PM |
| Tuesday | 3:30PM - 5:00PM | 3:30PM - 5:00PM |
| Wednesday | 3:30PM - 5:00PM | 3:30PM - 5:00PM |
| Thursday | 9:30AM - 5:00PM | 9:30AM - 5:00PM |
| Friday | 9:30AM - 5:00PM | 9:30AM - 5:00PM |
| Saturday | 12:00PM - 5:00PM | 12:00PM - 5:00PM |
Note: Campervan Hire prices are per 24 hours. If you request pick-up at an earlier time than your drop-off time the owner will quote you for the additional hours. Typically this is £12.50 per additional hour.
Vehicle Spec
Vehicle Type: camper-van
Make: Ford
Model: Transit
Year: 2008
Vehicle Length: 6 metres
Vehicle Height: 2.7 metres
Max Laden Weight (MAM): 3500 kg
Payload: 910 kg
Transmission: manual
Fuel Type: diesel
Registration: emailed when you book
Note: The hire of this vehicle is arranged by Quirky Campers ltd acting as the agent on behalf of Bumblebee's owners. We make every effort to ensure that all the vehicles listed with us are of a high standard but cannot guarantee the condition of the vehicle. If you experience any problems please notify us as soon as possible.