EX - Deirdre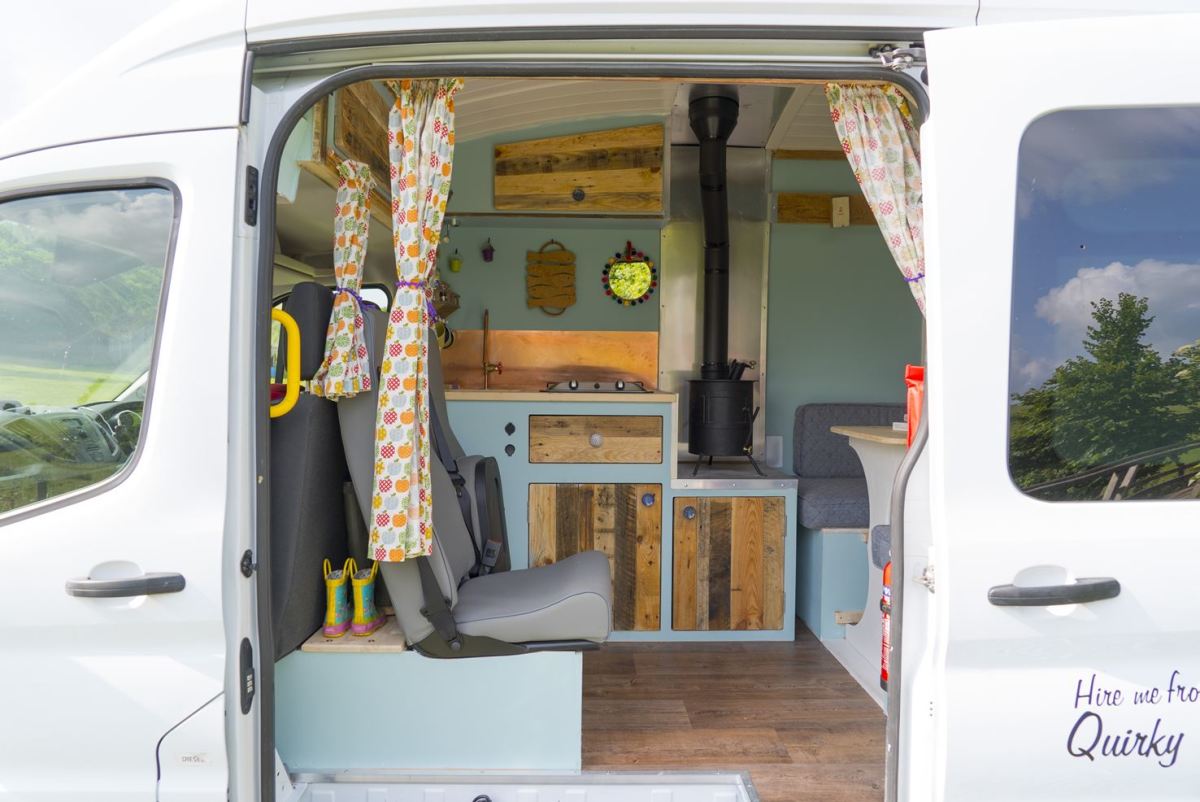 Frome
5 Belted seats 2 Adult berths 2 Child berths
Deirdre is a professionally converted campervan who is overflowing with rustic charm. This 4-berth camper has a cool, calm oceanic design vibe combined with handcrafted storage cupboards made from reclaimed wood. This family-friendly campervan hire Somerset is ready to take you on an off-grid adventure, fuelled by her roof-mounted solar panel. Deirdre is absolutely a van for all seasons, as her cosy wood burner will keep you warm and snuggly throughout the Winter months. She has so much storage, a fixed bunk for the little ones and a simple table-to bed set up for settling down at night. For campervan hire in Somerset, keep it straightforward - and pick up Deirdre from her lovely owners in Frome.
Essential Information
Hob
Dining Table
Refrigerator
Kitchen Sink
Solar
Extra Storage
Audio Inputs
Radio
Water Tank Capacity: &nbsp20 litres
About the Campervan
Description of Beds: Main bed is a superking size bed were 2 adults and a child fit perfectly, the top bed is perfect for a child with160cm x 70 cm and a maximum weight of 70kg

Description of Seating: 3 seats on the front and 2 on the back ( one fixed and one foldable ). All seats with 3 points belts. 3 seats suitable for baby carriers and 4 seats avaliable for children ( belt or ISO fixing ) . They don't swivel.

About the area: Deirdre lives in Frome and is parked on our drive, just 5 minutes walk from the train station and close to A36

Parking: Street parking

Cooking Equipment: Deirdre has a two-burner hob kitchen as well as a fridge and sink. Her utensils and cooking equipment inclues: 5 Knives, forks and spoons | 1 child knife, fork and spoon | 4 large plates | 4 small plates | 4 bowls | 1 child plate and bowl | 4 bamboo mugs | 2 tin mugs | 1 frying pan | 1 saucepan | 1 sharp knife | 1 bread knife | 1 bottle opener | 1 tin opener | 1 sieve | 1 peeler.

Water Facilities: 20l portable containers with gravity tap

Audio Equipment: Basic ford audio in the cab, it has USB and aux in port. No audio system on the back but we can provide an small portable speaker if requested.

Type of Heating: Woodburner

Conversion Story: After knowing each other for about 2 months Marc and Alice hired a quirky campervan, they loved it so much they hired another for their honeymoon 4 years later, and started dreaming about owning their own van, and now the dream is reality! Deirdre is a 2014 Ford Transit, relatively new and easy to drive for a large vehicle. The conversion was done by "Barrel of Monkeys". Marc was familar with Barrel of Monkey´s skilled carpentry and was excited to hear he was branching out into van conversion . Not only is he a very skilled craftsman he was easy to work with, willing to try new ideas and enthusiastic about the conversion. We sourced what we could locally, got mum on hand to make the curtains and used a co-operative to do the upholstery. We really enjoyed doing the decorative touches, like painting, oiling and adding beautiful things we came across, like our bakset and oil bottle from a holiday in Italy, and the door knobs and curtain material we found in our lovely Frome, it was really exciting seeing it all come together.
Pick up / Drop off Times
| - | Pick up | Drop off |
| --- | --- | --- |
| Sunday | 11:00AM - 2:00PM | 11:00AM - 2:00PM |
| Monday | 11:00AM - 2:00PM | 11:00AM - 2:00PM |
| Tuesday | 11:00AM - 2:00PM | 11:00AM - 2:00PM |
| Wednesday | 11:00AM - 2:00PM | 11:00AM - 2:00PM |
| Thursday | 11:00AM - 2:00PM | 11:00AM - 2:00PM |
| Friday | 11:00AM - 2:00PM | 11:00AM - 2:00PM |
| Saturday | 11:00AM - 2:00PM | 11:00AM - 2:00PM |
Note: Campervan Hire prices are per 24 hours. If you request pick-up at an earlier time than your drop-off time the owner will quote you for the additional hours. Typically this is £12.50 per additional hour.
Vehicle Spec
Vehicle Type: camper-van
Make: Ford
Model: Transit ( 2014 )
Year: 2014
Vehicle Length: 6 metres
Vehicle Height: 3.15 metres
Max Laden Weight (MAM): 3500 kg
Payload: 660 kg
Transmission: manual
Fuel Type: diesel
Registration: emailed when you book
Note: The hire of this vehicle is arranged by Quirky Campers ltd acting as the agent on behalf of EX - Deirdre's owners. We make every effort to ensure that all the vehicles listed with us are of a high standard but cannot guarantee the condition of the vehicle. If you experience any problems please notify us as soon as possible.