Fflur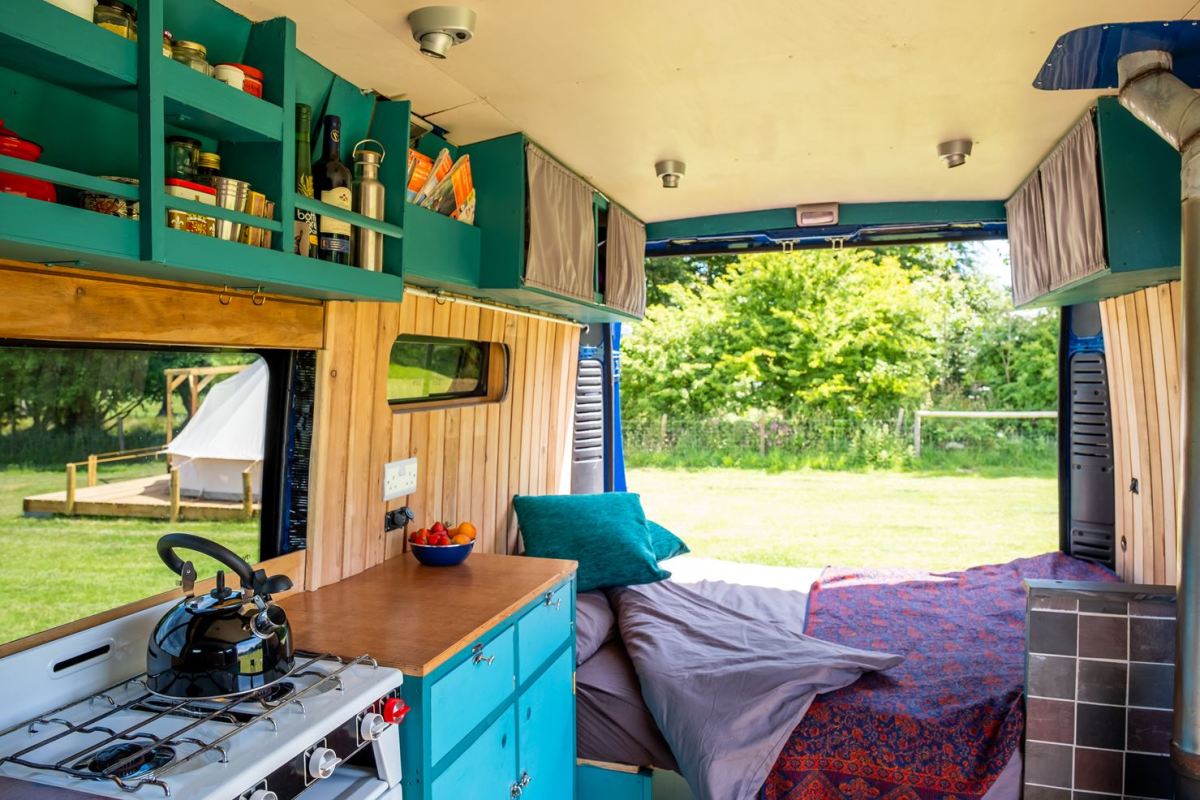 Ceredigion
3 Belted seats 2 Adult berths
Fflur (Welsh for 'flower') is a medium length, mid height van - so while comfortable & spacious, she is also easy to manoeuvre and just compact enough to fit in a regular parking space which makes city and town sightseeing trips no hassle at all. She has a super practical layout and lots of built in storage so you can bring along your bike, kayak or climbing gear, ball gowns and the kitchen sink! Fflur's small but efficient woodburning stove is guaranteed to keep you cosy on chillier evenings, perhaps as you snuggle down into the comfy double bed that is made up from the daytime bench seating. Fflur is full of enchanting details; from her reclaimed wood panelled walls to her collection of charming retro tins, enamelware crockery and cheerfully painted kitchen. She will give you a great base to explore from and a lovely home to come back to every day.
Essential Information
Hob
Heater
Dining Table
Oven
Kitchen Sink
Awning
Tow Bar
Extra Storage
About the Campervan
Description of Beds: double bed 185cm long 132cm wide which turns into bench seating

Description of Seating: 3 forward facing 3-point belted cab seats

About the area: Fflur lives just outside Llangrannog on the West Wales coast just a 5 minute drive from both the stunning National Trust Penbryn Beach and the beautiful Llangrannog Village with beaches, cafes and pubs right on the Ceredigion coastal path. Fflur is conveniently located in the middle of the Ceredigion coast of Wales making it an easy start point to explore the beautiful Welsh coastline or the mystical Welsh mountains with amazing sights in every direction. What ever you are looking for is just a simple hop away, from the fabulous Welsh coast path to secret coves, surf beaches, quiet river valleys or exhilarating mountain biking centers West Wales has it all.

Parking: Off street parking - You will be able to leave your car at the owners house and we will meet you to show you how everything works.

Cooking Equipment: There is a gas hob, oven and grill, perfect for cooking up belly-warming grub in the evening light. Cooking equipment and utensils include: 1 large lidded saucepan | 1 medium saucepan | 1 small saucepan | 1 large lidded frying pan | 1 small frying pan | 2 baking trays | 2 wooden chopping boards | large jug and colander | 3 lidded plastic bowls | 4 enamel plates | 2 enamel side plates | 4 enamel bowls | 2 coffee cups | 2 enamel mugs | 4 stainless steel goblets | 2 large kitchen knives | carving knife | paring knife | potato peeler | cheese grater | tin opener | 2 wooden spoons | wooden spatula | corkscrew | teatowels | kitchen roll, cling film and tin foil | cleaning wipes | wooden plate rack | dish cloth | washing up bowl | dustpan and brush.

Water Facilities: Portable water container with 12v pump to tap

Audio Equipment: cd player and radio in the cab

Type of Heating: Woodburner

Conversion Story: We bought Fflur in 2015 as an empty panel van. After many years of converting and living in buses we had progressed to building our own permanent home on the beautiful Ceredigion coast but we missed the nomadic call and decided to build ourselves a mini living vehicle for holidays and weekends away, so Fflur came into our lives. We converted her over a winter working on a layout that optimizes her practicality, we wanted to be able to carry bikes and kayaks, but still have a spacious, comfortable, cosy vehicle! We added windows, reclaimed pine timber cladding, a decent sized kitchen, a comfortable sleeping area, lots of storage and a teeny but efficient wood burner as well as a large roof rack, tow bar and awning. We have enjoyed many trips away here in the UK and further afield. Last year we acquired another van to convert but we can't bring ourselves to part with Fflur so we have decided to share the fun and hire her out instead.
Pick up / Drop off Times
| - | Pick up | Drop off |
| --- | --- | --- |
| Sunday | 10:00AM - 7:00PM | 10:00AM - 7:00PM |
| Monday | 9:00AM - 7:00PM | 9:00AM - 7:00PM |
| Tuesday | 9:00AM - 7:00PM | 9:00AM - 7:00PM |
| Wednesday | 9:00AM - 7:00PM | 9:00AM - 7:00PM |
| Thursday | 9:00AM - 7:00PM | 9:00AM - 7:00PM |
| Friday | 9:00AM - 5:00PM | 9:00AM - 5:00PM |
| Saturday | 9:00AM - 7:00PM | 9:00AM - 7:00PM |
When would you like to go?
Sorry, there was a problem...
Vehicle Spec
Vehicle Type: camper-van
Make: Citroen
Model: Relay
Year: 2009
Vehicle Length: 5 metres
Vehicle Height: 2.7 metres
Max Laden Weight (MAM): 3300 kg
Payload: 580 kg
Transmission: manual
Fuel Type: diesel
Registration: emailed when you book
Note: The hire of this vehicle is arranged by Quirky Campers ltd acting as the agent on behalf of Fflur's owners. We make every effort to ensure that all the vehicles listed with us are of a high standard but cannot guarantee the condition of the vehicle. If you experience any problems please notify us as soon as possible.