Roma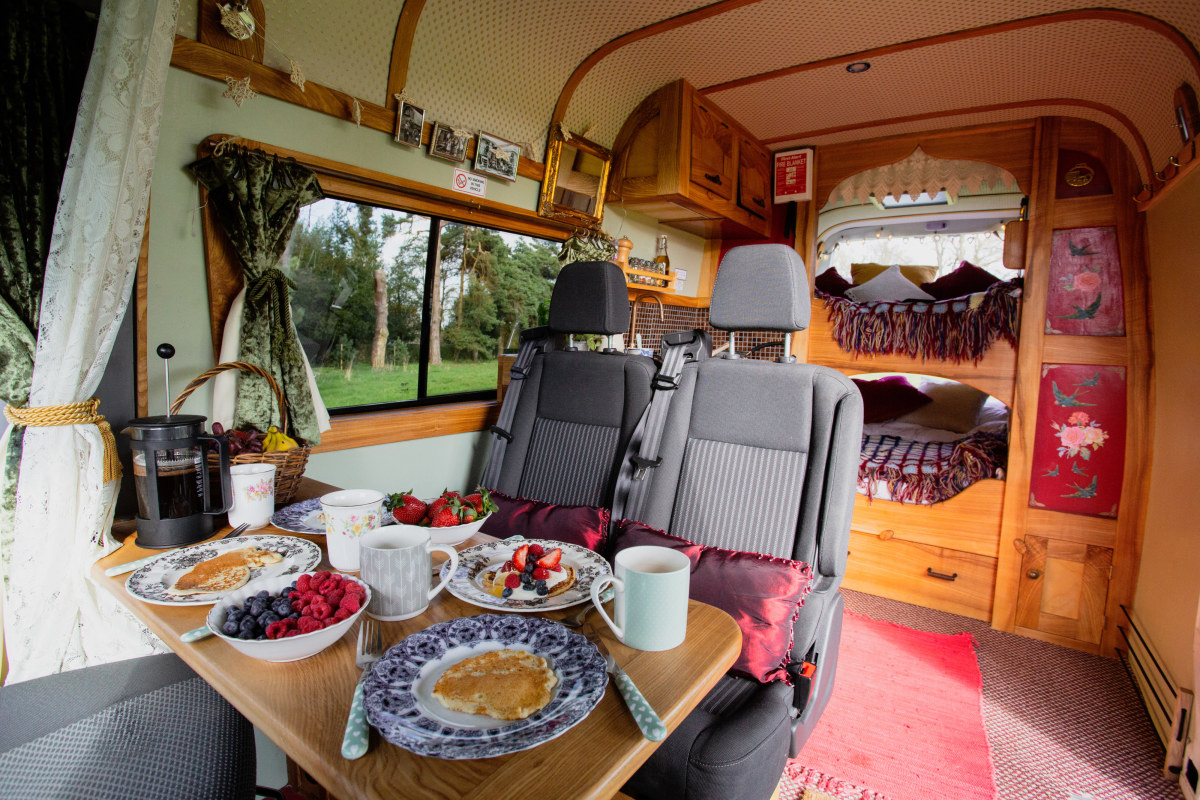 Oxfordshire
4 Belted seats 4 Adult berths
Roma is a bohemian, gypsy inspired true free-spirit campervan, whose super practical design is born from years of wanderlust and real-life van life experience. Roma's full-size fixed double bunk beds sleep up to 4 adults, which means no fussing with converting seats into mattresses after a long day's adventuring! This, along with her enchanting curved bulkheads and plush interior, makes cosying up in Roma a fairy-tale treat. She comes equipped with everything you need to head off the beaten path, including solar panel and a power invertor. Using the gas hob & fridge, and her jars of herbs & spices, your wilderness cooking can be enjoyed in sociable comfort - as the two front seats swivel to form a dining area for 4. This campervan hire Oxfordshire is a well-crafted, high spec camper van, ready to take you on an epic family campervan holiday.
Essential Information
Hob
Heater
Dining Table
Refrigerator
Kitchen Sink
Toilet
Awning
Solar
Reversing Camera
Extra Storage
Audio Inputs
Radio
Inverter
Waste Tank Capacity: &nbsp50 litres
Water Tank Capacity: &nbsp70 litres
EU Travel Allowed
About the Campervan
Description of Beds: The back of the van consists of two large full size double bunk beds. Both beds are 4'6' x 6'3". These can sleep two adults each or two adults and two children/two teenagers. No need to convert seats to beds as they are permanently made. Just hop into bed with no effort.

Description of Seating: Two front seats with 3 point harness seat belts. These both swivel round to create a dining area behind. Rear twin seat forward facing with 3 point harness seat belts. These join the front seats to create the dining area. All seats are suitable for child and baby seats.

About the area: Roma lives in a tiny village in the Oxfordshire countryside. We are only 1 mile from Jct 7 off the M40. There is a wonderful bus service from Heathrow and Gatwick to Lewknor which is only 1 mile away, where i can pick you up. This is the same bus stop used for the Oxford Tube Bus service, which is also an excellent service from London Victoria, Marble Arch, Notting Hill, Shepherd Bush and Hillingdon or from Oxford. This is available 24 hrs every 10 minutes during the day and 20 minutes throughout the night. Nearest Train stations are High Wycombe or Princess Risborough. If i am available and need be I can arrange a transfer service from Heathrow airport as i am only 30 mins away at a traffic free time, longer in rush hour! This will need to be arranged in advance and a fee will be charged for this service.

Parking: Off street parking

Cooking Equipment: 2 gas ring burner hob. Large 12v electric fridge with freezer compartment. Belfast sink Cold tap with running water. Frying pan | milk pan | 2 x saucepan with lid | large pot with lid | wooden spoon set | ladle | spatula | tongs | potato masher | large knife | bread knife | small knife | chopping board | Copper kettle | salad bowl | wooden bowl | bread basket | ceramic serving dish | dinner plates x 4 | side plates x 4 | bowls x 4 | Mugs x 4 | Tumblers x 4 | Wine glasses x 6 | cafetiere | teapot | hand towel x 1 | tea towels x 2 | Spice pots full of herbs and spices | Salt and Pepper grinders.

Water Facilities: There is an under chassis water tank which provided fresh water through a handmade copper tap via a pump which automatically pumps water from the tank when the tap is turned on. There is an easy access filler cap to fill the tank with water when needed to the exterior of the van. There is also a waste water tank which takes all your waste from the belfast sink.

Toilet Facilities: Due to the current situation Roma has a portable toilet and tent included in the price. Th toilet is stored under the bed whilst driving and can be placed in the van or tent whilst static.


Audio Equipment: There is a built in Mercedes Sprinter stereo. Also a Sony car stereo which is above the drivers head with its own speakers running off the 12v system. It has bluetooth connectivity, a USB port, CD player and phono input.

Type of Heating: Diesel Heater

Conversion Story: Roma has been inspired by my childhood years travelling throughout Europe and Morocco in a Mercedes van with my parents. And then finally living in a Roma caravan for a number years where my first son was born. Roma started life as a normal DPD delivery van until 2017 which was when i bought her. I started the conversion having planned, designed and researched all that i needed to turn her into a lavish style camper van inspired by Romany caravan interiors and the love of the road. A traditional Vardo caravan has a fabric stretched canvas. Roma has a beautifully wall papered ceiling with arched stripes of Ash recreating this design. The British Romany tradition of the vardo is seen as a high cultural point of both artistic design and a masterpiece of woodcrafters art, which Roma has in abundance. She is made from a locally fallen Olive Ash tree along with reclaimed wood. No expense has been spared made with Roma's detail. With her gypsy painted panel design, handmade velvet curtains to keep you warm and cosy at night and plenty of cushions for comfort.

Warning: The payload of this vehicle is 400kg. This is below the Quirky Campers recommended payload of 460kg for a vehicle with 4 belted seats. Drivers need to be aware that the total weight of driver, passengers and baggage must be below 400kg to keep the vehicle within its legal Max Allowed Mass (MAM) of 3500kg
Pick up / Drop off Times
| - | Pick up | Drop off |
| --- | --- | --- |
| Sunday | 9:00AM - 6:00PM | 9:00AM - 6:00PM |
| Monday | 9:00AM - 6:00PM | 9:00AM - 6:00PM |
| Tuesday | 9:00AM - 6:00PM | 9:00AM - 6:00PM |
| Wednesday | 9:00AM - 6:00PM | 9:00AM - 6:00PM |
| Thursday | 9:00AM - 6:00PM | 9:00AM - 6:00PM |
| Friday | 9:00AM - 6:00PM | 9:00AM - 6:00PM |
| Saturday | 9:00AM - 6:00PM | 9:00AM - 6:00PM |
Note: Campervan Hire prices are per 24 hours. The default pick up and drop off time is 2pm. If you request a pick up or drop off outside of this, the owner will quote you for the additional time. Typically this is £12.50 per additional hour.
When would you like to go?
Sorry, there was a problem...
Vehicle Spec
Vehicle Type: Campervan
Make: Mercedes-Benz
Model: Sprinter LWB
Year: 2011
Vehicle Length: 7 metres
Vehicle Height: 2.8 metres
Max Laden Weight (MAM): 3500 kg
Payload: 400 kg
Transmission: manual
Fuel Type: diesel
Fuel Efficiency: 33 mpg
Registration: emailed when you book
Note: The hire of this vehicle is arranged by Quirky Campers ltd acting as the agent on behalf of Roma's owners. We make every effort to ensure that all the vehicles listed with us are of a high standard but cannot guarantee the condition of the vehicle. If you experience any problems please notify us as soon as possible.