Ex - Florence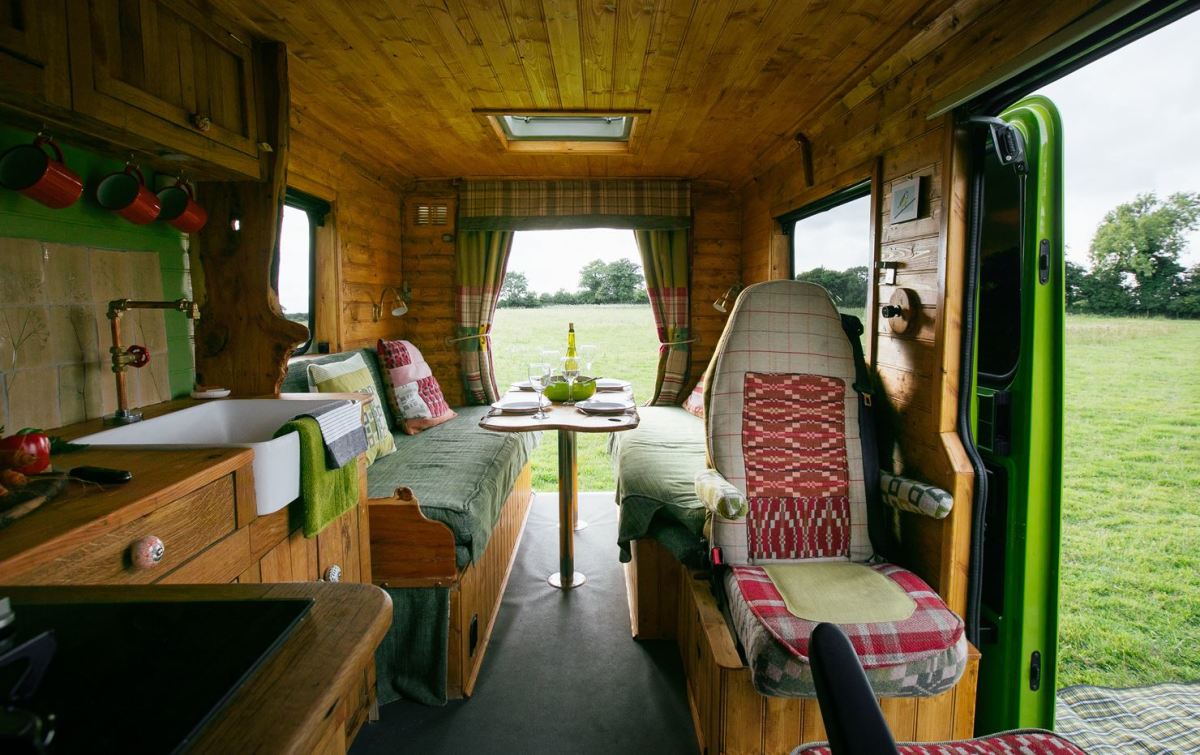 Pembrokeshire
5 Belted seats 4 Adult berths 1 Child berths
Florence is a professionally converted campervan, who evokes a country kitchen on wheels. This former ambulance is a high-quality rolling home, who is spacious for a whole family of 5 to live and sleep really comfortably, but compact enough to drive really easily, too. With a full size 3-ring hob, loads of storage space, a deep counter and a butler sink, cooking will be pure pleasure; a far cry from squatting over a camping stove! Then you can eat in comfort around the large and beautiful larch dining table, which is also perfect for reading, games and route planning your road trip! From the handmade kitchen tiles, to the Welsh fabric patchwork chairs, there's a gorgeous attention to design perfection everywhere you look. And, make sure you look in the cupboards, where there's always something local for you to enjoy, from Café Mor condiments, Teifi Dragon coffee or eggs from the owner's hens!

*Please note, Florence requires a Category C1 or equivalent driving licence, allowing the driver to drive vehicles OVER 3.5T.*
Essential Information
Hob
Heater
Refrigerator
Kitchen Sink
Extra Storage
About the Campervan
Description of Beds: Large Double bed (6ft x 6ft 4") 2 x single bunks above double (6ft x 2ft 4") Cab bed for child (170cm x 47cm)

Description of Seating: Three belted seats in cab ie driver's seat and bench seat. Front passenger airbag which cannot be disabled. No ISO fixings. 3 point seat belts. In the rear, two belted seats, positioned 'train style' beside sliding side door, one forward and one rear facing. The forward facing seat can take an Infant Carrier style rear-facing car seat (such as Maxi Cosi Rock). Other passenger seats can only take forward facing car seats. A small table can be assembled between these rear seats - great for the kids to draw and play games during the journey. 3 point seat belts, with shoulder belt attached to seat. All seats are fixed.

About the area: Florence lives on our small farm in South Pembrokeshire, just off the A40 and hidden away at the end of the track. About 5 miles north of Narberth.

Parking: You can safely leave your car here whilst off on your adventure, or we can arrange to collect you from the local station (Clunderwen).

Cooking Equipment: Electric coolbox | 6 x enamel mug | 6 x enamel plate | 6 x enamel bowl | Cutlery set (for 6) | Bialetti mini express coffee maker | Cafetiere | Kettle | 2 x stainless steel pot | 1 x frying pan | 2 x cooking knives | Peeler | Collapsible colander | Bottle opener/corkscrew | Hand towel | Tea towel(s) | Small handmade soap | Collapsible draining board | Washing up sponge/brush | Washing up liquid | Tea, Teifi Dragon ground coffee, herb teas, sugar, salt and pepper, herb and spice selection | Cafe Mor seasonings, olive oil, sunflower oil, balsamic vinegar | Eggs (when our hens are laying)

Water Facilities: 23 litre portable container, with electric tap

Audio Equipment: Radio in cab

Type of Heating: Gas Heater

Conversion Story: Florence came to us having finished her working life as an ambulance in Yorkshire. We love to see things taking on a new lease of life, and we felt that with her beautiful shape, Florence was perfect for a roomy campervan conversion. We wanted to use materials that reflect our spot in Pembrokeshire - oak trees, Welsh wool, the hedgerows. We knew we had found great people to work with when we came across Rustic Simplicity. It became clear really quickly that they understood what we were hoping to achieve and that they were very much up for the challenge of a less traditional vehicle. James crafted her interior using reclaimed oak for the cupboards and a beautiful piece of larch for the main table. Anita incorporated our Welsh fabric into the wonderful upholstery, bringing a real sense of comfort and homeliness. Florence has plenty of space for the family, and yet is cosy should the 2 of us ever have the opportunity to sneak her away for a weekend. In 6 short but packed months, Florence was transformed from a working ambulance to a beautiful camper van to enjoy and share :) She may not be the youngest vehicle, but has everything you need to explore the countryside at a leisurely pace in comfort. No rush required. We hope you enjoy her as much as we do.

*Please note, Florence requires a Category C1 or equivalent driving licence, allowing the driver to drive vehicles OVER 3.5T.*
Pick up / Drop off Times
| - | Pick up | Drop off |
| --- | --- | --- |
| Sunday | 9:00AM - 5:00PM | 9:00AM - 5:00PM |
| Monday | 9:00AM - 5:00PM | 9:00AM - 5:00PM |
| Tuesday | 9:00AM - 5:00PM | 9:00AM - 5:00PM |
| Wednesday | 9:00AM - 5:00PM | 9:00AM - 5:00PM |
| Thursday | 9:00AM - 5:00PM | 9:00AM - 5:00PM |
| Friday | 9:00AM - 5:00PM | 9:00AM - 5:00PM |
| Saturday | 9:00AM - 5:00PM | 9:00AM - 5:00PM |
Note: Campervan Hire prices are per 24 hours. The default pick up and drop off time is 2pm. If you request a pick up or drop off outside of this, the owner will quote you for the additional time. Typically this is £12.50 per additional hour.
Vehicle Spec
Vehicle Type: Campervan
Make: Volkswagen
Model: Crafter (former ambulance) MWB
Year: 2008
Vehicle Length: 6 metres
Vehicle Height: 2.7 metres
Class / Floorplan: C1
Max Laden Weight (MAM): 5000 kg
Payload: 1,520 kg
Transmission: manual
Fuel Type: diesel
Registration: emailed when you book
Note: The hire of this vehicle is arranged by Quirky Campers ltd acting as the agent on behalf of Ex - Florence's owners. We make every effort to ensure that all the vehicles listed with us are of a high standard but cannot guarantee the condition of the vehicle. If you experience any problems please notify us as soon as possible.
Reviews
This van hasn't yet received any reviews.