Honeybee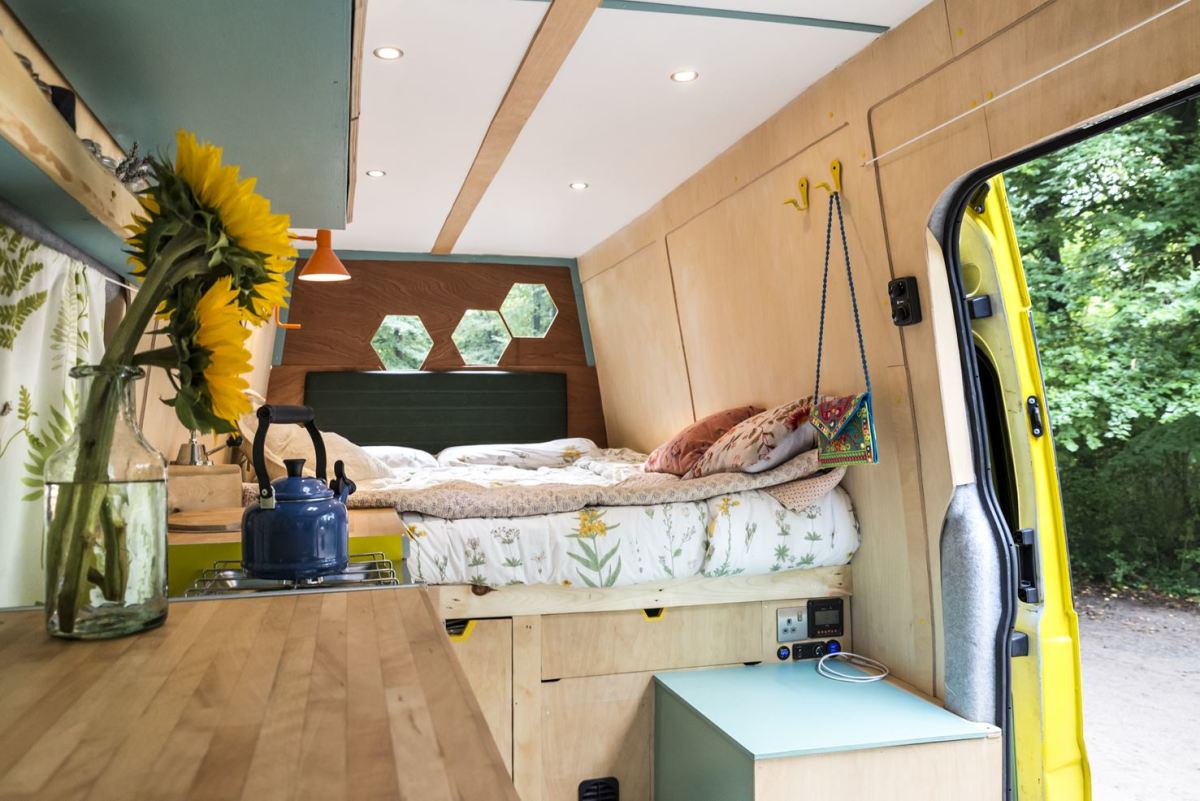 Bristol
3 Belted seats 2 Adult berths
Honeybee is a truly original conversion. Inspired by her black and yellow exterior, and a love of bees, her owners created a campervan that is truly deserving of her name and befitting of a queen. From the honeycomb cutout motif found throughout the woodwork, to the illustrated bee books, to the wild flower seed bombs, she will give you an unbee-lievable experience. Her owners wanted a space that was light, airy and comfortable, and she certainly is that. Plus her splashes of colour and expertly upholstered seats give her a real pizazz. She's an eco-conscious choice, utilising recycled materials and organic sheep's wool insulation; while her powerful sound system, sockets, lights and fridge are all powered by the sun's rays. Her heater will keep you cosy on the coolest of nights while her freezer compartment will provide you with ice for your summer sundowners. So why not escape the hive and buzz off to the land of milk and honey!
Essential Information
Hob
Heater
Dining Table
Refrigerator
Kitchen Sink
Solar
Extra Storage
CD Player
Audio Inputs
Radio
Inverter
King Beds: &nbsp1
Waste Tank Capacity: &nbsp25 litres
Water Tank Capacity: &nbsp25 litres
EU Travel Allowed
About the Campervan
Description of Beds: Bigger than king size memory foam bed

Description of Seating: There is sociable seating for up to 4 people inside Honeybee .

About the area: Honeybee lives in Bristol and is parked outside our home in vibrant St. Werburghs, just off Junction 3 of the M32. It is really quickly and easily accessible from the motorway and you can dodge the city centre traffic!

Parking: Street parking

Cooking Equipment: Kettle, Set of 4 enamel large plates | small plates and bowls | Cutlery set for 4 | 4 enamel mugs | 4 plastic glasses | 4 large plastic wine glasses | Kitchen knife set | Veg peeler | Corkscrew | Wooden spoons | Grater | Good range of herbs and spices | Salt and Pepper | Colander | Steamer | Saucepan | Frying pan | Grill pan | 2 chopping boards | Washing up bowl | Tea towels.

Water Facilities: 25 litre portable fresh water container. 25 litre waste water container.

Audio Equipment: CD, Radio and Aux input in cab. Aux input in back. All cables included.

Type of Heating: Gas Heater

Conversion Story: Honeybee started life in 2011 as a Citylink van. In May 2017, we (John and Cat) began converting her into our ideal campervan. We wanted to create a space that was light, spacious and extra comfortable. We were keen to use locally sourced products wherever we could; organic sheep wool from Wales for the insulation and EU made Birch plywood for the walls and cupboards. We set out to recycle materials when possible, so we used the old heavy duty plywood flooring as the platform for the bed, the metal cut out from fitting the windows to line the hob and grill and Birch pallet wood for the bed frame, window sills and table. We named her very early during the build after taking the bright yellow paintwork as inspiration. We then ran with the bee theme using the honeycomb cutouts for the cupboard doors, drawers and on the 'wardrobe wall' at the back of the van. We spent weeks sourcing the finishing details like the yellow hooks made from recycled steel and the speakers with bright yellow cones! There are beautifully illustrated books on the Bee in one of the drawers in the van, perfect bedtime or rainy day reading! We also supply wild flower seed bombs for you to launch at unsuspecting verges and roundabouts! The Honeybee is equipped with a huge 300 watt UK made solar panel. This charges the large capacity leisure batteries very quickly, (even when it's cloudy!), meaning that all the lighting, sound system, usb charging, mains socket and fridge with freezer compartment are powered by the sun's rays! The front seats have been professionally reupholstered by Cat of Catupholstery. They look great thanks to the yellow piping and are comfortable on long drives too! They also swivel, maximising space inside. Cat also made the curtains, headboard and large storage pockets on the rear doors. We love Honeybee and can't wait for others to enjoy her too!
Pick up / Drop off Times
| - | Pick up | Drop off |
| --- | --- | --- |
| Sunday | 9:00AM - 5:00PM | 9:00AM - 5:00PM |
| Monday | 9:00AM - 5:00PM | 9:00AM - 5:00PM |
| Tuesday | 9:00AM - 5:00PM | 9:00AM - 5:00PM |
| Wednesday | 9:00AM - 5:00PM | 9:00AM - 5:00PM |
| Thursday | 9:00AM - 5:00PM | 9:00AM - 5:00PM |
| Friday | 9:00AM - 5:00PM | 9:00AM - 5:00PM |
| Saturday | 9:00AM - 5:00PM | 9:00AM - 5:00PM |
Note: Campervan Hire prices are per 24 hours. If you request pick-up at an earlier time than your drop-off time the owner will quote you for the additional hours. Typically this is £12.50 per additional hour.
When would you like to go?
Sorry, there was a problem...
Vehicle Spec
Vehicle Type: camper-van
Make: Ford
Model: Transit
Year: 2011
Vehicle Length: 6.5 metres
Vehicle Height: 2.7 metres
Max Laden Weight (MAM): 3500 kg
Payload: 720 kg
Transmission: manual
Fuel Type: diesel
Registration: emailed when you book
Note: The hire of this vehicle is arranged by Quirky Campers ltd acting as the agent on behalf of Honeybee's owners. We make every effort to ensure that all the vehicles listed with us are of a high standard but cannot guarantee the condition of the vehicle. If you experience any problems please notify us as soon as possible.