EX - Hygge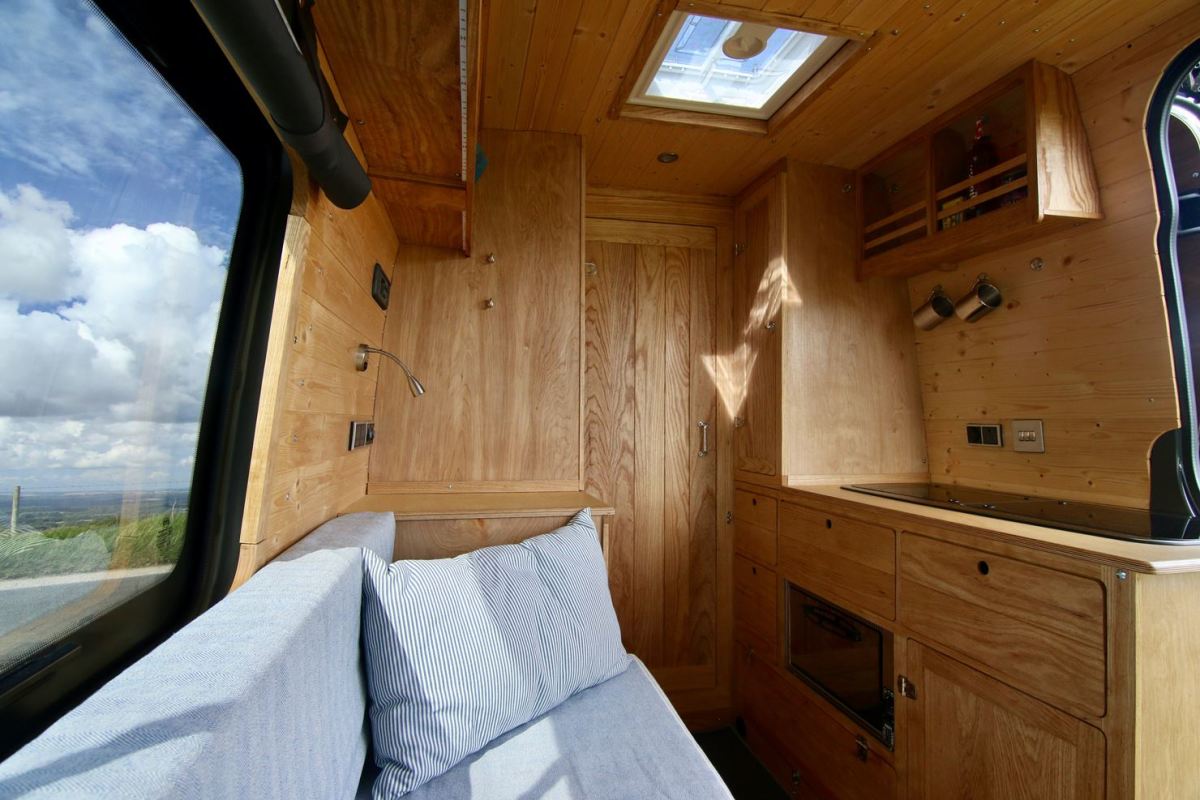 London
3 Belted seats 2 Adult berths
Hygge by name, and Hygge by nature! This beautifully designed campervan hire London brings the outside in with the gorgeous wooden interior that has been expertly crafted with a level of attention to detail that makes up super jealous of the skills used here! The living space is classy and luxurious, with hob, oven and grill, as well as hot running water for the built-in shower and toilet! Don't be fooled by this plush interior though, the garage space under the fixed double bed can take your bike, your surf board can go on the roof rack, and the solar panels will supercharge your off-grid activity packed adventure road trip! Get ready to leave the London city-life behind, and take in the mist rolling over the mountains as you wake up and peek out the window on a crisp spring morning, with the curl of steam rising invitingly off a warm mug of coffee!
Essential Information
Air Conditioner
Hob
Heater
Oven
Refrigerator
Kitchen Sink
Inside Shower
Toilet
Solar
Extra Storage
About the Campervan
Description of Beds: a sofa that turns into a double bed. The bed is 180cm long but you have space for your feet to overhang if tall.

Description of Seating: 1x driver's seat with armrests. 2x passenger seats in cab.

About the area: Hygge is based in Croydon about 5 minutes walk from both Sanderstead and Purley Oakes train stations which are only 25 minutes from the centre of London. A 15 minute drive to the M25 and beyond!

Parking: Street parking

Cooking Equipment: Grill/oven with 2 gas burner hobs. Chopping board | Pots | Frying pan | Cutlery | Mugs | Bowls | Plates.

Water Facilities: There is a total capacity of 90 litres of water. There is a boiler for hot water too!

Audio Equipment: USB connectivity in cab to connect phone which you can play music through. Handsfree connectivity for phone call. Radio.

Type of Heating: Gas Heater
Pick up / Drop off Times
| - | Pick up | Drop off |
| --- | --- | --- |
| Sunday | 9:00AM - 5:00PM | 9:00AM - 5:00PM |
| Monday | 9:00AM - 5:00PM | 9:00AM - 5:00PM |
| Tuesday | 9:00AM - 5:00PM | 9:00AM - 5:00PM |
| Wednesday | 9:00AM - 5:00PM | 9:00AM - 5:00PM |
| Thursday | 9:00AM - 5:00PM | 9:00AM - 5:00PM |
| Friday | 9:00AM - 5:00PM | 9:00AM - 5:00PM |
| Saturday | 9:00AM - 5:00PM | 9:00AM - 5:00PM |
Note: Campervan Hire prices are per 24 hours. The default pick up and drop off time is 2pm. If you request a pick up or drop off outside of this, the owner will quote you for the additional time. Typically this is £12.50 per additional hour.
Vehicle Spec
Vehicle Type: Campervan
Make: Volkswagen
Model: Crafter
Year: 2016
Vehicle Length: 6 metres
Vehicle Height: 3 metres
Max Laden Weight (MAM): 3500 kg
Payload: 800 kg
Transmission: manual
Fuel Type: diesel
Registration: emailed when you book
Note: The hire of this vehicle is arranged by Quirky Campers ltd acting as the agent on behalf of EX - Hygge's owners. We make every effort to ensure that all the vehicles listed with us are of a high standard but cannot guarantee the condition of the vehicle. If you experience any problems please notify us as soon as possible.
Reviews
This van hasn't yet received any reviews.