EX - Luna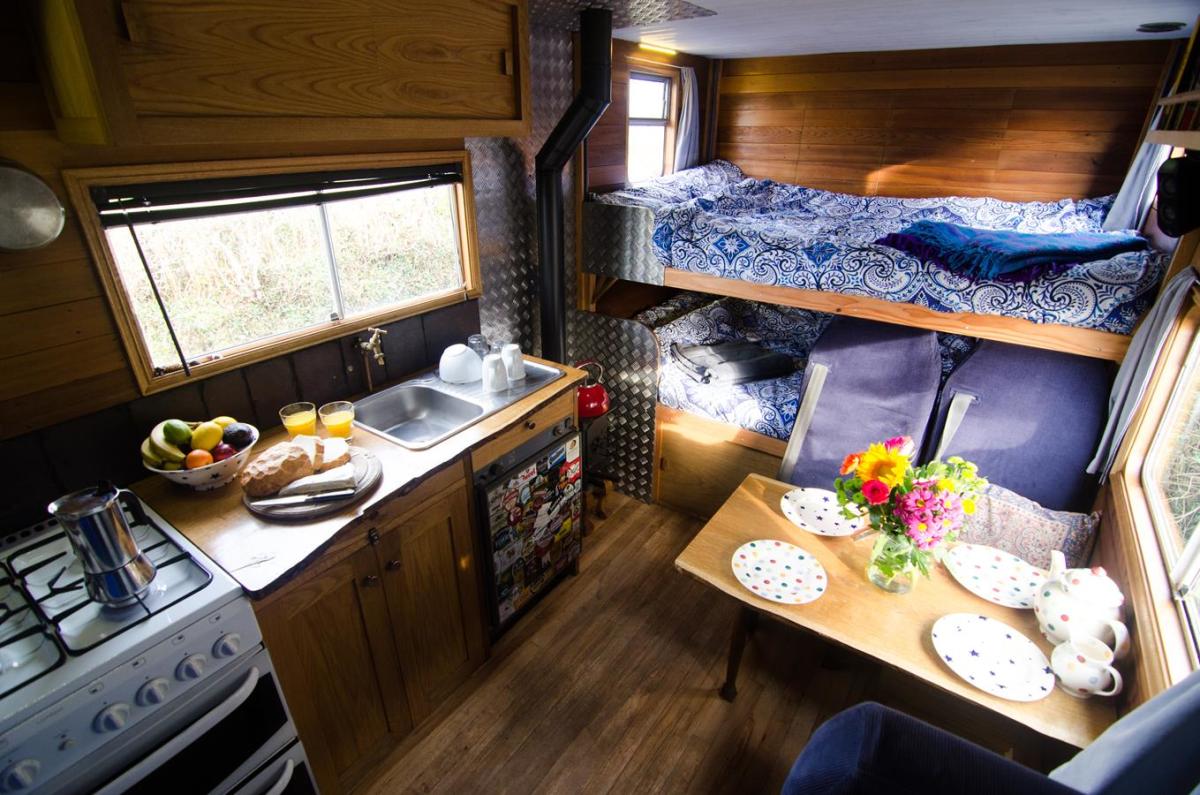 Carmarthenshire
5 Belted seats 4 Adult berths
Lovely Luna is a cottage on wheels; beautifully converted with reclaimed cedar, maple and oak, and room for a family of 5. Built with cedar panelling and maple floor Luna is good-looking as well as practical and incredibly comfortable! There are two double beds, 5 belted seats, a wood burner to keep you toasty warm and a big kitchen that includes a full-size oven! On bright days, the solar panels will charge up Luna's batteries while you're out exploring the breath-taking scenery of west Wales or wherever you've chosen to take her. Situated between the adventure-packed Brecon Beacons and one of the country's best coastlines, this campervan hire Wales is ideal for families who like to make their own adventures!
Essential Information
Hob
Heater
Oven
Refrigerator
Kitchen Sink
Solar
Pet Friendly
EU Travel Allowed
About the Campervan
Description of Beds: Two double beds in bunk formation, bottom one with the option of a safety rail for small children. Please choose from list of extras

Description of Seating: There are 5 belted seats all with 3 point belts. 2 are in the cab and the other 3 are in the back. The seats in the rear are not suitable for rear facing child seats but fine for front facing ones. The cab is accessible from the main accommodation via a door.

About the area: Luna lives in a yard, 1 mile outside Llanybydder.

Parking: Off street parking

Cooking Equipment: Crockery, cutlery and kitchen equipment for 6 | Coffee pot and kettle | Herbs and spices | Washing up liquid, sponge and tea towels | Spare gas bottle

Water Facilities: 70 litres tank supplied with Welsh water

Audio Equipment: Radio, USB and mini jack in the cab. Mini jack in the living area.

Type of Heating: Woodburner
Pick up / Drop off Times
| - | Pick up | Drop off |
| --- | --- | --- |
| Sunday | 9:00AM - 5:00PM | 9:00AM - 5:00PM |
| Monday | 9:00AM - 5:00PM | 9:00AM - 5:00PM |
| Tuesday | 9:00AM - 5:00PM | 9:00AM - 5:00PM |
| Wednesday | 9:00AM - 5:00PM | 9:00AM - 5:00PM |
| Thursday | 9:00AM - 5:00PM | 9:00AM - 5:00PM |
| Friday | 9:00AM - 5:00PM | 9:00AM - 5:00PM |
| Saturday | 9:00AM - 5:00PM | 9:00AM - 5:00PM |
Note: Campervan Hire prices are per 24 hours. If you request pick-up at an earlier time than your drop-off time the owner will quote you for the additional hours. Typically this is £12.50 per additional hour.
Vehicle Spec
Vehicle Type: camper-van
Make: Iveco
Model: Luton conversion
Year: 2007
Vehicle Length: 6 metres
Vehicle Height: 3.2 metres
Max Laden Weight (MAM): 3500 kg
Payload: 400 kg
Transmission: manual
Fuel Type: diesel
Registration: emailed when you book
Note: The hire of this vehicle is arranged by Quirky Campers ltd acting as the agent on behalf of EX - Luna's owners. We make every effort to ensure that all the vehicles listed with us are of a high standard but cannot guarantee the condition of the vehicle. If you experience any problems please notify us as soon as possible.