EX - Mo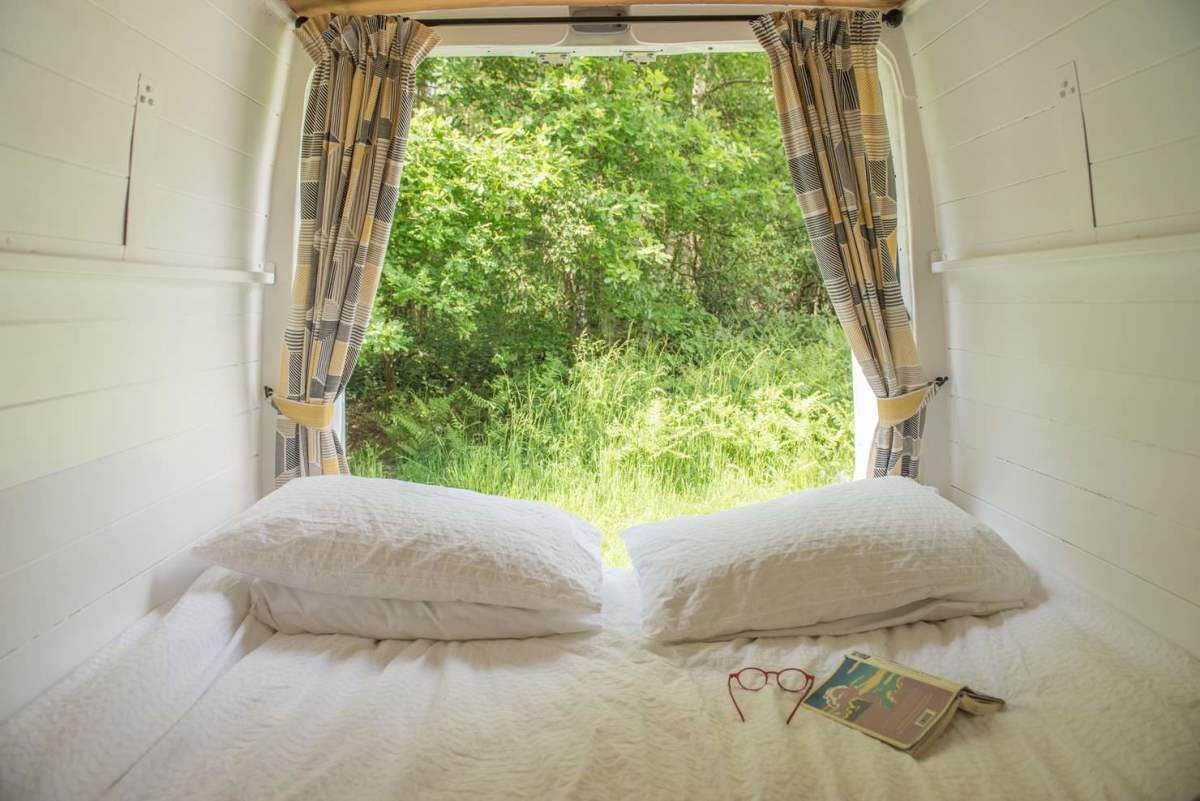 South Yorkshire
5 Belted seats 5 Adult berths
With her clean lines and elegant styling, Mo's fresh interior wouldn't be out of place in a Copenhagen apartment. She is an ingeniously designed and masterfully executed campervan with room for up to five adults. The perfect marriage of functionality and style, featuring all mod cons including solar power for an off-grid campervan holiday and a built-in toilet. So much love has gone into Mo's styling, from the vintage china teacups to the artwork on the walls to the brass piano hinges on cupboard doors. You'll love the clever design that creates space for masses of storage and includes zone lighting (so you can cook or read while others sleep) and handy fold-down shelves. Best of all, with both beds' full width and 6 foot or more in length, even the tallest campers can sleep in comfort.
Essential Information
Hob
Heater
Refrigerator
Kitchen Sink
Toilet
Tow Bar
Solar
Extra Storage
Pet Friendly
About the Campervan
Description of Beds: Super Kingsize lower bunk 6'4" x 5'8" (194cm x 173cm) and a removable upper Kingsize bunk 6' x 5'1" (183cm x 156cm) (both beds can be used for adults or children) The table/piece that makes up the bed is large and heavy and may be difficult to move for someone on their own.

Description of Seating: 3 fabric seats in the cab and 2 fabric seats in the rear, all with 3 point safety belts suitable for child car seats. The 2 rear seats are ISOFIX. All seats are forward facing with ample leg room for tall people.

About the area: Mo is tucked away in a secure compound but comes home when she's ready to go on an adventure. We're perfectly situated just North of Doncaster on the M18, an accessible motorway close to the M1 and A1. Alternatively we can be easily reached by bus or train with main route bus links from up and down the country coming into Doncaster. We have two train stations in Thorne, Thorne North and Thorne South which have direct routes to Hull, Cleethorpes, Bridlington, Sheffield, Manchester and Doncaster. The beautiful Peak District, Yorkshire Dales, Yorkshire Wolds, North Yorkshire Moors and the City of Culture for 2017 Hull are all on our doorstep.

Parking: Street parking

Cooking Equipment: 5 x Sets of Knives, Forks and Spoons | 6 x Dinner Plates | 6 x Side Plates | 6 x Breakfast Bowls | 1 x Kitchen knife | 1 x Bread knife | 1 x Corkscrew | 1 x Can Opener | 1 x Grater | 1 x Vegetable Peeler | 2 x Pans | 1 x Frying Pan | 1 x Chopping Board | 1 x Colander | 1 x Spatula | 1 x Cooking Spoon | 1 x Bialetti Coffee Pot for use on the Gas Hob | 1 x Teapot | 5 x Mugs | 5 x Glasses | 1 x Tupperware Jug | 1 x Storage container | 1 x Salad Bowl | 1 x Salt and Pepper Grinders | 1 x Sink Drainer

Water Facilities: Mo comes with a HOT shower that can be used indoors and outdoors come warmer months. She has a 25 litre internal water storage tank, plus 2 x 10 litre portable containers. An electric pump feeds the hot and cold mixer tap and shower, offering hot water at the flick of a switch.

Type of Heating: Diesel Heater

Conversion Story: Mo's owners wanted a fully functioning, off the grid, luxurious space that would comfortably accommodate tall people and be warm enough to use all year round. Each weekend was spent tirelessly working on the van whatever the weather. First the van was fully insulated then all the electrics followed by the solar panel and roof light. Electricity allowed us to work late in the dark winter months with a fan heater to keep us warm, although with all the insulation we could only use it in five-minute bursts before breaking into sweat! We taped the floor to create a map of lines where future furniture would be placed, and spent two days cladding the walls with tongue and groove. Soon the van was really starting to take shape: safety flooring down and furniture ready to be put into its rightful new home. The furniture was carefully crafted to our designs by a local joiner using marine plywood because we love its blonde look and clean lines. We're absolutely thrilled at the end result. Mo has been truly hand lovingly made by ourselves from start to finish! Last but certainly not least, we named Mo after my late mother, who was a hippy at heart and loved to travel, encouraging all her four daughters to do the same. "Go travel the world," she'd say. Her vivacious love for life, fun, laughter and spirit will travel with the van wherever it may go.
Vehicle Spec
Vehicle Type: camper-van
Make: Mercedes-Benz
Model: Sprinter LWB
Year: 2008
Vehicle Length: 7 metres
Vehicle Height: 2.81 metres
Max Laden Weight (MAM): 3500 kg
Payload: 516 kg
Transmission: manual
Fuel Type: diesel
Registration: emailed when you book
Note: The hire of this vehicle is arranged by Quirky Campers ltd acting as the agent on behalf of EX - Mo's owners. We make every effort to ensure that all the vehicles listed with us are of a high standard but cannot guarantee the condition of the vehicle. If you experience any problems please notify us as soon as possible.