EX - Morris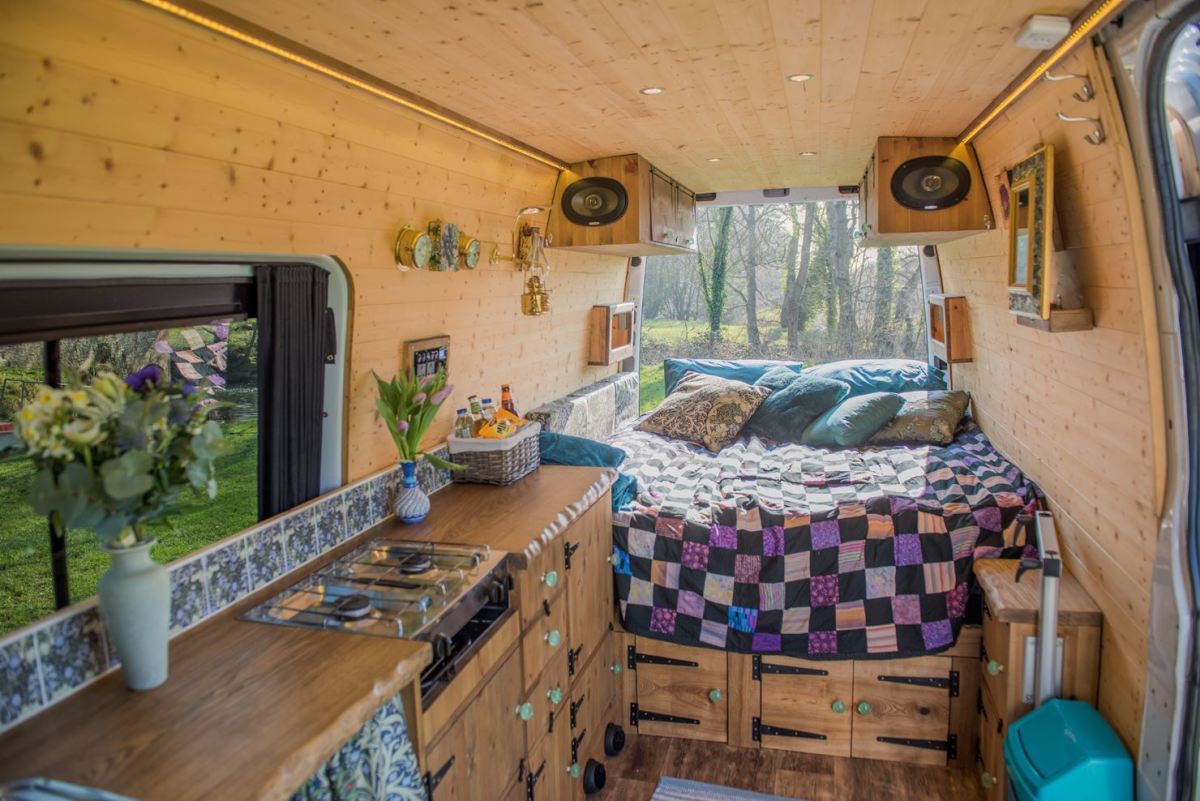 Bath
3 Belted seats 2 Adult berths 1 Child berths
Do you love natural wood and beautiful prints? We thought so. Morris is the ideal van for a couple, or a couple with one child. He has a stunning wooden interior executed by a master carpenter, which is beautifully complimented by the William Morris print tiles and curtains and quirky nautical features. Total comfort is provided by the pocket sprung mattress and Eberspacher heater, plus the blackout blinds which mean you'll sleep like a baby. Morris has a Super King Size Pocket Sprung mattress, and a freshly laundered mattress cover and fitted sheet is provided each time he is hired. The kitchen is well equipped and spacious, not to mention simply beautiful, and can easily accommodate two people cooking side by side. This beautifully hand crafted and professionally converted campervan hire Bath also has two solar panels and two leisure batteries, which means he will charge up for an off-grid campervan holiday, as well as having electric hook up. Morris is built with sustainable and locally sourced materials; he is a true celebration of British materials and craftsmanship.
Essential Information
Air Conditioner
Hob
Heater
Refrigerator
Kitchen Sink
Bike Rack
Toilet
Awning
Solar
Extra Storage
CD Player
Audio Inputs
Radio
Pet Friendly
King Beds: &nbsp1
EU Travel Allowed
About the Campervan
Description of Beds: Super King Size Bed for 2 adults and fold up mattress for a child to 1.5m

Description of Seating: 3 forward facing seats, with 3 point seat belts

About the area: Morris lives in Bath outside our house in Lower Weston, to the west of the Bath city centre, and just off the Bath to Bristol Cycle Path. Oldfield Park Railway Station is a 10 minute walk away, and Bath Spa Railway station is a 10 minute bus ride away.

Parking: Street parking

Cooking Equipment: Kitchen equipment: Cutlery, crockery and plastic glassware for 4 | pans and lids | frying pans | chopping boards | grill tray and tins for grill | cheese grater | collapsible sieve | thermos flask | jugs | bowls | teapot | cafetiere | table and drink mats.
Utensils include: Tongs | whisk | grill handle | kitchen scissors | fish slice | can opener | slotted spoon | 2 spatulas | spaghetti spoon | loose tea holder | electric lighter | bread knife | large and small knife | knife sharpener | bottle opener | potato peeler | small scissors.
Essentials also included: tea | herbal tea | coffee | oil | vinegar | salt | pepper | mixed herbs | flour | cornflour | chilli | cocoa | cumin | coriander | sugar | first aid kit.
Handy items: torches | elasticated line and pegs | pack of cards | popper cover for vent | tile mats | pens and pencils | tea light holders | camping books | multi toolkit | dustpan and brush | mirror.

Water Facilities: 25 L plastic water container under work surface, with pump tap

Audio Equipment: Alpine speakers built into over bed storage. Sound system set up so you can play tunes off your device via bluetooth to a range of 10 metres.

Type of Heating: Diesel Heater

Conversion Story: Morris was converted by the amazing Joe Clarke (Campervan Craftsman). It used to be a white delivery van, and is a stealth campervan as it is inconspicuous on the outside so it can be parked up overnight without drawing attention. Inside, it is beautifully fitted out with a wood interior and lovely features. Morris is a family and friends van project that took around 4 months in 2017. The ash and oak are both sourced from a local timber mill near Shepton Mallet, both are sustainably grown in the UK. The insulation is a mix of 75% sheep's wool and 25% natural recycled fibres. It is a compressed form for travel, and reduces transport impact by more than 50% compared to other natural insulation and makes. The curtain fabric needed to be a high polyester content to avoid mildew spotting so we chose a heavyweight ecocanvas made with 45% recycled content. Morris is built for comfort. We used to hire vans for festivals, and realised we always ended up leaving the bed down, so a comfortable bed and a removable adjustable table with stools seemed a good solution. There is an Eberspacher heater that runs off the diesel, and provides easily adjustable warmth in the winter and air conditioning in the summer. There are black out blinds / curtains on all windows, ensuring a good night's sleep. There is a fridge, cooker, sink, and removable table, so you can travel in comfort.
Vehicle Spec
Vehicle Type: camper-van
Make: Mercedes-Benz
Model: Sprinter
Year: 2013
Vehicle Length: 7 metres
Vehicle Height: 2.85 metres
Max Laden Weight (MAM): 3500 kg
Payload: 480 kg
Transmission: manual
Fuel Type: diesel
Registration: emailed when you book
Note: The hire of this vehicle is arranged by Quirky Campers ltd acting as the agent on behalf of EX - Morris's owners. We make every effort to ensure that all the vehicles listed with us are of a high standard but cannot guarantee the condition of the vehicle. If you experience any problems please notify us as soon as possible.