Raelene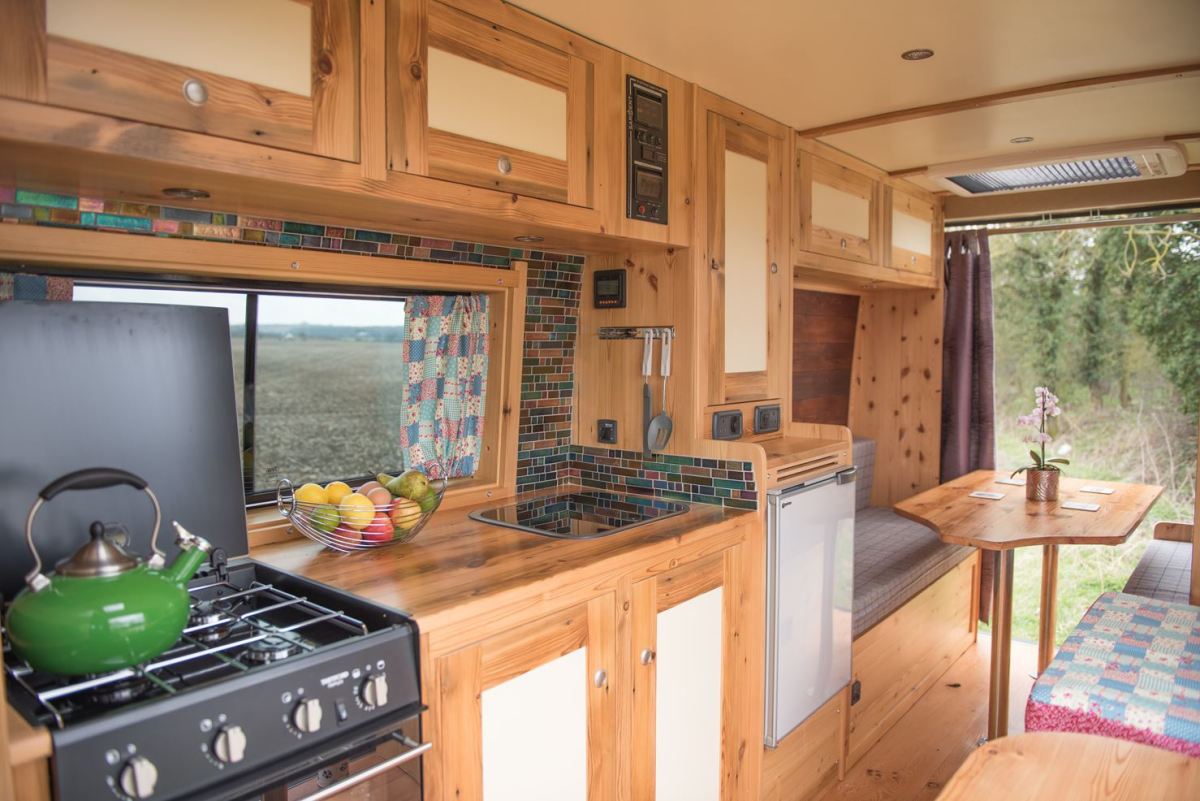 Cambridgeshire
2 Belted seats 2 Adult berths
Raelene is a professionally converted campervan who is owned by the master craftsman who created her. This pet friendly campervan hire Peterborough manages to fit a fixed double bed, kitchen with 3-burner hob, oven and grill, toilet and shower into a medium wheel base van whilst still giving a living space that feels light and super spacious! She's a fully off-grid vehicle with solar panels, underslung water tanks, gas heating, hot water and the cleverest pop up toilet and shower you've ever seen. So, you needn't be constrained by what facilities are available. Park up anywhere and your home on wheels will provide you with the most epic base to have a totally unforgettable camper van holiday.
Essential Information
Hob
Heater
Dining Table
Oven
Refrigerator
Kitchen Sink
Inside Shower
Toilet
Solar
Extra Storage
Pet Friendly
EU Travel Allowed
About the Campervan
Description of Beds: double bed which folds away into a large table and two benches

Description of Seating: Both driver and passenger seat have 3 point belts. The passenger seat is a can swivels to face backwards

About the area: Raelene lives at my workshop near Huntingdon halfway between Peterborough and Cambridge. Huntingdon is just 1 hour 15 mins by train from London and we are just 15 mins drive from the station. If you want to be collected from the station just let me know once you've booked.

Parking: Off street parking

Cooking Equipment: 4 x Cutlery | crockery | glasses | mugs | beakers | large sharp knife | smaller sharp knife | bottle opener | veg peeler | wooden spoons | spatula | camping lighter | 1 large pot with lid | 1 small pot with lid | 1 frying pan | salad bowl | colander | toaster | kettle | cafetiere | coffee, tea, herbal tea, sugar, oil, basic condiments | sponge and tea towel | glass cleaner | multi-purpose cleaner and cloth | dust pan and brush.

Water Facilities: 90 l waste and water tanks under the vehicle

Audio Equipment: Factory fitted in cab

Type of Heating: Gas Heater

Conversion Story: Raelene was built be owner Neville who runs a small Cambridgeshire based campervan conversion company. All their cabinets are made by hand from recycled timber. Neville has nearly 30 years of experience and is a Member of the Guild of Master Craftsmen and this is evident in the excellent quality of his craftsmanship.
Pick up / Drop off Times
| - | Pick up | Drop off |
| --- | --- | --- |
| Sunday | 1:00PM - 2:00PM | 12:00PM - 2:00PM |
| Monday | 12:00PM - 3:00PM | 12:00PM - 3:00PM |
| Tuesday | 11:00AM - 3:00PM | 11:00AM - 3:00PM |
| Wednesday | 11:00AM - 3:00PM | 11:00AM - 3:00PM |
| Thursday | 11:00AM - 3:00PM | 11:00AM - 3:00PM |
| Friday | 11:00AM - 3:00PM | 11:00AM - 3:00PM |
| Saturday | 11:00AM - 3:00PM | 11:00AM - 3:00PM |
Note: Campervan Hire prices are per 24 hours. The default pick up and drop off time is 2pm. If you request a pick up or drop off outside of this, the owner will quote you for the additional time. Typically this is £12.50 per additional hour.
When would you like to go?
Sorry, there was a problem...
Vehicle Spec
Vehicle Type: Campervan
Make: Citroen
Model: RELAY 35 L3H2 HDI
Year: 2012
Vehicle Length: 6 metres
Vehicle Height: 2.5 metres
Max Laden Weight (MAM): 3500 kg
Payload: 800 kg
Transmission: manual
Fuel Type: diesel
Registration: emailed when you book
Note: The hire of this vehicle is arranged by Quirky Campers ltd acting as the agent on behalf of Raelene's owners. We make every effort to ensure that all the vehicles listed with us are of a high standard but cannot guarantee the condition of the vehicle. If you experience any problems please notify us as soon as possible.