Thelma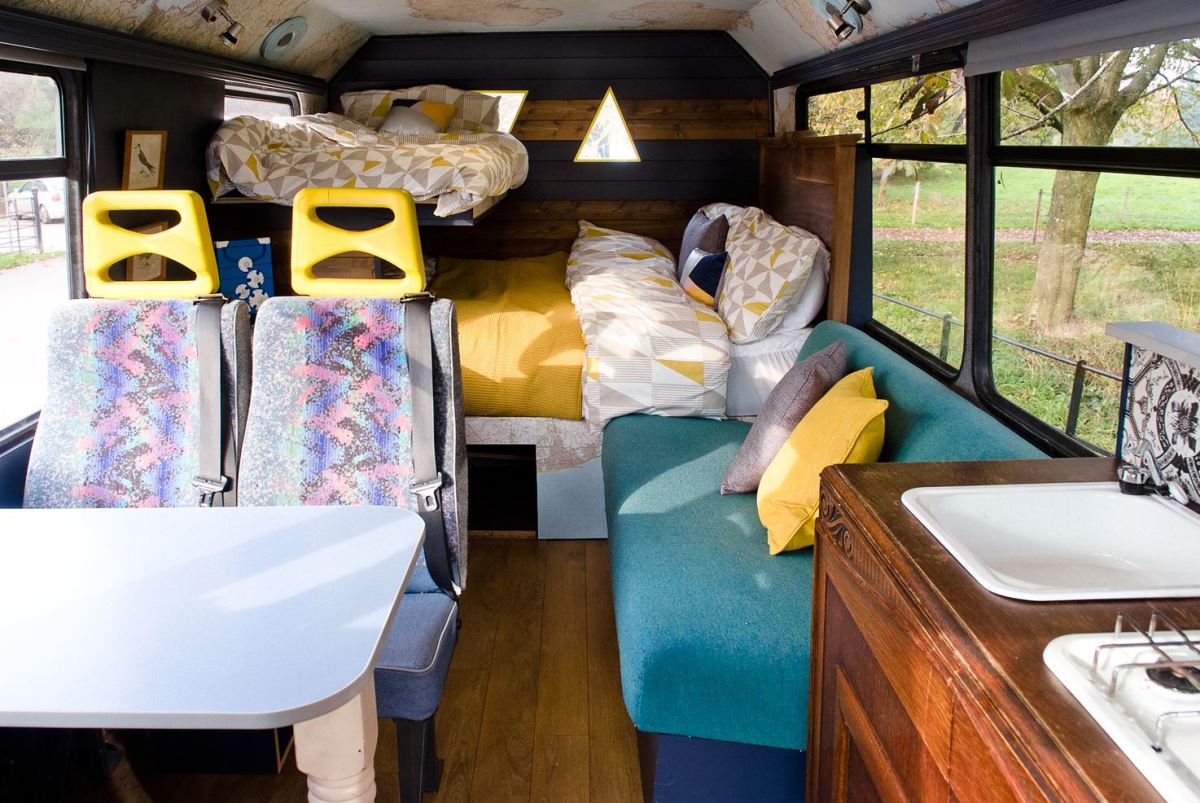 Bristol
5 Belted seats 2 Adult berths 2 Child berths
Step inside Thelma's classic 90s bus exterior and be wowed by this mid-century modern, cosy home! With her suitcase storage drawers, mapped ceiling of South West England and converted Art Deco sink & cooker, she's a real work of art you'll fall in love with. Sleeping up to 4, she is perfect for families and groups of friends alike. Cook up a storm in her kitchen with its spacious fridge and 4-hob stove and serve it at the fixed dining table and 4 chairs. You won't be surprised that her creators have a background in art and photography; her quirky and eclectic interior is a visual delight at every turn inside! Settle down inside this relaxing rolling home, gaze out of her huge windows and feel part of the landscape around you. Please note: as this vehicle is over 3.5 tonne it can only be driven by someone with a category C1 license.
Essential Information
Hob
Dining Table
Refrigerator
Kitchen Sink
Bike Rack
Tow Bar
Solar
Reversing Camera
Extra Storage
CD Player
Audio Inputs
Radio
Water Tank Capacity: &nbsp70 litres
EU Travel Allowed
About the Campervan
Description of Beds: Standard Double bed orthopedic mattress, Single bunk over foot of double bed- extendable to adult size (1.85m) 3/4 length sofa bed - child size to small adult (1.55m x .95m). Sleeping arrangements can vary depending on the size of the family.

Description of Seating: 1 Driver seat up front in the cab and then 4 seats around the table (2 facing forwards and 2 backwards). All 5 seats have 3 point belts. Possibility of adding an adult seat in the front next to the driver. This would take the total no of seats to 6. Please note - you cant sleep 6 in the vehicle, but if you intend to have a tent too, this could work for a party/family of 5.

About the area: Thelma is parked outside our home in Redfield, Bristol. Not far from the city centre. Close to the Bath-Bristol cycle route and the M32. Best approached from Whitehall Road end where you'll see the Bristol Spirit Cafe bar. There's normally plenty of free parking on the street. There's a Tesco's and Aldis 3 min drive away as well as the shopping street of Church Rd with cafes pubs that do good food too. Busses 44, 42, 48 and 7 run very close and regular.

Parking: Street parking

Cooking Equipment: 6 plates | 6 mugs | 6 drinking glasses (plastic) | Kettle | Coffee Making Pot | 3 pans | 1 Frying pan | cutlery | grater | chopping board | Washing Up stuff | Drying rack.

Water Facilities: Integrated Water tank filled from outside. Electric tap. Lasts 3 days of moderate use. Waste tank to catch grey waste (kept in external storage)

Audio Equipment: Cd player with line-in for phones / streaming / mp3s - 4 speakers in the bus. Cab is seperate.

Type of Heating:

Conversion Story: Becky was besotted with this bus from the moment she spotted it for sale on a friend's timeline. Maybe it was the classic boxy 90s bus look, maybe the fact it was already converted and we could see how spacious it was.... 3 months later it was ours. The previous conversion used the space well but was a bit primitive and impractical. So, we proceeded to strip out everything that was there, (bar the sofa) and rebuilt it with a mid-century vintage flavour. It was a great learning experience, and ideas came to us as we went along. We both have a background in art & photography, and we took the best bits of our house and curated them into the bus; the enamelled steel sink and stove sunk into an Art Deco Sideboard, mapped ceiling. East German vintage sofa bed re-covered in genuine tweed. It's super comfy for cosy chats and tea, while the table is the social hub of the bus. We travelled through North Wales with Thelma while she was under construction to test her out and work out what needed and have done a wet Glastonbury. Epic journeys and beautiful memories! We want you to have the same. In her previous life, Thelma was a 15-seater community bus run by Brighton and Hove council and was well looked after. We love her dearly and hope she'll take you on spectacular adventures too.
Pick up / Drop off Times
| - | Pick up | Drop off |
| --- | --- | --- |
| Sunday | 9:00AM - 5:00PM | 9:00AM - 5:00PM |
| Monday | 9:00AM - 5:00PM | 9:00AM - 5:00PM |
| Tuesday | 9:00AM - 5:00PM | 9:00AM - 5:00PM |
| Wednesday | 9:00AM - 5:00PM | 9:00AM - 5:00PM |
| Thursday | 9:00AM - 5:00PM | 9:00AM - 5:00PM |
| Friday | 9:00AM - 5:00PM | 9:00AM - 5:00PM |
| Saturday | 9:00AM - 5:00PM | 9:00AM - 5:00PM |
Note: Campervan Hire prices are per 24 hours. If you request pick-up at an earlier time than your drop-off time the owner will quote you for the additional hours. Typically this is £12.50 per additional hour.
When would you like to go?
Sorry, there was a problem...
Vehicle Spec
Vehicle Type: camper-van
Make: Volkswagen
Model: LT46 TDI LWB
Year: 1999
Vehicle Length: 7 metres
Vehicle Height: 2.95 metres
Length with hitch: 7 metres
Class / Floorplan: C1
Max Laden Weight (MAM): 4600 kg
Payload: 1,100 kg
Transmission: manual
Registration: emailed when you book
Note: The hire of this vehicle is arranged by Quirky Campers ltd acting as the agent on behalf of Thelma's owners. We make every effort to ensure that all the vehicles listed with us are of a high standard but cannot guarantee the condition of the vehicle. If you experience any problems please notify us as soon as possible.