EX - Rosie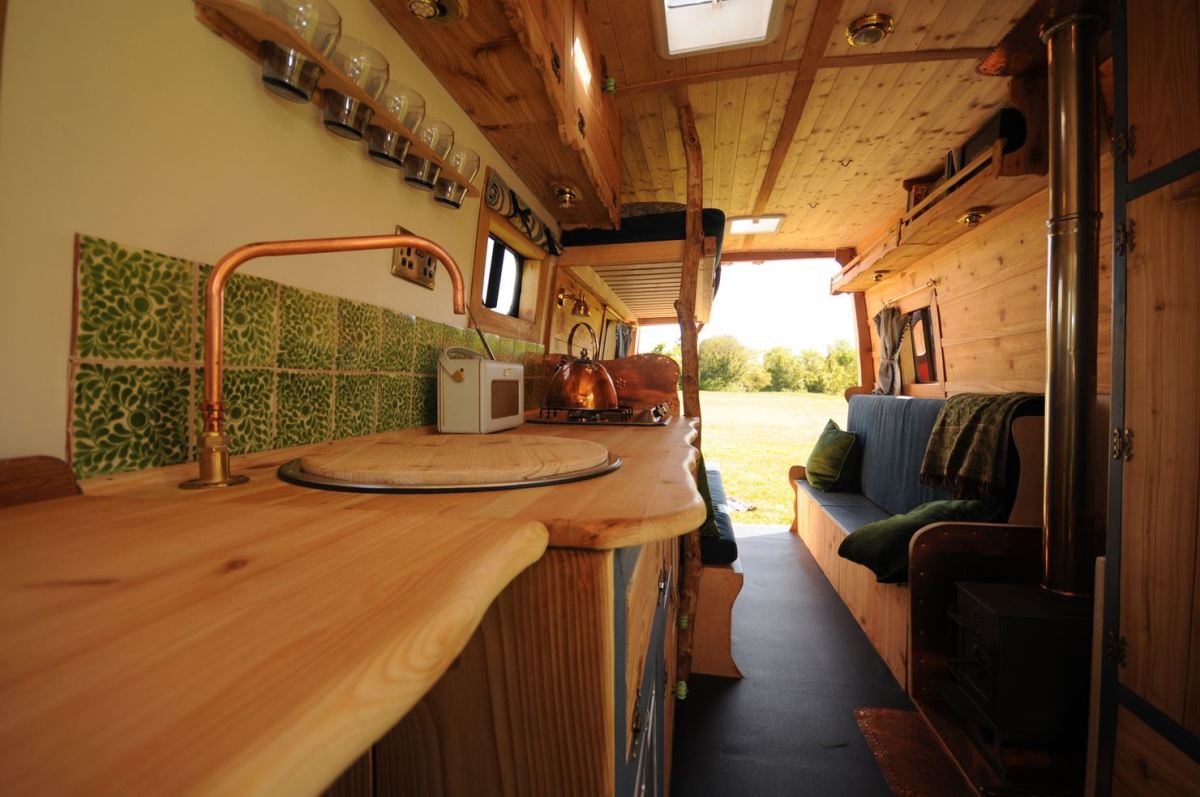 Nottinghamshire
5 Belted seats 2 Adult berths 2 Child berths
Rosie is the definition of a rustic, hand crafted and wonderfully unique, quirky camper. Located in the East Midlands, this stunning VW campervan hire Nottingham is like being in a log cabin on wheels. She is absolutely the perfect romantic getaway vehicle, or a base for the whole family on an awesome adventure holiday together. There's lots of storage under the sofa and bench seats as well as a wardrobe and cupboards in the kitchen, so you won't be lost for space for all your gear. One of the best things about this VW camper is the log burner; who wouldn't want to snuggle down in a Winter wilderness on a solar powered off-grid camper van holiday to the warmth and crackle of the wood stove?! What would make it even more perfect, is sipping on a hot chocolate, fresh off the hob, or maybe making a start on cooking the breakfast hamper which you can add as an optional extra. Whether you're having a week of chilling and taking in the simple things in life, or are prepping for a jam-packed activity road trip, you'll definitely fall in love with the beautiful details in Rosie's gorgeous conversion.
Essential Information
Hob
Heater
Refrigerator
Kitchen Sink
Tow Bar
Solar
Extra Storage
Pet Friendly
About the Campervan
Description of Beds: Rosie easily sleeps up to 4 people with a double bed and two beautiful bunk beds that use waney-edged wood and branches as their construction; whether you're waking up to birdsong or drifting off to sleep under the stars and moonlight you can see from the rear porthole windows, it might be a challenge to get out of these comfy beds!

Description of Seating: Rosie has three belted seats in the cab and two rear facing seats in the van, both with 3 point seat belts. The two passenger seats in the front are suitable for child car seats. During the day, the comfy bench seats can easily host up to 8 people, so there's lots of space for board games and family meals.

About the area: Rosie lives outside our house in Woodthorpe, a suburb of Nottingham around 3 miles north of the city centre, close to the M1, Nottingham train station and excellent bus links from the city centre.

Parking: Off street parking

Cooking Equipment: Rosie has a 2-burner hob, sink and 12v fridge as well as pots, pans and all necessary cooking utensils. Crockery, cutlery and glasses. She has everything you should need in the kitchen for your trip.

Water Facilities: 20l portable water containers with foot pump to operate.

Audio Equipment: CD player/Radio

Type of Heating: Woodburner

Conversion Story: Rosie is a stunning van made to look like a woodland cabin. She is full of lovingly crafted natural materials and it is a beautiful conversion. The combination of the natural wood, detailed craftsmanship and great sense of space make it a fantastic van for families and couples to enjoy. Rosie was orginially a panel van, and undertook her conversion throughout 2017-18, working with a wonderful carpenter - Jesus Sierra. The van has lots of natural wood, the walls are lined in western redwood cedar and the conversion used some branches of London Plane that fell down in St George's Park in a gale for the supports of the bunk beds. Cedar is both lightweight and beautiful when oiled and so is perfect for vans. The converters wanted a van that would work for holidays with children, but that would also be a lovely, romantic and luxurious place to stay in. We had the opportunity to hire Rosie in Autumn 2019, we instantly fell in love with her and started dreaming of how we might be able to have a van like this somehow! We were then thrilled that we got the opportunity to purchase her having had such a wonderful trip with our family, and are now delighted to be hitting the road ourselves as well as renting her out. Rosie has charm in abundance; staying and travelling in this fairy-tale home on wheels is a truly amazing experience.
Pick up / Drop off Times
| - | Pick up | Drop off |
| --- | --- | --- |
| Sunday | 9:00AM - 5:00PM | 9:00AM - 5:00PM |
| Monday | 9:00AM - 5:00PM | 9:00AM - 5:00PM |
| Tuesday | 9:00AM - 5:00PM | 9:00AM - 5:00PM |
| Wednesday | 9:00AM - 5:00PM | 9:00AM - 5:00PM |
| Thursday | 9:00AM - 5:00PM | 9:00AM - 5:00PM |
| Friday | 9:00AM - 5:00PM | 9:00AM - 5:00PM |
| Saturday | 9:00AM - 5:00PM | 9:00AM - 5:00PM |
Note: Campervan Hire prices are per 24 hours. The default pick up and drop off time is 2pm. If you request a pick up or drop off outside of this, the owner will quote you for the additional time. Typically this is £12.50 per additional hour.
Vehicle Spec
Vehicle Type: Campervan
Make: Volkswagen
Model: LT35
Year: 2009
Vehicle Length: 7 metres
Vehicle Height: 2.9 metres
Max Laden Weight (MAM): 3500 kg
Payload: 460 kg
Transmission: manual
Fuel Type: diesel
Registration: emailed when you book
Note: The hire of this vehicle is arranged by Quirky Campers ltd acting as the agent on behalf of EX - Rosie's owners. We make every effort to ensure that all the vehicles listed with us are of a high standard but cannot guarantee the condition of the vehicle. If you experience any problems please notify us as soon as possible.
Reviews
This van hasn't yet received any reviews.