Saffiyah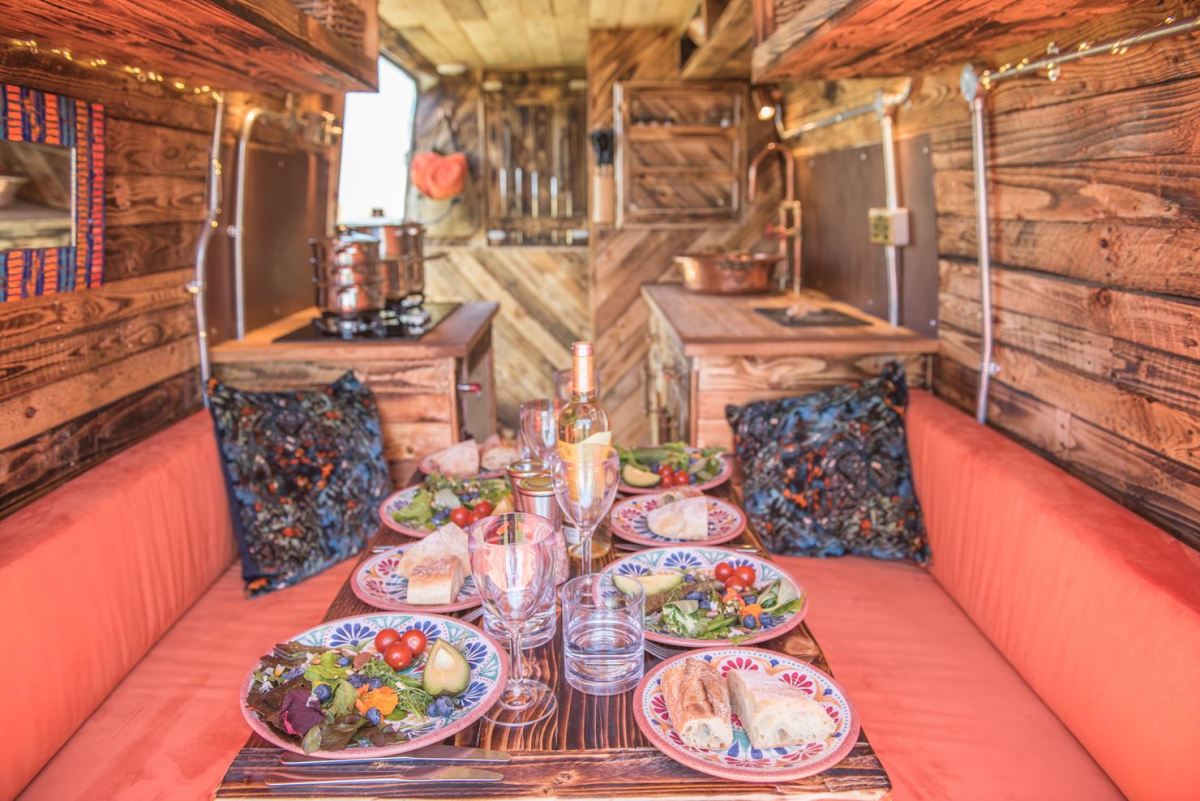 Kilmarnock
4 Belted seats 2 Adult berths 1 Child berths
We don't mean to boast, but Saffiyah might just be the best campervan you've ever seen. With stylishly executed industrial chic, she is all chunky copper fittings, exposed pipework and distressed pallet wood. And yet the result is warm and inviting rather than cool and foreboding. With her generous kitchen, 3-ring stove and capacious fridge, you'll happily be cooking for armies of workers (or family) gathered around her large table and bench seating for 6. When you're done, washing up is a doddle in a copper sink with hot running water. Saffiyah is the perfect mix of strength and elegance, just like her namesake Saffiyah Khan. Oh, and did we mention the waterfall shower with hot running water which can be used off-grid? So why not take a break from the daily grind for your own advanture.
Essential Information
Hob
Heater
Dining Table
Refrigerator
Kitchen Sink
Inside Shower
Solar
King Beds: &nbsp1
Water Tank Capacity: &nbsp70 litres
EU Travel Allowed
About the Campervan
Description of Beds: King size bed for 2 adults and 1 child or child can sleep in removable bunk bed (please request in Extras section if required)

Description of Seating: 3 belted cab seats (driver plus double passenger seat) with 3-point seat belts, plus one rear-facing seat behind the bulkhead also with 3-point seat belt.

About the area: Saffiyah is parked at my property in Kilmarnock, East Ayrshire, Scotland

Parking: On street parking in a quiet cul-de-sac

Cooking Equipment: 3 ring gas hob | large electric fridge | mini blender | large copper sink with hot and cold running water | frying pan with lid | milk pan | steamer set | pot with lid | wooden spoon set | ladle | draining spoon | spatula | fish slice | tongs | potato masher | large knife | bread knife | small knife | small orange knife with cover | corkscrew | can opener | chopping boards x 2 | kettle | salad servers | salad spinner | bread platter | dinner plates x 4 | side plates x 4 | large bowls x 4 | small bowls x 4 | large cafetiere | small cafetiere | hand towel | tea towels x 3.

Water Facilities: 70 litre integrated water tank with electric pump which runs from battery or hook-up gas/electric water heater large kitchen sink with hot and cold mixer taps shower with hot and cold mixer taps

Audio Equipment: Minirig provided free of charge on request (see Extras) Cab has radio/CD player with quality speakers (no Aux input)

Type of Heating: Diesel Heater

Conversion Story: Ever since I first stepped into Bella several years ago, I fantasised about doing up my own van some day. A few years later a friend and I decided to do a camper van trip to Ireland and I decided the time had come! I have a lot of skills, but converting campervans is not one of them so I knew I needed to outsource. The first challenge was to source a van - with some help I found an ex-DPD long wheel base Mercedes Sprinter with only 37k miles on her clock. I got her checked out by RAC who gave me the thumbs up. The general design and materials spec was mine but I was happy to give the converters lots of creative scope around the specific layout and details. The upholstery, electrics and plumbing far exceeded my expectations. When it came to giving her a name I was struck by the photo of Saffiyah Khan staring down an EDL protester. The image still captivates me and I am honoured to name the van after her. David at Quirky had recommended a graffiti artist in Cardiff who painted the outside of the van using a picture I had sent him as inspiration. The first trip in Saffiyah did not disappoint! We learned how to identify great wild camping spots and how to maximise the number of showers to get from one tank of water (5!)
Pick up / Drop off Times
| - | Pick up | Drop off |
| --- | --- | --- |
| Sunday | 1:00PM - 3:00PM | By arrangement |
| Monday | 1:00PM - 3:00PM | By arrangement |
| Tuesday | 1:00PM - 3:00PM | By arrangement |
| Wednesday | 1:00PM - 3:00PM | By arrangement |
| Thursday | 1:00PM - 3:00PM | By arrangement |
| Friday | 1:00PM - 3:00PM | By arrangement |
| Saturday | 1:00PM - 3:00PM | By arrangement |
Note: Campervan Hire prices are per 24 hours. The default pick up and drop off time is 2pm. If you request a pick up or drop off outside of this, the owner will quote you for the additional time. Typically this is £12.50 per additional hour.
Vehicle Spec
Vehicle Type: Campervan
Make: Mercedes-Benz
Model: Sprinter LWB
Year: 2012
Vehicle Length: 7 metres
Vehicle Height: 2.76 metres
Max Laden Weight (MAM): 3500 kg
Payload: 280 kg
Transmission: manual
Fuel Type: diesel
Registration: emailed when you book
Note: The hire of this vehicle is arranged by Quirky Campers ltd acting as the agent on behalf of Saffiyah's owners. We make every effort to ensure that all the vehicles listed with us are of a high standard but cannot guarantee the condition of the vehicle. If you experience any problems please notify us as soon as possible.
Reviews
This van hasn't yet received any reviews.