Goose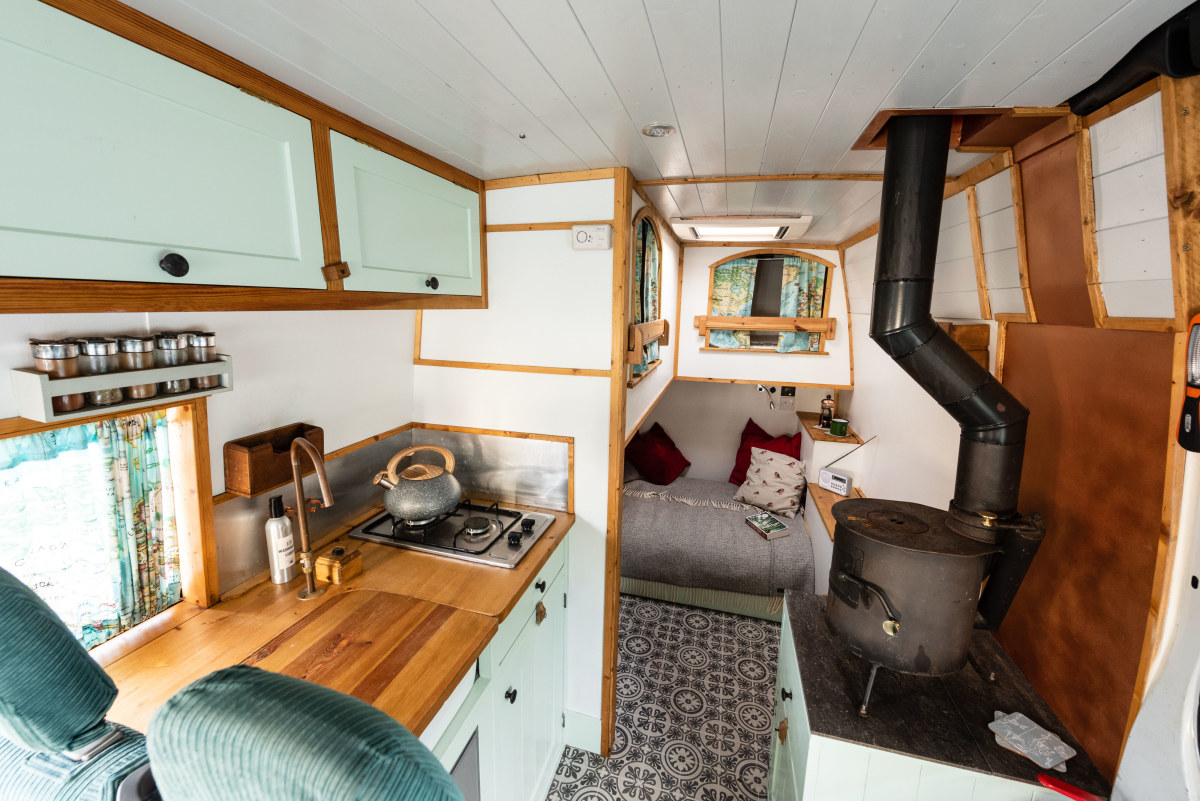 Dorset
4 Belted seats 2 Adult berths 2 Child berths
Salubrious Goose has everything you need for the perfect family holiday in all seasons. The kids will adore climbing into their own enclosed private bunk 'cabins' - and while they're sleeping you can enjoy a glass of wine in the dining area. He comes with a fixed Fiamma bike rack suitable for 2 bikes and a canvas canopy awning so you can make the most of the outdoors come rain or shine. (There's nothing more soothing than hearing the rain fall as you drink a hot cup of something, toasty & dry under Goose's shelter.) With a light & airy country cottage feel, Goose is a home from home, equipped with powerful fridge and a woodburner, he even boasts his very own mini Belfast Sink. Goose the handcrafted campervan is based at the Gaggle of Geese pub & campsite near Dorchester, Dorset; perhaps spend a night at the Gaggle before heading off around the UK or even into Europe. (We wonder if you could navigate using his gorgeous map-print blinds & curtains!)
Essential Information
Hob
Heater
Dining Table
Refrigerator
Kitchen Sink
Outside Shower
Bike Rack
Awning
Solar
Reversing Camera
Extra Storage
CD Player
Radio
Inverter
Pet Friendly
Water Tank Capacity: &nbsp55 litres
EU Travel Allowed
About the Campervan
Description of Beds: Pull out double with a super comfy orthopaedic mattress which can remain as a fixed bed or be folded away during the day for more sociable space. 2 kids bunks above accessible via the storage steps with safety barriers so the little ones don't fall out.

Description of Seating: 2 swivel seats in front 2 in rear, 1 rear seat only suitable for child.

About the area: Goose is based at the Gaggle of Geese pub & campsite in rural Dorset.

Parking: If you drive to collect Goose, you are welcome to leave your car in the Gaggle parking areas. If travelling by train, nearest stations are Dorchester and Sherborne (both around 10 miles away). Taxis or pick-up options available.

Cooking Equipment: Goose benefits from a two burner gas hob. If you opt for the firepit extra, then treat yourself to outside BBQs. Cooking and dining equipment for 4 | Kettle | Coffee pot | Olive oil | Herbs | Tea | Coffee | Sugar | Tin opener | Corkscrew | Washing up liquid | Sponge | Tea towel.

Water Facilities: 40l tank refillable from the outside plus 15l spare container

Audio Equipment: CD player and radio in cab Mini bluetooth speaker also provided

Type of Heating: Woodburner

Conversion Story: Goose was designed and created by Barrell of Monkeys in Frome.
Pick up / Drop off Times
| - | Pick up | Drop off |
| --- | --- | --- |
| Sunday | 11:00AM - 8:00PM | 11:00AM - 8:00PM |
| Monday | 11:00AM - 8:00PM | 11:00AM - 8:00PM |
| Tuesday | 11:00AM - 8:00PM | 11:00AM - 8:00PM |
| Wednesday | 11:00AM - 8:00PM | 11:00AM - 8:00PM |
| Thursday | 11:00AM - 8:00PM | 11:00AM - 8:00PM |
| Friday | 11:00AM - 8:00PM | 11:00AM - 8:00PM |
| Saturday | 11:00AM - 8:00PM | 11:00AM - 8:00PM |
Note: Campervan Hire prices are per 24 hours. The default pick up and drop off time is 2pm. If you request a pick up or drop off outside of this, the owner will quote you for the additional time. Typically this is £12.50 per additional hour.
When would you like to go?
Sorry, there was a problem...
Vehicle Spec
Vehicle Type: Campervan
Make: Mercedes-Benz
Model: Sprinter
Year: 2011
Vehicle Length: 7 metres
Vehicle Height: 2.95 metres
Max Laden Weight (MAM): 3500 kg
Payload: 650 kg
Transmission: manual
Fuel Type: diesel
Fuel Efficiency: 35 mpg
Registration: emailed when you book
Note: The hire of this vehicle is arranged by Quirky Campers ltd acting as the agent on behalf of Goose's owners. We make every effort to ensure that all the vehicles listed with us are of a high standard but cannot guarantee the condition of the vehicle. If you experience any problems please notify us as soon as possible.