Sylvester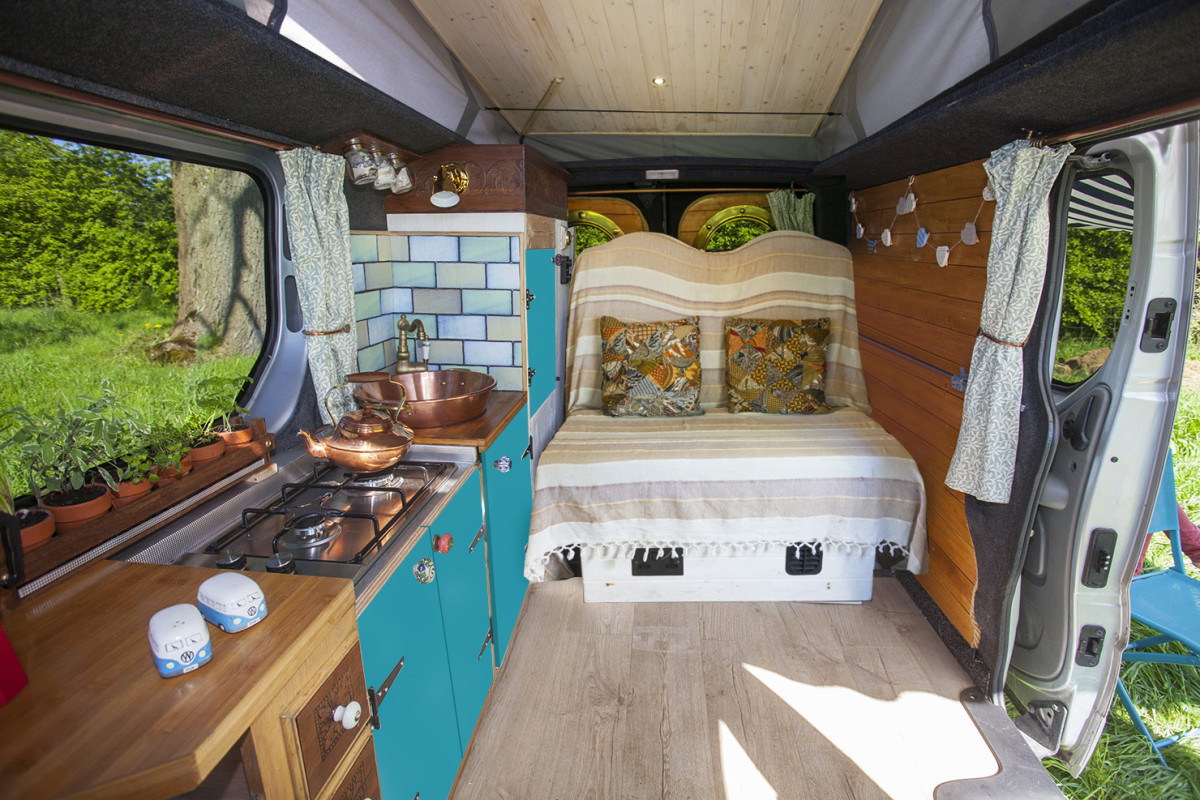 Burton Joyce
4 Belted seats 2 Adult berths 2 Child berths
Sylvester is the definition of small but perfectly formed; he has been beautifully handcrafted by his owner who had previous experience converting a traditional VW, to create something that feels like a real home from home. From his miniature herb garden (available depending on the season) to his copper sink, handmade doorknobs to penny curtain tiebacks, everything about Sylvester is handsome, original and executed to perfection. He is fully functional OFF GRID with a solar panel and Propex heating system so is suited to low-tech campsites and wild camping. (If you Wild Camp, please follow our ethos of leaving the site as clean as if not cleaner as when you arrived please. Why not have a look at Facebook's "Wild Campers Against Waste")

He is hardly bigger than a car, feels similar to drive and can squeeze into a car park space, but when you arrive open the pop-top and roll out the awning to double your living space. If you want the full luxury experience just add on the enclosed awning and shower tent. Located in Nottingham, Sylvester is ideally located for… well pretty much everywhere! Southerners going North, Northerners going South and those arriving at East Midlands Airport.

Essential Information
Air Conditioner
Hob
Heater
Dining Table
Kitchen Sink
Outside Shower
Bike Rack
Awning
Tow Bar
Solar
Reversing Camera
Extra Storage
Leveling Jacks
Radio
Inverter
Gas Capacity: &nbsp4.7 litres
Water Tank Capacity: &nbsp20 litres
About the Campervan
Description of Beds: Rock and Roll 3/4 Double bed, give 4 feet wide by 6 feet long when down. Plus NEW for 2019, a bed across the front seats when swivelled. Suits child to 100cm tall. Further upper bunk accessed by folding steps would suit a child aged up to 8 / 130cm tall.

NEW for 2020: Two upper storage cupboards for clothing etc. We always find that we tend to carry two many bags to travel light. These really help with that problem, easily strapped on the floor for transport and then lifted aloft when the pop top is up. I created these for us to use but you are very welcome to borrow them at no extra charge.

Description of Seating: Two front seats that swivel when parked up for extra seating. Rock and Roll bed at rear with crash test certification, comes with two three-point Seat belts.

About the area: Sylvester is parked outside my house in East Bridgford, a five minute drive from Bingham train station and 30 minutes from Nottingham station. If you require picking up from either station please let us know in advance. We are also very close to the A46, A6097 with easy connection to the M1 and A1. East Midlands Airport is the closest to us and is 23 miles, 38 minutes away by car. You could take the Skylink Express bus to Nottingham (28 minutes) and we could collect you from there if required.

Parking: Street parking is available: If you are coming by car you are welcome to park outside our house but we would prefer you to use the Village Car Park if possible as we often get large lorries up and down this small lane and it would be much safer parked there. (Please note: as usual parking is provided at your own risk.)

Cooking Equipment: Twin gas hob for cooking, along with a single portable induction hob for use when on electrical hookup. A charming French Jam pan has been used as a sink and does not have a waste connection so if the location is suitable and the waste water is ok it can simply be emptied outside. We do have a pop up 5 litre bucket if you wish to carry it to a waste disposal point. Cooking Equipment: 1 kettle, 1 Espresso coffee maker, 4 Mugs, 4 Clear Beakers, suitable for beer, fruit juice or wine. 2 pint plastic pots, 1 Steamer with two tiers, 1 non-stick Frying pan, 1 non-stick pan with lid, 3 Plastic chopping boards 1 Bread Knife, 1 chopping knife, 1 Peeler, 2 wooden cooking spoons, 4 Dinner plates, 4 Breakfast/ Dinner bowls, 4 Sets of knives, forks, spoons, soup spoons and 8 teaspoons, 2 Tea towels , Cleaning sponge and washing up liquid.

Water Facilities: Water is provided by: 1 x 20 litre removable water container with electric pump which automatically comes on when the tap is opened - using a pressure drop switch so that a conventional tap can be used. SHOWER: Yes, rechargeable electric, used in conjunction with 5 litre or 10 litre collapsible buckets and a shower/toilet tent. Just heat some water in the kettle and y can have a nice hot shower (Available as an optional Extra)

Audio Equipment: Pioneer - Car Stereo DAB+ Radio. A multi function Radio that has DAB, GPS when connected to an IPhone using CarPlay. included is a small Bluetooth speaker that can link to your phone or iPad etc.

Type of Heating: Gas Heater

Conversion Story: Being a modern vehicle Sylvester is suited to hills and the open road - with more than enough power to keep up with modern traffic. Great heating for cooler months and aircon when it sometimes gets hot! It now extends our own camping season. That coupled with the quick to heat Propex and Solar power, we are well placed for going off grid when the mood takes us. The van has been insulated to a high standard so you will be kept nice and toasty even in the winter. A high quality pop top was fitted in December last year which when raised gives great head room. Side vents either side on the canvas give excellent ventilation and the front facing window floods light into the space. The Pop top also has a 150w solar panel so if you point the tail to South (Compass included) then you should have all the power you need. It does have a recently fitted 300w Mains Inverter, not powerful enough for electric heaters or hairdryers but ideal for using a Laptop or small TV for instance. Both front seats rotate giving a very spacious feel to the van. Sylvester has been more of an organic build this time. We both had items from parents, now sadly gone that we wanted to take with us, to keep them close on our journeys yet to come. So you will find Rosewood from an old harmonium that tops off the tall cupboard as well as making perfect drawer fronts. Old copper coins and thrupenny bits are used to great effect as curtain tie backs also from our family collection. You may even see an old copper kettle which was my mum's in there. To complete the quirkiness we have an antique copper jam pan doubling up as a sink AND for heating water... and why not! Worktops as well as the dining table are made from Bamboo, a light but very strong wood. Hopefully I have learned new ideas as I have gone along. Sylvester may not be quirky from the outside but the intention was to create a welcoming homely space on the interior, I hope you feel that has been achieved.

As we use the camper ourselves, due to personal allergy we have to say SORRY NO PETS.
Pick up / Drop off Times
| - | Pick up | Drop off |
| --- | --- | --- |
| Sunday | 8:30AM - 8:00PM | 9:00AM - 2:00PM |
| Monday | 8:00AM - 8:00PM | 9:00AM - 2:00PM |
| Tuesday | 8:00AM - 8:00PM | 9:00AM - 2:00PM |
| Wednesday | 8:00AM - 8:00PM | 9:00AM - 2:00PM |
| Thursday | 8:00AM - 8:00PM | 8:00AM - 2:00PM |
| Friday | 8:00AM - 8:00PM | 8:00AM - 2:00PM |
| Saturday | 9:00AM - 8:00PM | 9:00AM - 2:00PM |
Note: Campervan Hire prices are per 24 hours. The default pick up and drop off time is 2pm. If you request a pick up or drop off outside of this, the owner will quote you for the additional time. Typically this is £12.50 per additional hour.
When would you like to go?
Sorry, there was a problem...
Vehicle Spec
Vehicle Type: Campervan
Make: Vauxhall
Model: Vivaro
Year: 2013
Vehicle Length: 5.3 metres
Vehicle Height: 2.3 metres
Length with hitch: 5.3 metres
Max Laden Weight (MAM): 3030 kg
Payload: 750 kg
Transmission: manual
Fuel Type: diesel
Fuel Efficiency: 39 mpg
Registration: emailed when you book
Note: The hire of this vehicle is arranged by Quirky Campers ltd acting as the agent on behalf of Sylvester's owners. We make every effort to ensure that all the vehicles listed with us are of a high standard but cannot guarantee the condition of the vehicle. If you experience any problems please notify us as soon as possible.
Reviews
See Full Reviews...

September 2018

Stuart, Carla and Bosco

August 2018

Fiona and Graham

July 2018

Jackie & Martin