Bonny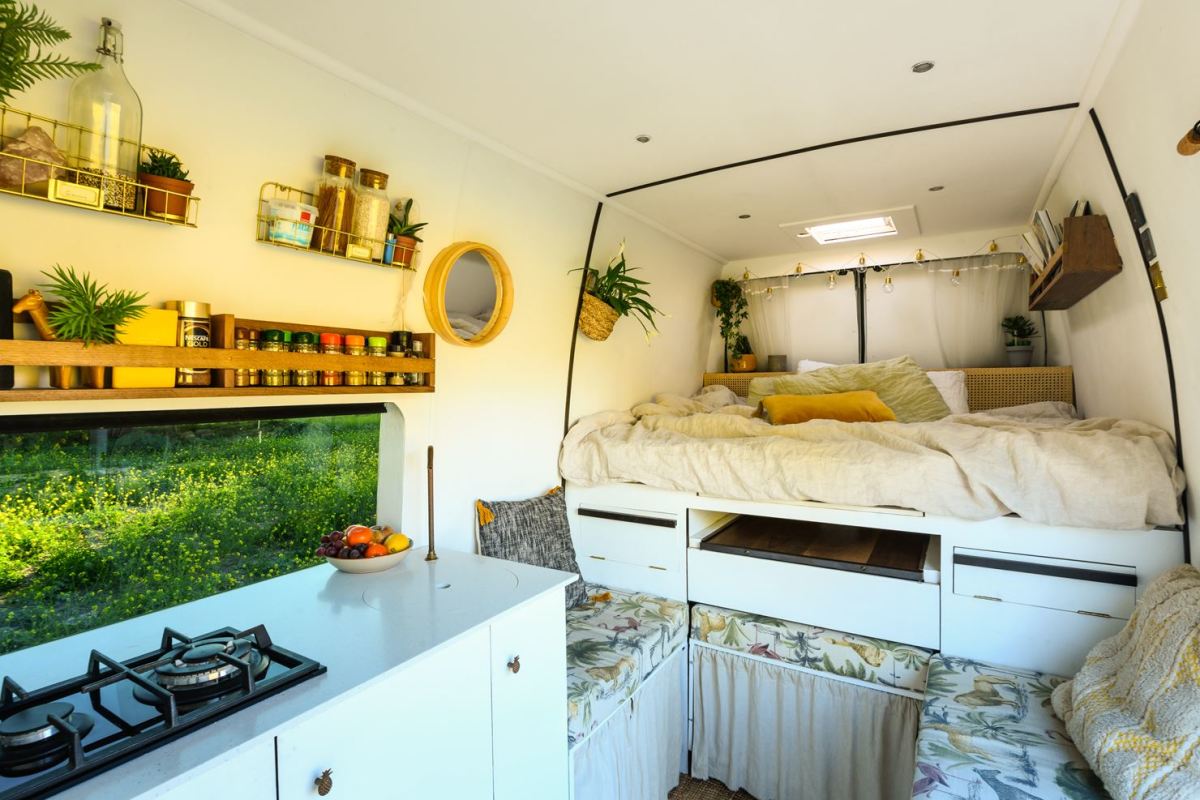 London
3 Belted seats 3 Adult berths
Bonny is the poster child for flexible and configurable living! We've lost track of how many combinations the seating and bed can be transformed into. What we know is that she's the perfect van for a cosy couple's getaway, or a family adventure holiday. If you're looking for easy access to campervan hire London, let Bonny whisk you away! This roomy van packs an amazing amount of storage into its very cleverly thought out space. Designed for a full time European adventure and now available to hire in London, she has enough room for all the clothes you could possibly need for a long holiday. She packs a hi-spec punch with air-con, heating, top-spec insulation, solar power and large water reserves. This means you can easily head off-grid through arctic winters or tropical heat. The seating has been designed so that you can have a sofa combo for three or swap out seating for additional worksurface space. We've never come across a more accommodating campervan before! This stunning central London campervan really does feel like a home from home.
Essential Information
Hob
Heater
Dining Table
Refrigerator
Kitchen Sink
Ceiling Fan
Solar
Extra Storage
Radio
Inverter
King Beds: &nbsp1
Twin Beds: &nbsp1
Waste Tank Capacity: &nbsp25 litres
Water Tank Capacity: &nbsp100 litres
EU Travel Allowed
About the Campervan
Description of Beds: main bed, which extends into a Super King size bed, sleeping 2. When sleeping 3, there is a double bed (140cm x 180cm) and a single (180cm x 70cm). A high quality single inflatable mattress that fits on the floor (190cm x 70cm) can be provided to accommodate a 4th adult.

Description of Seating: 3 seats alongside each other in the front of the vehicle. All with three point seat belts.

About the area: Bonny lives in Loughborough Junction, London. Loughborough Junction station is served by Thameslink trains from Bedford and Luton in the North, to Kings Cross, Farringdon and Blackfriars in Central and down to Sutton and Wimbledon in the South. It is also between 15-20 minutes walk from both Stockwell (Victoria & Northern lines) and Brixton (Victoria line) tube stations and similar distance to Denmark Hill station which is connected to both East and West London by the Overground.

Cooking Equipment: We lived in the van for 6 months so it has everything you need: plates and bowls | metal cutlery | mugs | wine glasses | kettle | pots | pans | trays | spices | kitchen utensils | chopping boards | cooking knives | cork screw and more.

Water Facilities: 70l integrated tank with an electrical pump supplying the sink. Separate pump at the back of the van supplying an outdoor shower. Water for the shower can be heated separately using the gas hob. Please note: the shower holder and curtain rail between the backdoors is currently not in use. The shower can be used by hand only at this time.

Audio Equipment: Bluetooth audio in the cab. Portable bluetooth speaker provided in the back.

Type of Heating: Diesel Heater

Conversion Story: The idea for Bonny came about as an alternative to sky-high rents in London...why pay eye-watering amounts to rent a tiny, poorly maintained, impersonal space when we could build our own beautiful little home on wheels and park it anywhere! As a result, from the outside Bonny is unassuming (looking very much like she did in the days when she helped deliver office supplies) so that she could house us discretely, even on London streets. However, on the inside, Bonny was built to deliver real home comforts! Not content with Bonny solely acting as our home, we also decided she had to take us on a 6 month trip around Europe - from freezing Norwegian mountains to baking beaches in Italy. As a result we wanted air conditioning/heating to keep us comfortable in far flung destinations and enough storage for our adventures when we got there. Knowing that a journey is best measured in friends rather than miles, we also designed Bonny to sleep 3 adults/children on fixed beds...and we can even get a 4th adult sleeping on an air mattress on the floor. We've whiled away many nights with friends around the table playing heated board games and eating delicious spreads of food! Her fine linen bedding, warm copper sink and festoon lights mean that wherever you are going, and whomever you are going with, simply pull down the blackout blinds and batten up the hatch - you will soon forget you are in a van at all!
Pick up / Drop off Times
| - | Pick up | Drop off |
| --- | --- | --- |
| Sunday | 9:00AM - 5:00PM | 9:00AM - 5:00PM |
| Monday | 9:00AM - 5:00PM | 9:00AM - 5:00PM |
| Tuesday | 9:00AM - 5:00PM | 9:00AM - 5:00PM |
| Wednesday | 9:00AM - 5:00PM | 9:00AM - 5:00PM |
| Thursday | 9:00AM - 5:00PM | 9:00AM - 5:00PM |
| Friday | 9:00AM - 5:00PM | 9:00AM - 5:00PM |
| Saturday | 9:00AM - 5:00PM | 9:00AM - 5:00PM |
Vehicle Spec
Vehicle Type: camper-van
Make: Citroen
Model: Relay
Year: 2014
Vehicle Length: 6 metres
Vehicle Height: 2.9 metres
Max Laden Weight (MAM): 3500 kg
Payload: 1,500 kg
Transmission: manual
Fuel Type: diesel
Registration: emailed when you book
Note: The hire of this vehicle is arranged by Quirky Campers ltd acting as the agent on behalf of Bonny's owners. We make every effort to ensure that all the vehicles listed with us are of a high standard but cannot guarantee the condition of the vehicle. If you experience any problems please notify us as soon as possible.