Buttercup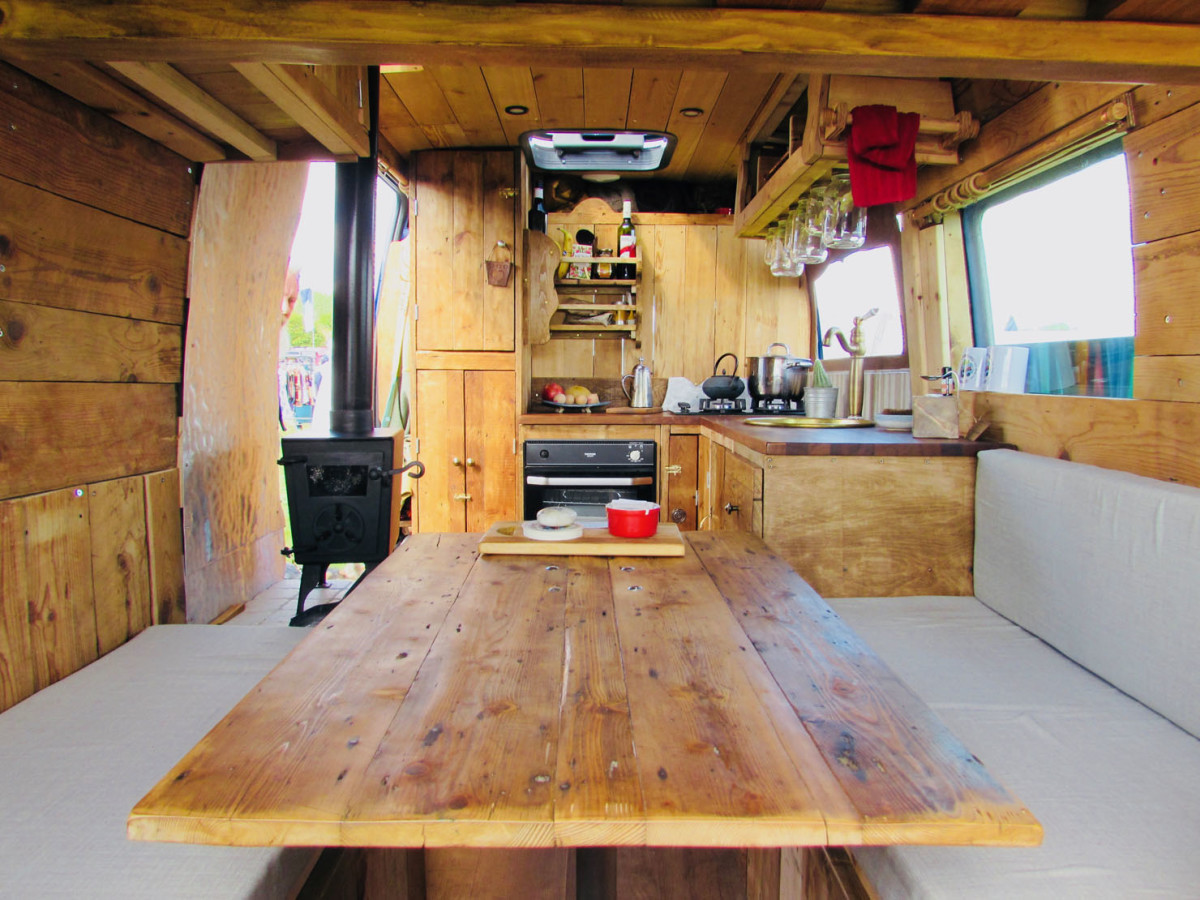 Surbiton
3 Belted seats 2 Adult berths 1 Child berths
Buttercup is a warm and inviting camper van whose smooth wooden interior will make you feel like you've stepped into a gloriously rustic cabin. Made from reclaimed materials such as larch, Victorian pine and Douglas fir, Buttercup has a really unique and warm feeling when you are living inside her. With her toasty log burner, this rolling cabin will be just as at home in the snowy landscape of the Welsh mountains, as she is in the Summer at the beach. This campervan hire Surrey is perfectly located for you to whisk her away on a magical adventure with your family, or a perfect cosy romantic getaway. With solar panel charging, as well as 240v hook up and a power inverter you really will be able to live the off-grid lifestyle if you want to. Buttercup is a really unique camper van conversion that you will absolutely love chilling out and having an epic camper van holiday in! Update 2021 - check out all her new add ons - kayaking, outdoor cinema anyone?

Essential Information
Hob
Heater
Oven
Refrigerator
Kitchen Sink
Solar
Extra Storage
Pet Friendly
About the Campervan
Description of Beds: She can sleep up to three people with her double bed made up at night with the table dropped down, and a bunk above the double bed.

Description of Seating: 3x 3 point belted seats in the cab of the vehicle. they face forward and the rear of the vehicle cannot be accessed from the cab. Childs seating can be installed onto either of the front passenger seats

Parking: Buttercup is parked on the street where I live alongside the river Thames

Cooking Equipment: She doesn't scrimp on kitchen equipment – you can cook a whole Sunday roast in her if you want, as she is fully equipped with a two-burner hob, oven, and grill as well as a fridge! Cutlery for 4 | 3x knives and serving utensils (spatula | slotted spoon | large spoon and ladle). Large pot | smaller pot | frying pan and griddle. 2x Salad/serving bowls | 4x plates | 2x coffee mugs | 2x Espresso mugs | 2x small cups | 2x large cups | 4x bowls | chopping board | cafetiere | kettle/tea pot. 4x cloths/towels | roasting tray | corkscrew | can opener.

Water Facilities: 70l fresh water tank under seating, with 12v pump to sink. No waste water tank.

Audio Equipment: Portable bluetooth speaker

Type of Heating: Woodburner

Conversion Story: Buttercup is in great condition and drives very well. She has been very well looked after during her previous life as a Community Transport Minibus. It has a full service history so we know it is very reliable. LEZ compliant Conversion Description Perfect small family 3 Berth Camper – Self sustained & contained camper. Table drops down to form double bed & optional kids bed above. Lots of attention to detail and Loads of storage Space The bulk of the van is made from aged timber, such as larch, victorian pine and Douglas fir – since these woods are old they are lightweight and add lovely warm colours and textures to the interior. It also gives Buttercup a wonderful feel inside with great character.

Pick up / Drop off Times
| - | Pick up | Drop off |
| --- | --- | --- |
| Sunday | 2:00PM - 5:00PM | 12:00PM - 2:00PM |
| Monday | 2:00PM - 5:00PM | 12:00PM - 2:00PM |
| Tuesday | 2:00PM - 5:00PM | 12:00PM - 2:00PM |
| Wednesday | 2:00PM - 5:00PM | 12:00PM - 2:00PM |
| Thursday | 2:00PM - 5:00PM | 12:00PM - 2:00PM |
| Friday | 2:00PM - 5:00PM | 12:00PM - 2:00PM |
| Saturday | 2:00PM - 5:00PM | 12:00PM - 2:00PM |
Note: Campervan Hire prices are per 24 hours. The default pick up and drop off time is 2pm. If you request a pick up or drop off outside of this, the owner will quote you for the additional time. Typically this is £12.50 per additional hour.
When would you like to go?
Sorry, there was a problem...
Vehicle Spec
Vehicle Type: Campervan
Make: Renault
Model: Master
Year: 2006
Vehicle Length: 5.9 metres
Vehicle Height: 2.7 metres
Max Laden Weight (MAM): 3500 kg
Payload: 620 kg
Transmission: manual
Fuel Type: diesel
Registration: emailed when you book
Note: The hire of this vehicle is arranged by Quirky Campers ltd acting as the agent on behalf of Buttercup's owners. We make every effort to ensure that all the vehicles listed with us are of a high standard but cannot guarantee the condition of the vehicle. If you experience any problems please notify us as soon as possible.