Cooper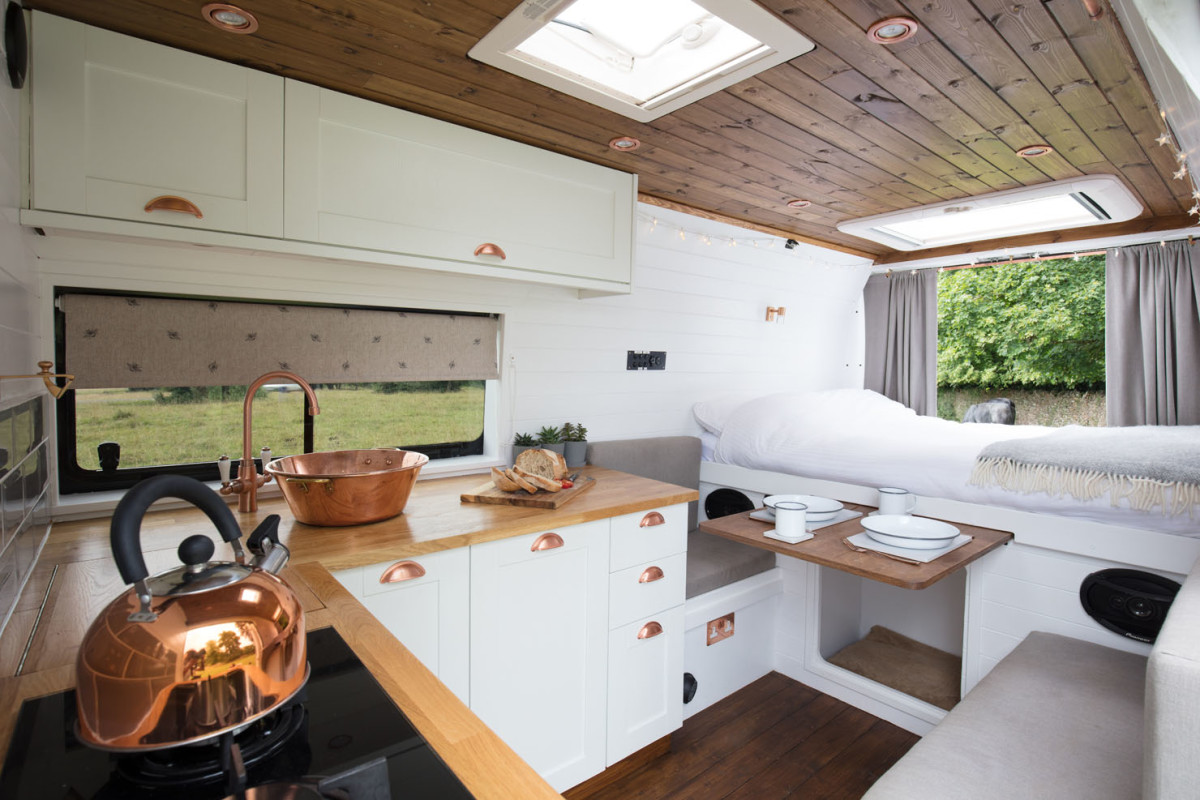 Warwickshire
3 Belted seats 2 Adult berths 1 Child berths
Cooper is a vision of white and copper which makes this camper van seem super spacious and definitely somewhere you'll want to spend time cooking, sleeping, or chilling out in. This camper van for hire in Warwickshire has all the creature comforts you'd want in a home away from home, including gas heating and an outdoor shower. Cooper sleeps three people in his fixed double bed and pull out third berth. There is storage under both of these for your kit, as well as storing the portapotti which can be hired as an optional extra. For the perfect camping experience, you can also hire a BBQ pit to set up and cook up an al fresco feast whilst taking in a stunning view in the UK or perhaps further afield somewhere hot in Europe?! With solar panels for going offgrid and a dedicated space for four legged friends, Cooper is an awesome camper van that's perfect for 2 or 3 people to take away on a great holiday.
Essential Information
Hob
Heater
Dining Table
Refrigerator
Kitchen Sink
Outside Shower
Toilet
Solar
Extra Storage
Radio
Pet Friendly
Double Beds: &nbsp1
EU Travel Allowed
About the Campervan
Description of Beds: Double fixed bed and small single that converts from the seating area.

Description of Seating: 3 fixed seats in the front of the cab, all front facing with 3-point seat belts.

About the area: Cooper lives in a quiet little village just outside of Warwick.

Parking: You can park off road or in the space left by Cooper when you go off on your adventures.

Cooking Equipment: All pans, cutlery and kitchen equipment is included in the hire including a percolator and Aeropress. There is a wonderful contraption that is the Omnia kitchen which operates as a hob cooker where you can make chips/bread/cakes or even roast potatoes for a sunday dinner!

Water Facilities: Fresh water tank in the garage. Hot water heater powered by electric or gas and links up to both the exterior shower and the sink. Waste water you can choose to catch in the portable container, or drain away freely (please use the eco friendly washing up liquid provided).

Audio Equipment: Audio from USB in the cab, full surround sound and seperate Sony stereo within the van which you can link up wirelessly or via USB to your phone/ipod for music or tablet for next level film nights!

Type of Heating: Diesel Heater

Conversion Story: Cooper started off life as a courier van. He was owned for 3 years from new by a self employed courier who loved him dearly and clearly looked after him well. I couldn't believe my luck when I went to see him! I'd already found the company I wanted to use to do the conversion, Quirky approved Studley Campers. Leo and Susie, a husband and wife team, were part of the journey from the beginning giving great advice as they hire out their own creations via Quirky Campers too. Leo was on hand to answer my many questions, do the build with his expert team and Susie helped from the interior design aspect. They started work quickly and over the course of 5 weeks work Cooper was created, the end result being better than I could ever have imagined and hoped for. Cooper is a clean, airy, modern sanctuary with some feature points. The copper features started with the old reconditioned french jam pan I had made into a sink (we'd been camping in France the previous year and that's when I started to hatch the idea of doing our own van) and spread from there, becoming a real stand out point for the van and always drawing comments when we are on our travels.
Pick up / Drop off Times
| - | Pick up | Drop off |
| --- | --- | --- |
| Sunday | 9:00AM - 5:00PM | 9:00AM - 5:00PM |
| Monday | 9:00AM - 5:00PM | 9:00AM - 5:00PM |
| Tuesday | 9:00AM - 5:00PM | 9:00AM - 5:00PM |
| Wednesday | 9:00AM - 5:00PM | 9:00AM - 5:00PM |
| Thursday | 9:00AM - 5:00PM | 9:00AM - 5:00PM |
| Friday | 9:00AM - 5:00PM | 9:00AM - 5:00PM |
| Saturday | 9:00AM - 5:00PM | 9:00AM - 5:00PM |
Note: Campervan Hire prices are per 24 hours. The default pick up and drop off time is 2pm. If you request a pick up or drop off outside of this, the owner will quote you for the additional time. Typically this is £12.50 per additional hour.
Vehicle Spec
Vehicle Type: Campervan
Make: Peugeot
Model: Boxer 335 Professional
Year: 2016
Vehicle Length: 6 metres
Max Laden Weight (MAM): 3500 kg
Payload: 585 kg
Transmission: manual
Fuel Type: diesel
Registration: emailed when you book
Note: The hire of this vehicle is arranged by Quirky Campers ltd acting as the agent on behalf of Cooper's owners. We make every effort to ensure that all the vehicles listed with us are of a high standard but cannot guarantee the condition of the vehicle. If you experience any problems please notify us as soon as possible.
Reviews
This van hasn't yet received any reviews.