Cedric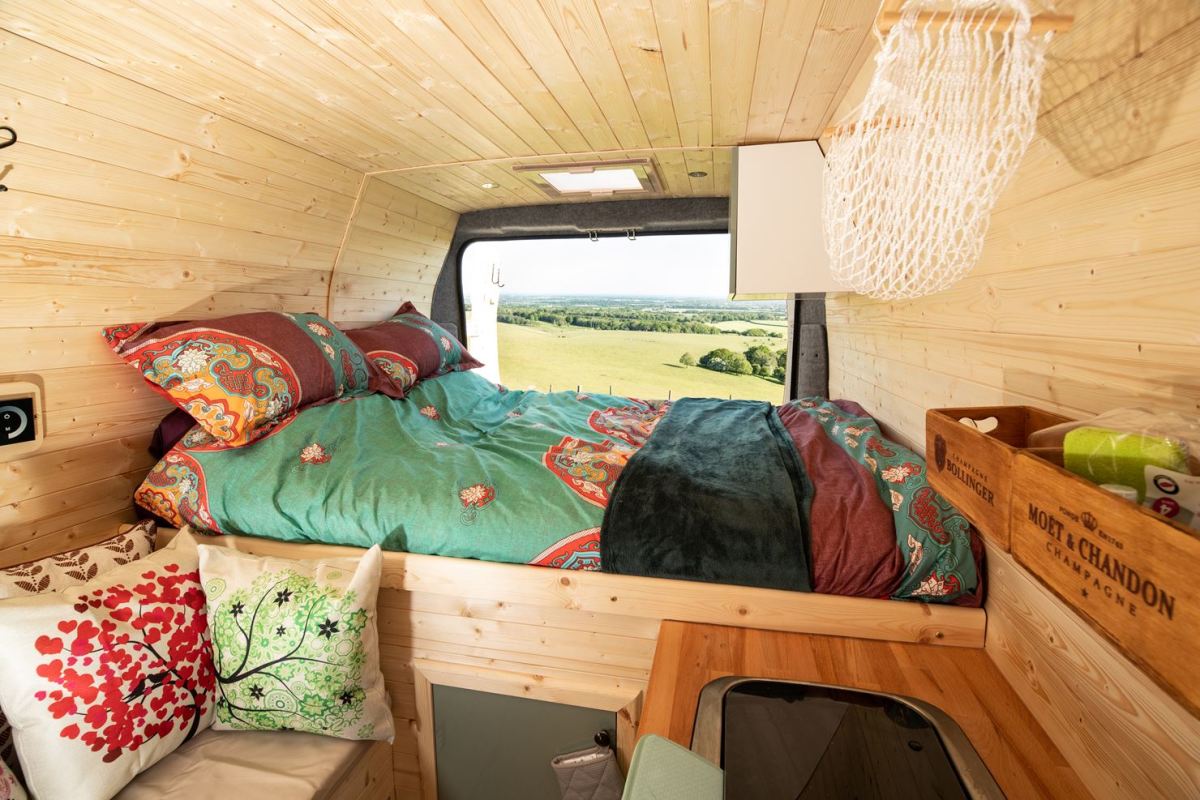 Prudhoe
3 Belted seats 3 Adult berths
If you want to escape the city and go on a campervan holiday in a van with every possible creature comfort, then Cedric's your man! You will be amazed at what has been put inside Cedric without compromising on an airy, open feel to the van. This tiny home on wheels has a double fixed bed at the back, and the sofa seating also converts into a third birth, so it is great for family holidays. The kitchen faces outwards, so you can admire whatever view you're parked up in whilst you're cooking. A touch of class is provided by the Moët boxes for extra storage space! The cupboards are stocked ready with equipment to help you prepare your favourite suppers, hot chocolate or just pop a few cold bottles that you can keep in the fridge! Water is provided by a 45ltr underslung tank which supplies the kitchen sink and the outdoor shower, so he's a perfect festival van too, with a new 1600w Inverter and 2x 130ah batteries increasing Cedric's off grid capability!
Essential Information
Air Conditioner
Hob
Heater
Dining Table
Refrigerator
Kitchen Sink
Outside Shower
Toilet
Ceiling Fan
Solar
Reversing Camera
Extra Storage
Leveling Jacks
Radio
Inverter
Pet Friendly
Waste Tank Capacity: &nbsp12 litres
Water Tank Capacity: &nbsp40 litres
EU Travel Allowed
About the Campervan
Description of Beds: 1 fixed double bed (190cm x 137cm) 1 single bed (65cm x 190cm) which doubles as sociable seating during the day.

Description of Seating: There are belted 3 seats in the front which are factory fitment, these are 3 point seats and when using just two seats there is an arm rest which folds down to increase comfort.

About the area: Cedric is perfectly located in Prodhue, overlooking the Tyne Valley with the gorgeous Northumberland national park and near to the A1. Cedric is super easy to drive, as he has cruise control and parking sensors and a camera. With the A1 just 15minutes drive away Cedric is in a great location to quickly and easily get up into Scotland for the famous NC500, or with less than a hours drive you could be deep into the Lakes or Northumberland national Park. Locally within a short distance you have access to the Yorkshire Dales, Kielder Forest, the beautiful beaches at Bamburgh and a short drive over to Lake Windermere.

Cooking Equipment: 4x Plates | 3x Bowls | 4x Tumbler Glasses | 4x Stemless wine glasses | 4x Cups | Coffee/Tea/Sugar | Set of cutlery for 4 people | 3 sharp knifes | Spatula | Slotted spoon | Spoon | Tongs | Bottle opener | Tin opener | Set of saucepans | Pair of frying pans | Coffee Pot (Moka)

Water Facilities: 40ltr under slung tank with water pump used for both sink and shower. waste water collected under sink.

Audio Equipment: Cabin radio is DAB/ Bluetooth / USB Portable Bluetooth and cabled Speaker - recharges from USB

Type of Heating: Diesel Heater

Conversion Story: Cedric's owners have always loved the outdoors, loving the simplicity of hiring a van, and finding the perfect places to escape. Having struggled to find the perfect camper van for Cedric's owners to get away from the hustle and bustle of the daily grind, Greg & Zara started on their mission to create their perfect portable hide away space. The focus was primarily a cosy, warm and homely space yet effective storage options were needed in order to accommodate outdoor activities to create the perfect van for complete detoxing from the overly busy everyday life, revitalising and relaxation. Cedric was well looked after in his previous life by a Bakery - but we knew Cedric was far more capable than just delivering fresh goods! Cedric needed a bit of a makeover, therefore our friends at SSL conversions stepped in to save the day. Once the conversion plans were finalised, SSL set to work on turning a bland Bakery van into the Cedric he is today. First of all, they put all the wiring in place and added in plenty of insulation using a mixture of materials and then being clad in wood to finish. The layout and furniture were made to our design and didn't quite come together on the first attempt but a bit of laying around with a tape measure and off cuts of wood we came up with a solution which we feel maximises Cedric's interior space. Some trick bits were added such as solar panels and an outdoor shower for those days when Cedric wants to explore some remote wild camping destinations.
Pick up / Drop off Times
| - | Pick up | Drop off |
| --- | --- | --- |
| Sunday | 8:00AM - 5:00PM | 12:00PM - 5:00PM |
| Monday | 8:00AM - 5:00PM | 12:00PM - 5:00PM |
| Tuesday | 8:00AM - 5:00PM | 12:00PM - 5:00PM |
| Wednesday | 8:00AM - 5:00PM | 12:00PM - 5:00PM |
| Thursday | 8:00AM - 5:00PM | 12:00PM - 5:00PM |
| Friday | 8:00AM - 5:00PM | 12:00PM - 5:00PM |
| Saturday | 8:00AM - 5:00PM | 12:00PM - 5:00PM |
Note: Campervan Hire prices are per 24 hours. If you request pick-up at an earlier time than your drop-off time the owner will quote you for the additional hours. Typically this is £12.50 per additional hour.
When would you like to go?
Sorry, there was a problem...
Vehicle Spec
Vehicle Type: camper-van
Make: Citroen
Model: Relay
Year: 2016
Vehicle Length: 6 metres
Vehicle Height: 2.6 metres
Length with hitch: 6 metres
Max Laden Weight (MAM): 3500 kg
Payload: 900 kg
Transmission: manual
Fuel Type: diesel
Fuel Efficiency: 32 mpg
Registration: emailed when you book
Note: The hire of this vehicle is arranged by Quirky Campers ltd acting as the agent on behalf of Cedric's owners. We make every effort to ensure that all the vehicles listed with us are of a high standard but cannot guarantee the condition of the vehicle. If you experience any problems please notify us as soon as possible.