Candide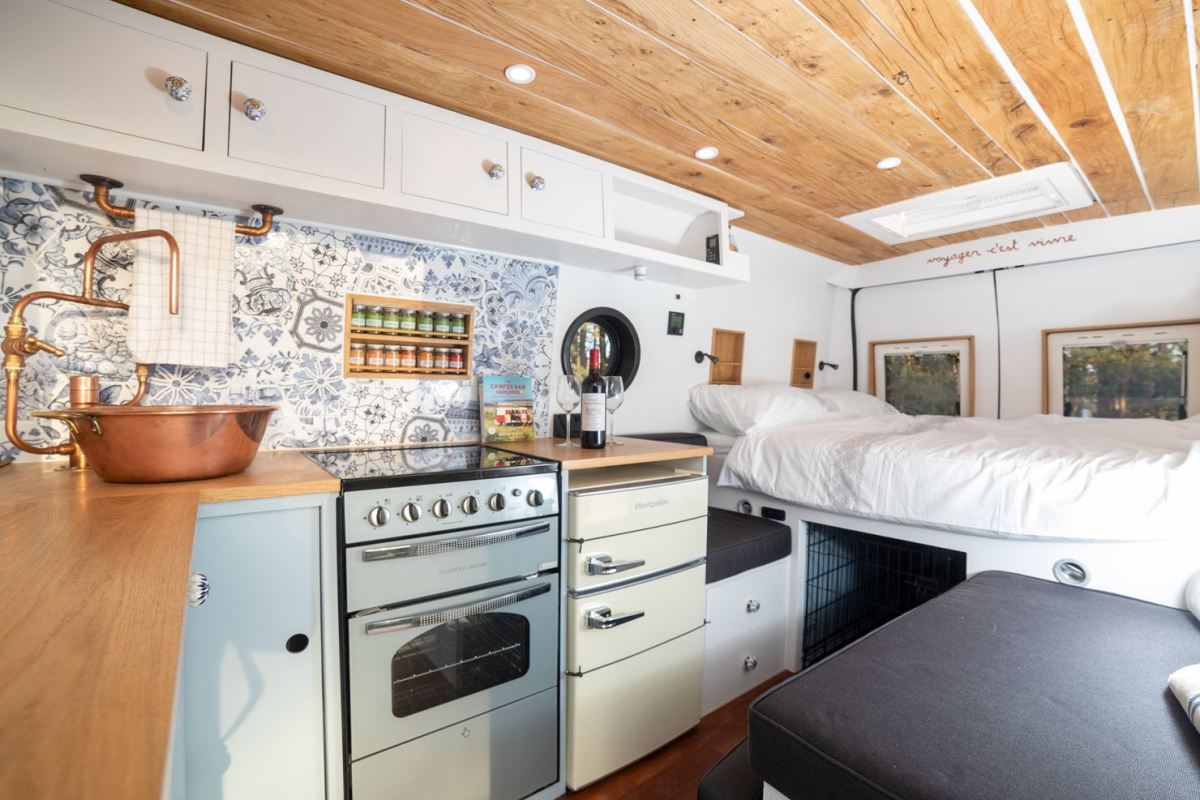 Orpington
3 Belted seats 3 Adult berths
Candide has been designed to feel as though you are stepping into a fresh, sharp but still rustic French apartment. This pet friendly three-berth campervan rental London has been professionally converted by his owners – a cabinet maker and a luthier (yes, we had to google it too!) to create an incredibly high quality and top spec campervan. Every detail of this gorgeous French-style camper van has been lovingly considered; from the mismatched Delft style tiles, to the character oak cladding and worktops, to the handmade copper tap and decorations. Trust us, you'll be saying "ooh la la" as you boil the copper kettle on the 4-burner gas hob, grab a hot pain au chocolat from the oven and grill combo and snuggle up with a glass of wine that's been chilling in the fridge/freezer on the stylish sofa. Combined with Candide's large solar panel, inverter and double leisure batteries this makes him the perfect van for off grid adventures. There is lots of internal storage space inside the living area for all your clothes and food, and there is a dedicated space under the fixed bed for a dog crate. Wherever you end up on your road trip, you will absolutely be ensured that you will be the van with the most 'je ne sais quoi' for miles around!
Essential Information
Air Conditioner
Hob
Heater
Dining Table
Oven
Refrigerator
Kitchen Sink
Inside Shower
Ceiling Fan
Solar
Reversing Camera
Extra Storage
CD Player
Radio
Inverter
Pet Friendly
EU Travel Allowed
About the Campervan
Description of Beds: A very comfy double bed in the rear, with a memory foam mattress. Very tall people who like to stretch out may need to sleep at a slight angle across the bed. There are reading lights and inset shelves for storing reading material or charging your devices from the built in USB sockets. The second bed is a narrow single that assembles across the van between the seats.

Description of Seating: 3 belted front facing seats in the clean and modern cab.

About the area: This London campervan hire is ready to collect from his home in South East London/North Kent and spirit you away, or perhaps further afield in Europe. Candide lives in Badgers Mount, a small 'town' between Orpington and Sevenoaks on the edge of London. There is a mainline train station, Knockholt (inside London travel zone 6) 10-15 minutes' walk away, and M25 Junction 4 is less than 5 minutes' drive. Gatwick Airport is 30-40 minutes' drive away depending on traffic.

Parking: You may leave your vehicle on the free street parking outside the house.

Cooking Equipment: Candide is equipped with a full kitchen comprising 4 ring gas hob, grill, oven, and fridge freezer. He contains all utensils you would expect to find at home: cutlery | crockery | kettle | set of 3 pans | frying pan with lid | baking tray | colander | bowls | bottle opener | garlic press | selection of spices, and more. Please ask if you aren't sure whether something is included.

Water Facilities: 90L integrated water tank, with electric pump. Hot water runs off electric hookup or gas. The combi-boiler runs the heating and hot water, which also supplies the internal shower.

Audio Equipment: Bluetooth and CD audio available in cab.

Type of Heating: Gas Heater

Conversion Story: Candide was previously a long distance freight transport van and spent the first two years of his life cruising up and down the motorways. We are his second owners. We bought Candide in April 2019 and carried out all elements of the conversion other than the install of the water tanks ourselves - it was a real labour of love! We wanted our van to feel like a beautiful tiny apartment - a space where you could almost forget you were in a vehicle, with all the conveniences you need easily to hand. We wanted a clean, relaxing yet quirky space with a luxury finish and worked obsessively to ensure every last detail on the van was right. We hope you find this space as comfortable and enjoyable to be in as we do!
Pick up / Drop off Times
| - | Pick up | Drop off |
| --- | --- | --- |
| Sunday | 9:00AM - 5:00PM | 9:00AM - 5:00PM |
| Monday | 9:00AM - 5:00PM | 9:00AM - 5:00PM |
| Tuesday | 9:00AM - 5:00PM | 9:00AM - 5:00PM |
| Wednesday | 9:00AM - 5:00PM | 9:00AM - 5:00PM |
| Thursday | 9:00AM - 5:00PM | 9:00AM - 5:00PM |
| Friday | 9:00AM - 5:00PM | 9:00AM - 5:00PM |
| Saturday | 9:00AM - 5:00PM | 9:00AM - 5:00PM |
Note: Campervan Hire prices are per 24 hours. The default pick up and drop off time is 2pm. If you request a pick up or drop off outside of this, the owner will quote you for the additional time. Typically this is £12.50 per additional hour.
When would you like to go?
Sorry, there was a problem...
Vehicle Spec
Vehicle Type: Campervan
Make: Fiat
Model: Ducato
Year: 2017
Vehicle Length: 5.99 metres
Max Laden Weight (MAM): 3500 kg
Payload: 420 kg
Transmission: manual
Fuel Type: diesel
Registration: emailed when you book
Note: The hire of this vehicle is arranged by Quirky Campers ltd acting as the agent on behalf of Candide's owners. We make every effort to ensure that all the vehicles listed with us are of a high standard but cannot guarantee the condition of the vehicle. If you experience any problems please notify us as soon as possible.
Reviews
This van hasn't yet received any reviews.