Darcy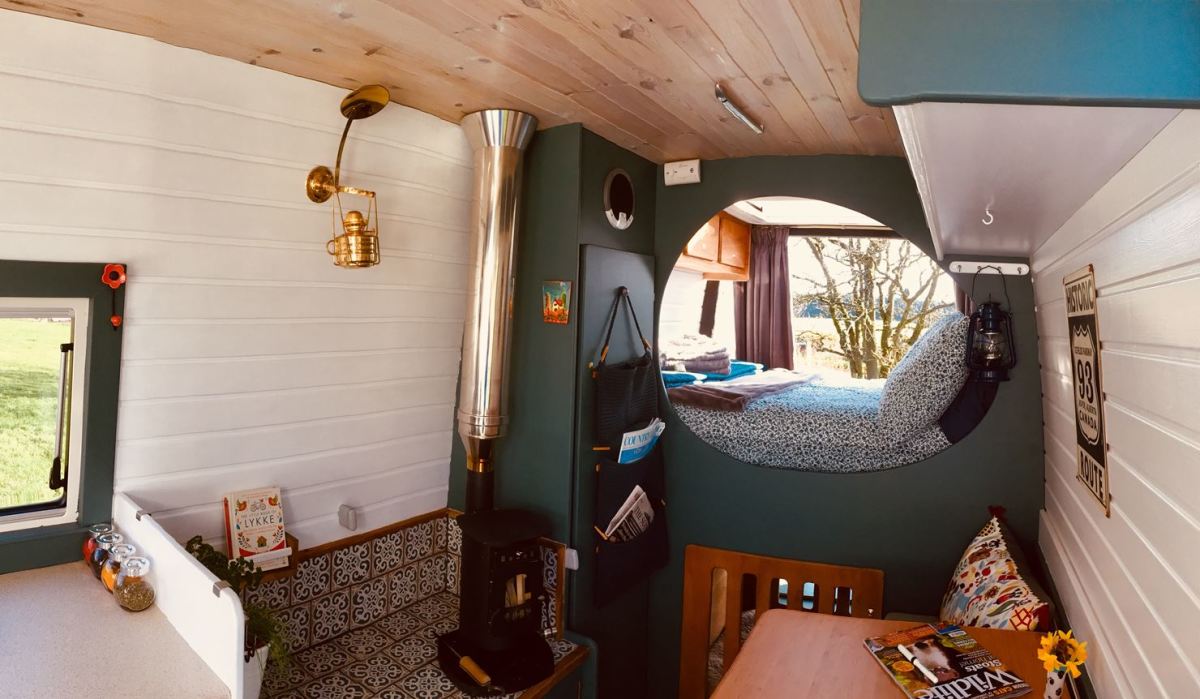 Duns
3 Belted seats 2 Adult berths
Darcy is one romantic, cosy and classy campervan for hire in Scotland. This dog-friendly campervan in Scotland is the absolute perfect campervan for a romantic getaway for two, plus two dogs! This dog-friendly campervan comes with a purpose-built kennel space and a complimentary 'doggy welcome pack' including towels, poo bags, a vet bed and a dog bowl if required.
You won't need to head off to romantic restaurants; just settle down for the night in Darcy's beautiful cosy dining room, bring your own wine list, switch on some fairy lights, and you've created the perfect date night! Snuggle up in the Winter with the warm light of the wood burner flickering in the corner or fling open the back doors in the Summer to soak up the Scottish sun – it does exist, we promise! Either way, you'll feel like you're in a very upmarket hotel with the Farrow & Ball painted cabinets and stunning hand painted tiles from the Mexican Tile Company. You'll also find a picnic blanket and a fully equipped picnic rucksack for those wanting to enjoy a bite of lunch in a more remote area of the beautiful Scottish countryside.

Essential Information
Hob
Dining Table
Refrigerator
Kitchen Sink
Bike Rack
Toilet
Awning
Reversing Camera
Extra Storage
Leveling Jacks
Radio
Pet Friendly
Water Tank Capacity: &nbsp70 litres
EU Travel Allowed
About the Campervan
Description of Beds: Fixed double bed in rear fitted widthways so shorter than a standard bed length (170cm in length). Dogs have their own spacious and comfortable sleeping quarters below the fixed double bed.

Description of Seating: 3 belted seats in the front all with 3 point belt. The passenger seats have no airbags so can be used with rear facing child seats.

About the area: Travel along the A1 until you reach the village of Grantshouse then take the A6112 signposted to Coldstream and Duns. Turn left after one mile on a B road signposted to Drakemyre and you will find Darcy in a grass paddock on the left just after the second green BERRYHILL sign. Please note DO NOT FOLLOW THE SAT NAV as it will take you to our neighbour's farm. if you get stuck please call us, we are always happy to help.

Parking: Off street parking available at your own risk.

Cooking Equipment: Kitchen is fully equipped to serve the needs of 4. She has a full canteen of cutlery, plates, bowls, cups, water glasses and wine glasses. Wooden utensils, I small and 1 large sharp knife and a bread knife. There are also pots, pans, strainer, bottle opener etc.

Water Facilities: Darcy has running water supplied by a built in water tank; the water pump provides excellent water pressure. Hot water can be added by using the kettle on the stove or hob. We supply drinking water in refillable 5 litre bottles that are stored in the starboard cupboard.

Audio Equipment: Factory fitted radio with 3.5mm jack lead and bluetooth with speakers in the back - NB this runs from the battery so please be sure not to leave music on all evening otherwise you will end up with a flat battery!

Type of Heating: Woodburner

Conversion Story: In 2007 I was a confirmed and unrepentant smoker. I loved nothing better than a smoke after a good meal or indeed a smoke at any time! Eventually I realised that I loved life and that smoking was, without any question, going to significantly shorten my life so, eventually I took the plunge and after 6 failed attempts finally gave up for good. It was an enormous struggle and I decided that I had to find something to 'really congratulate myself' if I could manage to stay off the nicotine for 10 years. I set up a standing order that very week for exactly the amount I was spending each month on tobacco and vowed not to touch it until 10 years had passed. In 2018 I finally broke the piggy bank and used every penny to build a campervan of my dreams – Darcy! I found tongue and groove reclaimed wood and insulated it with fleece from my Portland sheep. Given she is a not very environmentally friendly diesel van I wanted everything else in Darcy to be as genuinely environmentally friendly as possible so I tried to source everything either locally or from reclaimed sources. The duvet and pillows are made from recycled plastics, the glasses are all made from recycled glass and the textiles (seat covers, cushions, pillow cases duvets etc) are fair trade sourced. I lovingly sanded down the wood and applied coat after coat of Danish oil to treat the bare wood first and then, applied the doors and cupboards with deliciously decadent farrow and ball paint. The dog kennel was built to exactly the right height for my two Labradors to be able to stand up comfortably and be safe whilst travelling. I wanted lots of storage so that I had the potential to take her on wonderful adventures all over the world. I found some wonderful hand painted tiles from the Mexican tile company and a simply fabulous wood-burning stove from the Belltent company. When finances allow I will fit a solar panel and have a solar shower unit. All the clever and difficult bits were done by 'Will' at the Mill Garage, Duns and I will always be thankful, for not only his tremendous skill and workmanship, but also for his patience with me because, I was so incredibly excited I never left him alone and was always popping along and tweaking the design. I bought Darcy in December 2017 and she was finally completed in February 2019 – giving up smoking and buying Darcy was one of the best things I have ever done.
Pick up / Drop off Times
| - | Pick up | Drop off |
| --- | --- | --- |
| Sunday | 10:00AM - 4:00PM | 10:00AM - 4:00PM |
| Monday | 10:00AM - 4:00PM | 10:00AM - 4:00PM |
| Tuesday | 10:00AM - 4:00PM | 10:00AM - 4:00PM |
| Wednesday | 10:00AM - 4:00PM | 10:00AM - 4:00PM |
| Thursday | 10:00AM - 4:00PM | 10:00AM - 4:00PM |
| Friday | 10:00AM - 4:00PM | 10:00AM - 4:00PM |
| Saturday | 10:00AM - 4:00PM | 10:00AM - 4:00PM |
When would you like to go?
Sorry, there was a problem...
Vehicle Spec
Vehicle Type: camper-van
Make: Mercedes-Benz
Model: Sprinter
Year: 2014
Vehicle Length: 7 metres
Vehicle Height: 3.1 metres
Max Laden Weight (MAM): 3500 kg
Payload: 360 kg
Transmission: manual
Fuel Type: diesel
Registration: emailed when you book
Note: The hire of this vehicle is arranged by Quirky Campers ltd acting as the agent on behalf of Darcy's owners. We make every effort to ensure that all the vehicles listed with us are of a high standard but cannot guarantee the condition of the vehicle. If you experience any problems please notify us as soon as possible.