Juan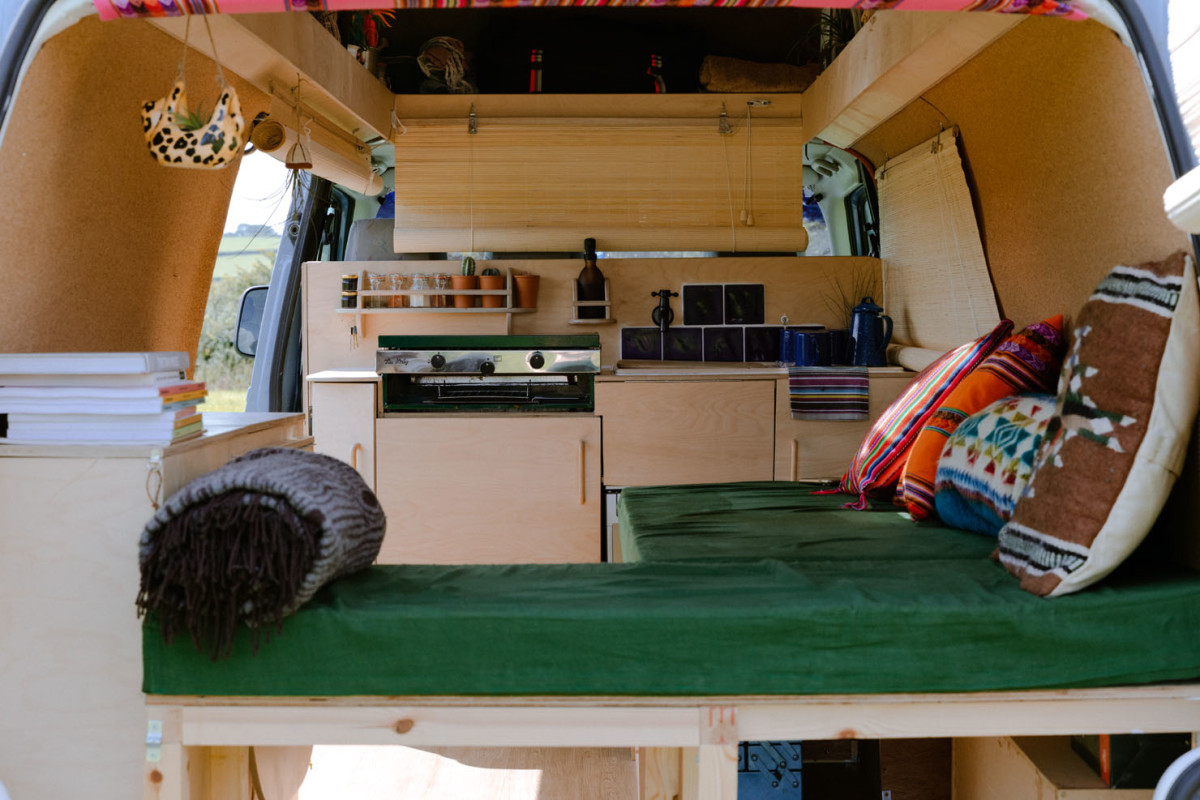 London
3 Belted seats 2 Adult berths
Juan is a quirky, London based classic VW T4 campervan, who will whisk you away from the hustle and bustle of the city centre to a tranquil and calm campervan holiday. This campervan hire central London is a wonderfully light and airy VW camper with a double pull out bed, meaning you have lots of daytime chilling out space. There is also storage underneath the seating for bedding. Everything in Juan has been handmade by his owners – you can see the love and attention that has gone into his creation; being in Juan is like being in a cool urban coffee house. The hob and grill are fuelled from the gas canister underneath in a kitchen cupboard, where you will also find pots, pans and utensils for cooking up an al fresco feast to enjoy somewhere off the beaten track. It's no wonder that one of Juan's owners favourite things to do is to park somewhere high up with a view, open up both the back doors and play a game of cards. What will your favourite thing be to do?
Essential Information
Air Conditioner
Hob
Dining Table
Refrigerator
Kitchen Sink
Solar
Extra Storage
Inverter
Pet Friendly
Double Beds: &nbsp1
Waste Tank Capacity: &nbsp20 litres
Water Tank Capacity: &nbsp20 litres
About the Campervan
Description of Beds: Pull out double bed.

Description of Seating: Juan has 3 seats up front, all with 3 point seat belts. We can provide a pet seat belt clip if needed as well.

About the area: Juan lives in South East London on the border of Gipsy Hill and Crystal Palace. He's parked on the street just outside his owners' flat. It's a 5 minute walk from Gipsy Hill station, or you can get dropped off on their doorstep by a number of buses.

Parking: Street parking.

Cooking Equipment: The kitchen equipment includes: Big pot | Medium pot | kettle | colander | spatula | sharp knives | bottle opener | lighter | cutting board | plates | cups | bowls | cutlery. More available if needed...

Water Facilities: The 20L water tank slides in and out of the side door and has an electric tap.

Audio Equipment: No radio.

Conversion Story: Juan is the result of many years research and a winter of hard graft. Before being re-made in Peckham he earned his living as a plumber in Essex. Designed during previous van trips, we brought him to life on the street outside our flat. Power tools were wailing long into the night. We wanted Juan to feel light and spacious, so he got a permanent high top from Shapes GRP which we had fitted by Colebook in Plymouth. He has a big central skylight, (which can be covered over at night), and bamboo blinds. We coated the walls and ceiling in cork, for its warmth and soft touch and used birch faced ply throughout. Every piece was made by hand in our small studio flat, to match Juan's curves.
Pick up / Drop off Times
| - | Pick up | Drop off |
| --- | --- | --- |
| Sunday | 10:00AM - 9:00PM | 10:00AM - 9:00PM |
| Monday | 10:00AM - 9:00PM | 10:00AM - 9:00PM |
| Tuesday | 10:00AM - 9:00PM | 10:00AM - 9:00PM |
| Wednesday | 10:00AM - 9:00PM | 10:00AM - 9:00PM |
| Thursday | 10:00AM - 9:00PM | 10:00AM - 9:00PM |
| Friday | 10:00AM - 9:00PM | 10:00AM - 9:00PM |
| Saturday | 10:00AM - 9:00PM | 10:00AM - 9:00PM |
Note: Campervan Hire prices are per 24 hours. The default pick up and drop off time is 2pm. If you request a pick up or drop off outside of this, the owner will quote you for the additional time. Typically this is £12.50 per additional hour.
When would you like to go?
Sorry, there was a problem...
Vehicle Spec
Vehicle Type: Campervan
Make: Volkswagen
Model: T4 LWB, High Top
Year: 2002
Vehicle Length: 5 metres
Vehicle Height: 3 metres
Max Laden Weight (MAM): 3000 kg
Payload: 940 kg
Transmission: manual
Fuel Type: diesel
Registration: emailed when you book
Note: The hire of this vehicle is arranged by Quirky Campers ltd acting as the agent on behalf of Juan's owners. We make every effort to ensure that all the vehicles listed with us are of a high standard but cannot guarantee the condition of the vehicle. If you experience any problems please notify us as soon as possible.
Reviews
This van hasn't yet received any reviews.