Laurie Lee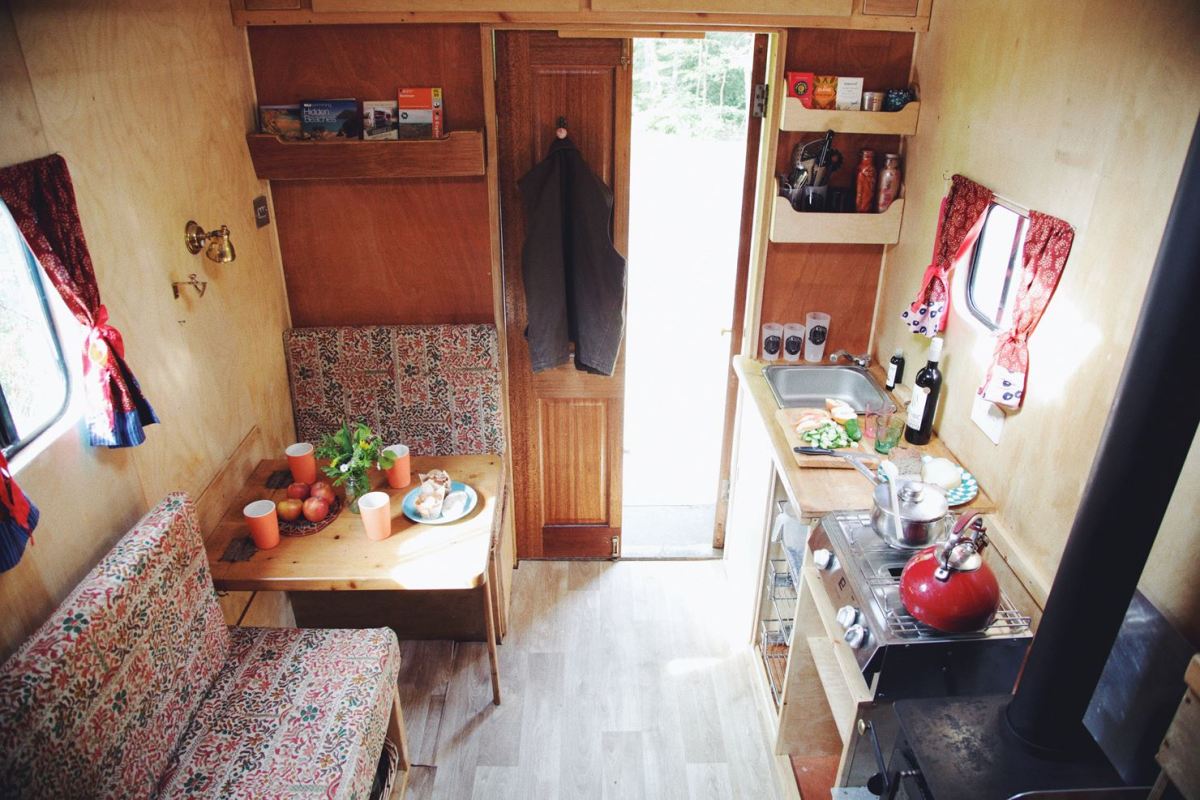 London
3 Belted seats 3 Adult berths
When you think about campervan hire, London might not immediately spring to mind as a place to find a completely bespoke, bohemian, family-friendly, spacious camper van. But Laurie Lee has all that and more! As soon as you step inside, you want to take off your shoes, light the wood burner, and curl up on the sofa with a good book. One of the best things about Laurie Lee is that because he is a larger van, he has fixed beds; one double bed and one single bed, as well as sofa seating for up to 5 people. His living space is separate to the cab space with a back-door entrance hidden behind a shuttered exterior. As you'd expect, there is also tonnes of storage space! There are cupboards over the door, under the sofas, under the beds, next to the beds, and in the kitchen! This veritable Tardis of a camper van really feels secret and private, because he is high off the ground, and his windows and porthole are high up too. If you're looking for a peaceful, cosy home from home campervan – Laurie Lee is probably your guy!
Essential Information
Hob
Heater
Kitchen Sink
Extra Storage
EU Travel Allowed
About the Campervan
Description of Beds: 2 fixed beds, one small double downstairs and one single upstairs

Description of Seating: there are belted seats in the cab ony which is seperate to the living space, with a double seat next to the drivers seat.

About the area: Laurie Lee lives in Highbury. We usually park him just across the road from our house or in any of the close by residents bays. we are a 5 minute walk from Canonbury overground station and a 15 minute walk from Highbury and Islington station or alernatively the 393 also goes from there and stops in our road.

Cooking Equipment: In the main living space, you will find a two-burner hob and a grill as well as all the utensils you could want, to rustle up a hearty meal. Cooking equipment includes: 5 bamboo plates | 4 bamboo cups | 4 plastic glasses | small and medium saucepan both with lids | heavy frying pan | wooden spoon | chopping knife and board | cutlery | fish slice | grater | bottle opener | corkscrew | sieve.

Water Facilities: Water is provided by: 10 and 20 litre portable containers for fresh and waste water with electric tap.

Type of Heating: Woodburner

Conversion Story: Laurie Lee was bought as an empty van because we had looked at buying something already converted and not managed to find anything that we liked. The main vision was to create a space that felt like home for myself and my daughter while we were travelling because we both loved the sense of home so much and wanted to spend time in new places without missing the stability and nurture and sense of hearth that we were leaving behind. He is until now the most special place that we have ever lived in. A childhood friend and skilled carpenter did the conversion at the end of my brothers garden, putting endless hours of work into the project at different stages, doing further work after the intial conversion and recently redoing the kitchen. Laurie Lee has different types of wood in him, hazel poles cut from the wood where I grew up, a beautiful siberian cedarwood table and a kitchen work surface made out of our old antique pine table. He used to also have some oak shelving, butr we had to make amendments due to weight! Laurie lee likes companionship, a warm hearth, family, a simple life, a nice view and bluebells.
Pick up / Drop off Times
| - | Pick up | Drop off |
| --- | --- | --- |
| Sunday | 9:00AM - 5:00PM | 9:00AM - 5:00PM |
| Monday | 9:00AM - 5:00PM | 9:00AM - 5:00PM |
| Tuesday | 9:00AM - 5:00PM | 9:00AM - 5:00PM |
| Wednesday | 9:00AM - 5:00PM | 9:00AM - 5:00PM |
| Thursday | 9:00AM - 5:00PM | 9:00AM - 5:00PM |
| Friday | 9:00AM - 5:00PM | 9:00AM - 5:00PM |
| Saturday | 9:00AM - 5:00PM | 9:00AM - 5:00PM |
Note: Campervan Hire prices are per 24 hours. If you request pick-up at an earlier time than your drop-off time the owner will quote you for the additional hours. Typically this is £12.50 per additional hour.
When would you like to go?
Sorry, there was a problem...
Vehicle Spec
Vehicle Type: camper-van
Make: Volkswagen
Model: LT35
Year: 2004
Vehicle Length: 6.5 metres
Vehicle Height: 3.6 metres
Max Laden Weight (MAM): 3500 kg
Payload: 500 kg
Transmission: manual
Fuel Type: diesel
Fuel Efficiency: 20 mpg
Registration: emailed when you book
Note: The hire of this vehicle is arranged by Quirky Campers ltd acting as the agent on behalf of Laurie Lee's owners. We make every effort to ensure that all the vehicles listed with us are of a high standard but cannot guarantee the condition of the vehicle. If you experience any problems please notify us as soon as possible.