EX - Luigi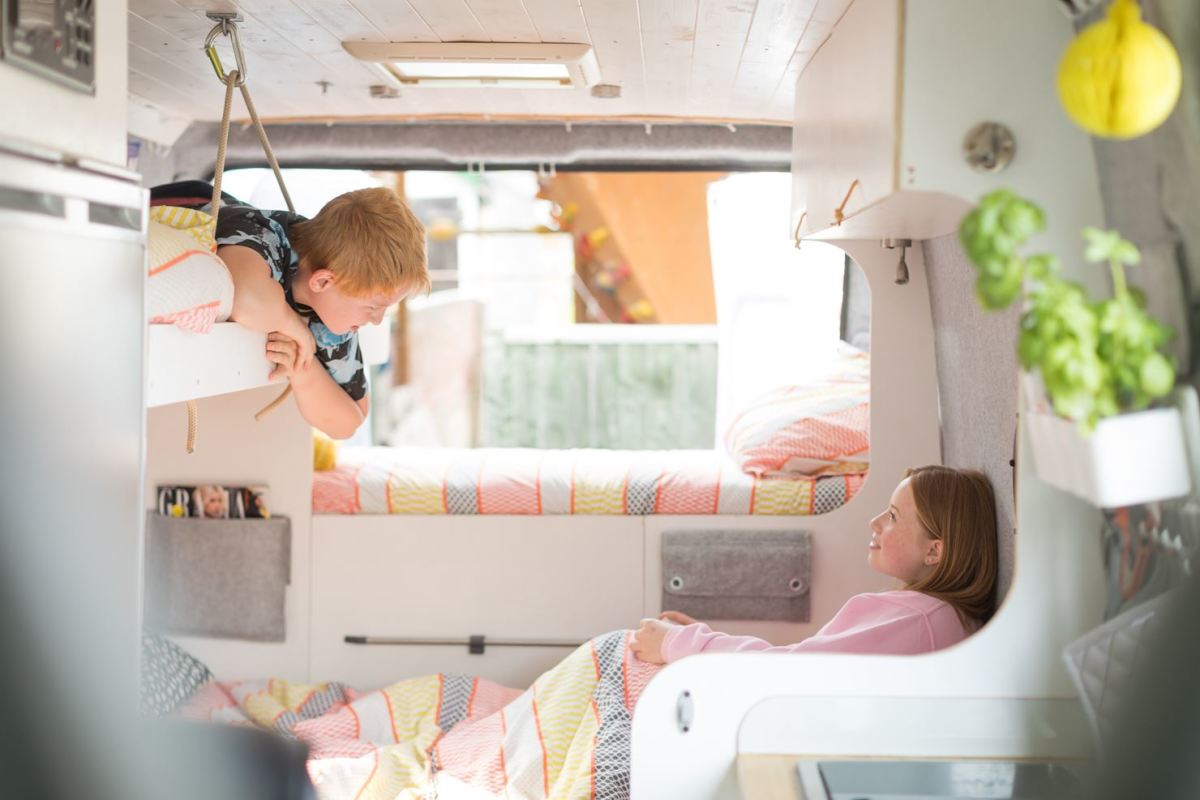 Leeds
5 Belted seats 3 Adult berths 1 Child berths
If you are looking for the perfect family friendly camper van to take your entire brood away on the most amazing camper van holiday – Luigi is definitely your guy! This Leeds campervan hire is perfectly set up to sleep 4 people, without compromising on space for anyone. Luigi has a simple, practical, but sleekly stylish interior that feels super spacious; there is a large garage area underneath the rear bed for rucksacks, hiking boots, maybe even an inflatable kayak?! There are also wall mounted cupboards as well as storage above the cab, and under the seats. His large solar panel means you can go completely off grid so you can enjoy the spontaneity of wild camping – whether you want to go and explore the nearby Yorkshire Dales, or head straight on to the M6 for a Lake District hiking holiday. And, with a selection of games already on board, at least you know there will always be something to do if you decide to snuggle up and stay in on a colder Winter night.
Essential Information
Hob
Dining Table
Refrigerator
Kitchen Sink
Toilet
Solar
Extra Storage
Leveling Jacks
EU Travel Allowed
About the Campervan
Description of Beds: 1 double bed 140 x 185 (standard double 137 x 190) 1 single bed 75 x 185 (standard single 91 x 190) 1 single high level bed 60 x 180

Description of Seating: All 5 seats have 3 point seat belts and are all forward facing. 3 in the front and 2 in the back. None of the seats have ISO fixing. None of the seats swivel. The 2 back seats recline and have arm rests for comfort.

About the area: Luigi lives in north Leeds on our drive. This is about 10 minutes drive from the city centre where there is a bus station, train station and taxis. Motorways M1, A1 and M62 are about 15 minutes drive away. York, the Yorkshire Dales and the North York Moors are all within 45 minutes away. Beautiful places to explore. Luigi is your perfect camper van for taking you away from city life, and into wonderful places of freedom and fun!

Parking: Off street parking

Cooking Equipment: The kitchen has also been designed with this family practicality in mind. Besides the two-burner hob and large fridge, you will find even more storage under the hob and the fridge itself. Cooking equipment includes: Sauce pans x 2 (1 large and 1 small) | frying pans x 2 | small milk pan | heat mat | colander | fork, knife, spoon and tea spoon set x 4 | cooking spoon | spatula | pincer scissors | tin opener | bottle opener | small sharp cooking knife | bread board | kettle | coffee moka pot | washing up bowl | espresso cups and saucers x 2 | small glasses for wine / water x 2 | metal mugs x 4 | metal plates x 4 | metal bowls x 4 | plastic bowls x 4 | plastic plates x 4 | plastic insulated cups with lids x 4 | sponges x 2 | tea towels x 2 | washing up liquid hand soap toilet roll

Water Facilities: 3 x 10 lt portable water containers with electric tap

Audio Equipment: There is a radio / cd / aux

Conversion Story: Our love of travelling and the outdoors encouraged us, in 2013 to buy a converted Vauxhall Vivaro which we named Dyxie. Making this big decision really did transform our lives to one of adventure and freedom. We have family in Milan so this was also a good solution to visiting them before continuing on with our holiday, usually in France and Italy. As the kids grew we were quickly running out of space and dreamed of owning a bigger van with a lay out which would work well for us. A turn of events gave us the opportunity to trade in Dyxie and buy a large empty Fiat Ducato panel van which had a previous life in Scotland transporting media equipment to events. We were so excited to start our own conversion project. 2018 saw us working hard through the Beast from the East and the hottest summer in decades to complete our beautiful Luigi. 6 months labour of love carried out on our drive through freezing and boiling temperatures, sometimes with much appreciated help from family and friends! We focused on good insulation, a practical layout and simple, fresh interiors. We designed, cut and painted our furniture from ply wood and clad the roof in white washed pine, giving attention to detail. As we love the spontaneity of wild camping we wanted an off grid van so solar power and a large fridge were a must. Climbing ropes and port holes give an playful feel to Luigi's interior design! With a big boot at the back to hold everything needed for a short or long trip, Luigi has had many adventures already, exploring beautiful beaches, towns and wild swimming spots in the UK and Europe. Luigi has taken the kids from big city life to wild and wonderful places of freedom and fun, all in a comfortable home from home. Priceless!
Vehicle Spec
Vehicle Type: camper-van
Make: Fiat
Model: Ducato
Year: 2010
Vehicle Length: 6 metres
Vehicle Height: 2.5 metres
Max Laden Weight (MAM): 3500 kg
Payload: 500 kg
Transmission: manual
Fuel Type: diesel
Registration: emailed when you book
Note: The hire of this vehicle is arranged by Quirky Campers ltd acting as the agent on behalf of EX - Luigi's owners. We make every effort to ensure that all the vehicles listed with us are of a high standard but cannot guarantee the condition of the vehicle. If you experience any problems please notify us as soon as possible.