EX- Denzel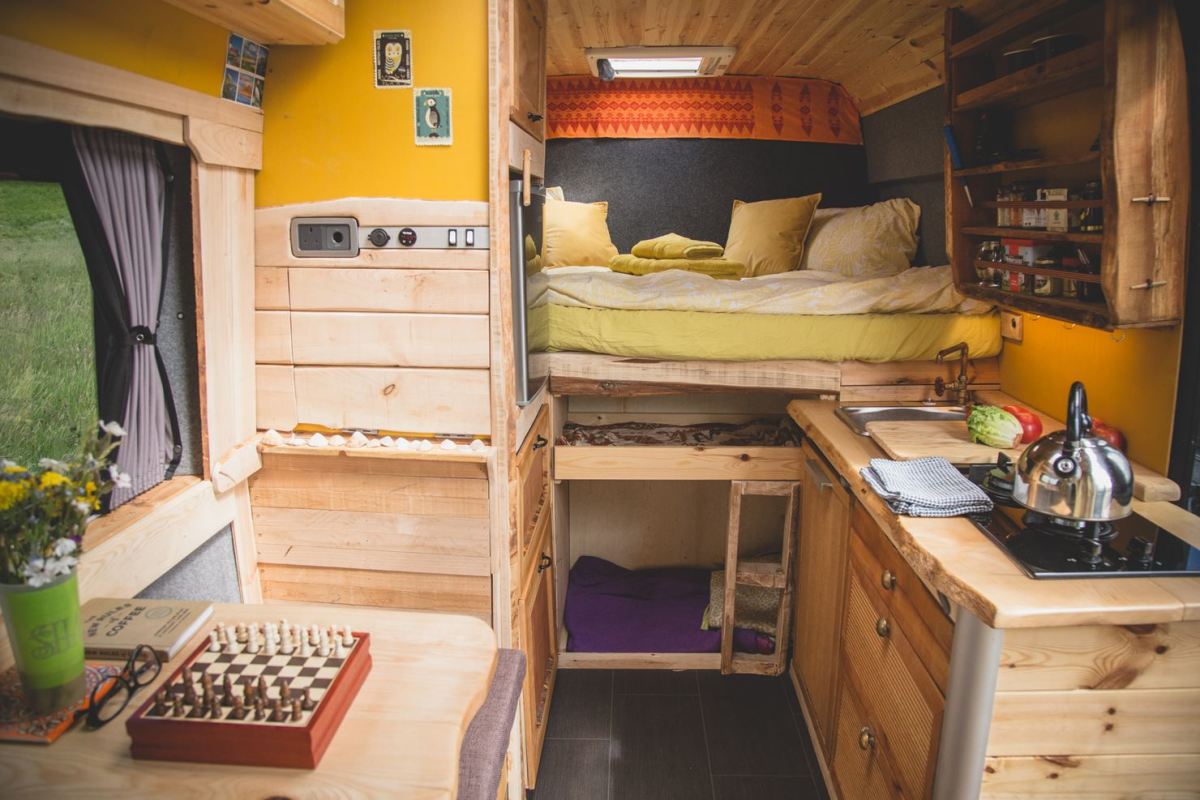 Ryton
3 Belted seats 2 Adult berths
Denzel is a roomy, super inviting and well-equipped camper van who is ready and waiting to whisk you off on your perfect camper van holiday. With his earthy tones and warm wooden interior, it's like stepping into a cosy cabin; the perfect getaway camper van for two. From the storage under the bench seat at the table to the cupboard above the cab, you will fit all your gear in easily. There's also roomy storage in the back below the bed, which is big enough for bikes, body boards, fire pits and inflatable boats. Don't worry – there's also the perfect space for your dog under the bed, because Denzel is absolutely pet friendly!
You'll love stretching out on his double bed, you'll love stargazing out of the large skylight. You'll definitely love chilling out on his comfy seating, cracking open a bottle of something cold, and taking in a view that maybe only you have found for the night. And, you'll definitely love waking up in the morning, putting on that first stove top coffee, and planning where you are going to take this gorgeous home on wheels that day!
Essential Information
Hob
Heater
Refrigerator
Kitchen Sink
Solar
Pet Friendly
EU Travel Allowed
About the Campervan
Description of Beds: Denzel has a Permanent double bed for 2 adults. The bed measures 6ft4 x 4ft which accommodates 2 adults.

Description of Seating: 3 Seats in the cab with 3 point belts. There is sociable seating for up to 3 people inside Denzel and there are 2 portable seats included in the hire for use outside.

About the area:Located only 5 minutes away from central Newcastle upon Tyne, Denzel is in the ideal location for easy access to the Lake District, the Yorkshire Dales, and beyond into Scotland – this campervan hire Tyne and Wear is a perfect choice for adventure seekers wanting to go on an off-grid camper van holiday.

Parking: Street parking is available: If you are coming by car you are welcome to park it where Denzel is usually parked.

Cooking Equipment: There's a really well-equipped kitchen, complete with pots, pans and cutlery. You'll be able to keep everything cool with the built-in fridge, and make use of plenty of cupboard storage for all the rest of your food. Cooking equipment includes: 4x knives, forks spoons | 2 x teaspoons | 4 x plates | 4 x bowls | kettle
Stove top coffee pot | Frying pan | pot | wooden spoon | large serving spoon | tin opener | bottle opener

Water Facilities: Water is provided by: 20l portable container with pump and tap. He is fully solar powered, and when you hire him, you even get a solar shower included so you don't have to fully embrace your "wild side" if you want to continue looking glamorous at all times!

Audio Equipment: Pioneer CD / DAB radio with usb and aux in. Reverse camera

Heating: There is a Diesel Heater to warm you up on colder days.

Conversion Story:The conversion was lovingly hand crafted by Andy over the course of 3 years adding more spacious storage and finishing touches after each summer of adventures to make him the luxury camper he is now. Having started life as a basic, empty panel van Denzel is now the ultimate fully equipped cosy camper.
Triple insulation underneath the wood pannelling makes Denzel cool in the heat and warm in the cold and the two sky lights and side windows provide excellent ventilation and lovely light. He's fully solar powered so all charging needs are taken care of as well as LED lighting and a fridge. Roomy storage in the back below the bed is big enough for bikes, body boards, fire pits and inflatable boats. In addition to the fully equipped kitchen, linens and towels; two chairs, a fire pit, bbq and solar shower are all included too.
Pick up / Drop off Times
| - | Pick up | Drop off |
| --- | --- | --- |
| Sunday | 9:00AM - 5:00PM | 9:00AM - 5:00PM |
| Monday | 9:00AM - 5:00PM | 9:00AM - 5:00PM |
| Tuesday | 9:00AM - 5:00PM | 9:00AM - 5:00PM |
| Wednesday | 9:00AM - 5:00PM | 9:00AM - 5:00PM |
| Thursday | 9:00AM - 5:00PM | 9:00AM - 5:00PM |
| Friday | 9:00AM - 5:00PM | 9:00AM - 5:00PM |
| Saturday | 9:00AM - 5:00PM | 9:00AM - 5:00PM |
Note: Campervan Hire prices are per 24 hours. The default pick up and drop off time is 2pm. If you request a pick up or drop off outside of this, the owner will quote you for the additional time. Typically this is £12.50 per additional hour.
Vehicle Spec
Vehicle Type: Campervan
Make: Fiat
Model: Ducato
Year: 2011
Vehicle Length: 5.9 metres
Max Laden Weight (MAM): 3500 kg
Payload: 920 kg
Transmission: manual
Fuel Type: diesel
Registration: emailed when you book
Note: The hire of this vehicle is arranged by Quirky Campers ltd acting as the agent on behalf of EX- Denzel's owners. We make every effort to ensure that all the vehicles listed with us are of a high standard but cannot guarantee the condition of the vehicle. If you experience any problems please notify us as soon as possible.