Tyson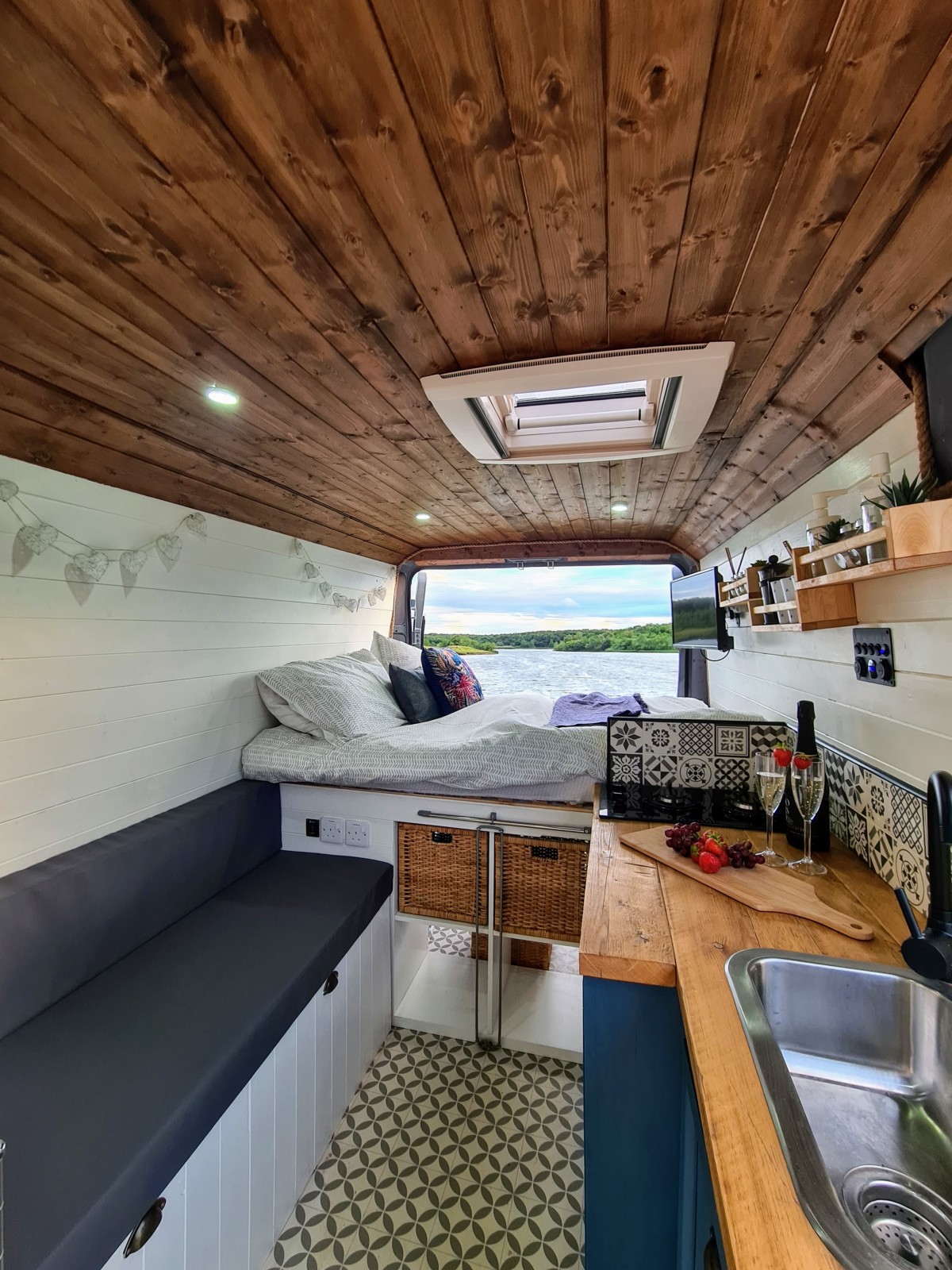 Morpeth
3 Belted seats 2 Adult berths 1 Child berths
Tyson is a rugged, robust but super cosy campervan who is rearing to set off on an exploration adventure! Tyson has been designed to ensure that whilst you might be parked up in the beautiful wilderness of the Scottish Highlands, you won't have to sacrifice any comfort levels to enjoy this awesome experience. He has running hot and cold water which feeds the internal shower as well as the kitchen sink, a diesel heater to keep off the Winter chill, and an integrated fridge freezer to keep your drinks chilled and your ice cream frozen. If you fancy a night snuggled up in the fixed double bed, you can also make use of the TV to have a classic film night, with fresh corn popped on the two-burner gas hob. He's also fully equipped for off-grid adventures with his solar panel and invertor setup, though of course you can hook him up if you're staying on a campsite, too. Tyson's interior has been crafted with repurposed and upcycled materials such as the stunning scaffolding kitchen worktop and the pallet wood table. The crisp white and cool blue colour scheme makes the living space feel really open, and with the back doors open or, you can really let the outside in, and totally fall in love with the laid-back camper van lifestyle.
Essential Information
Hob
Heater
Dining Table
Refrigerator
Kitchen Sink
Inside Shower
Toilet
Satellite
Solar
Extra Storage
TV / DVD
CD Player
Radio
Inverter
Pet Friendly
Water Tank Capacity: &nbsp92 litres
EU Travel Allowed
About the Campervan
Description of Beds: Fixed double bed to the rear for 2 adults, pull out bench seat which would be ideal for a child (150x85cm when pulled out)

Description of Seating: 3x front facing cab seats with 3 point mounting seat belts

About the area: Located just north of Newcastle upon Tyne, this three-berth family campervan available to hire in Newcastle is the perfect choice for an off-grid road trip around Northumberland, the Lake District, the Yorkshire Dales or Scotland. In fact, the North Shields ferry is only a 15-minute drive away, so you could be in the Netherlands and the wider ranges of European campervan heaven! Tyson lives in a small village called Shotton just north of Newcastle upon Tyne, just minutes from the A1 and A19 so traveling by car is a breeze. You're more than welcome to park your car where Tyson normally parks. Alternatively we're 7 miles from Newcastle train station and 8 miles from Newcastle airport. Note. Tyson may use a local alternative parking location (within a few miles) depending on collection date / times. The alternative location is a short walk from a metro station which my be easier if traveling by train. If you're planning on coming on an evening via train, we may be able to collect you from the train station - please contact to discuss.

Parking: Off street parking

Cooking Equipment: The homely kitchen which has a 2 Ring gas hob & Fridge/Freezer also includes: Whistling Kettle | x3 tumblers | x3 Plates | x3 Bowls | x3 Knives | x3 forks | x3 teaspoons | x3 table spoons | Frying pan | Sauce pan | Range of cooking utensils | Bottle opener/corkscrew | Chopping knife | x3 Mugs | Colander.

Water Facilities: Hot and cold running water to the kitchen sink and shower using a diaphragm pump running from a 70L water tank (with additional 22L hot water tank) The tank will be supplied full and we will supply a hose and connectors if you need to top up during your travels. Tyson can also come with a toilet if required (available as an extra when booking)

Audio Equipment: Handsfree, built in Tom Tom satnav, USB / AUX / Bluetooth connectivity

Type of Heating: Diesel Heater

Conversion Story: Tyson was lovingly converted by Laura and Marrick of Northern Campers over the course of a few months (Early mornings, late nights and long weekends!) with the intent of making the perfect van for traveling through Europe for a summer holiday. After successfully completing the 3000 mile trip without a glitch, it definitely met our expectations. He started life as a dusty, unloved builders van. He has been completely gutted, cleaned and rebuilt into the beautiful camper you see in the photos. All of the units are made from scratch mainly from recycled materials - the kitchen uses re purposed scaffolding boards for the worktop. Sound deadening was used throughout, then thoroughly insulated and finally finished in beautiful lightweight pine cladding. Because we didn't know what the European weather would throw at us, we installed a hot water system that warms up using the vehicles engine for the shower (a system usually found on narrow boats!), a diesel heater which runs from the vehicles fuel tank - this warms up the van really quickly. And for the warmer weather we fitted an opening roof vent, side opening window and a Fridge freezer to keep the drinks and food nice and chilled! The van is well equipped and a lovely comfortable drive, with an air conditioned cab, cruise control, electric mirrors and a built in SatNav which even works in Europe! The full story and progress can be seen on our Instagram @Northern_Campers
Pick up / Drop off Times
| - | Pick up | Drop off |
| --- | --- | --- |
| Sunday | 8:30AM - 7:00PM | 8:00AM - 7:00PM |
| Monday | 8:30AM - 7:00PM | 8:00AM - 7:00PM |
| Tuesday | 8:30AM - 7:00PM | 8:00AM - 7:00PM |
| Wednesday | 8:30AM - 7:00PM | 8:00AM - 7:00PM |
| Thursday | 8:30AM - 7:00PM | 8:00AM - 7:00PM |
| Friday | 8:30AM - 7:00PM | 8:00AM - 7:00PM |
| Saturday | 8:30AM - 7:00PM | 8:00AM - 7:00PM |
Note: Campervan Hire prices are per 24 hours. The default pick up and drop off time is 2pm. If you request a pick up or drop off outside of this, the owner will quote you for the additional time. Typically this is £12.50 per additional hour.
When would you like to go?
Sorry, there was a problem...
Vehicle Spec
Vehicle Type: Campervan
Make: Peugeot
Model: Boxer
Year: 2014
Vehicle Length: 5.9 metres
Vehicle Height: 2.8 metres
Max Laden Weight (MAM): 3500 kg
Payload: 720 kg
Transmission: manual
Fuel Type: diesel
Registration: emailed when you book
Note: The hire of this vehicle is arranged by Quirky Campers ltd acting as the agent on behalf of Tyson's owners. We make every effort to ensure that all the vehicles listed with us are of a high standard but cannot guarantee the condition of the vehicle. If you experience any problems please notify us as soon as possible.