Maudie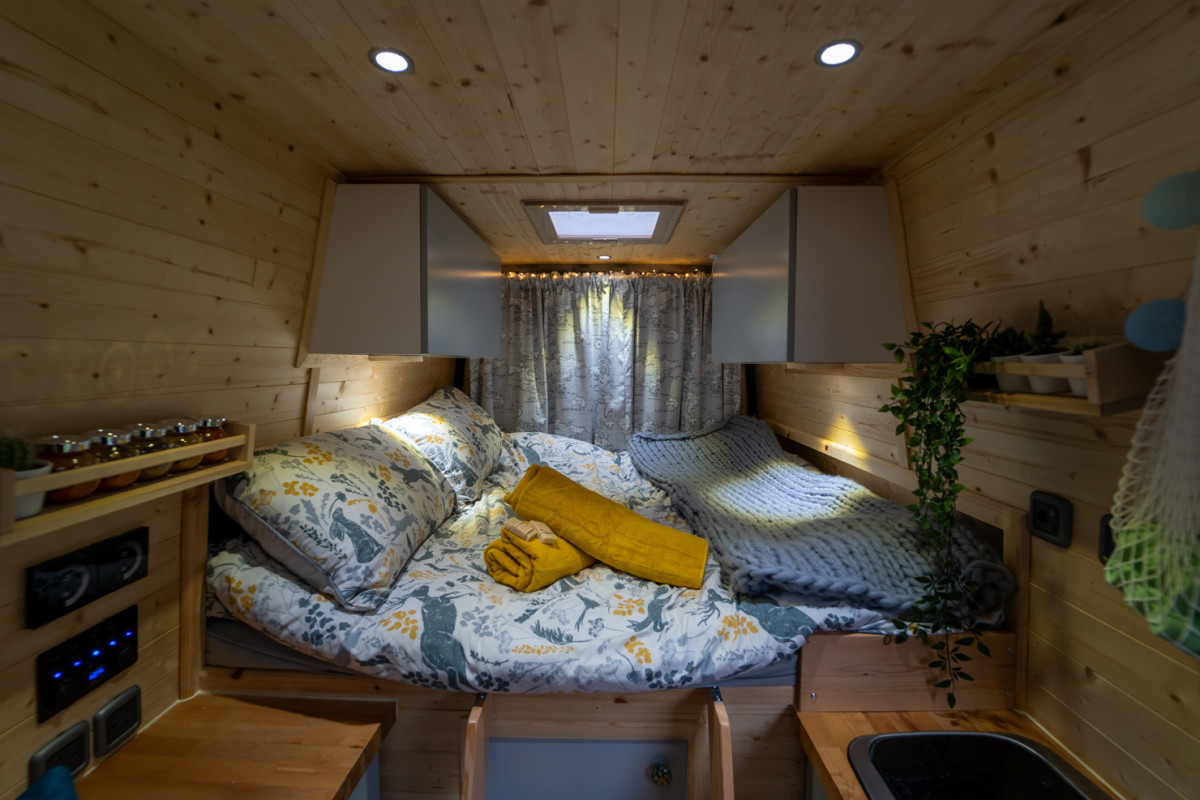 Birmingham
2 Belted seats 2 Adult berths
Maudie is a beautiful and professionally converted campervan with everything you need for a perfect couple's campervan holiday on board. With her fixed double rear bed, comfy bench seating and fully equipped kitchen, Maudie is ready to get going on an awesome campervan road trip. Located in the heart of England, this camper hire Birmingham is perfect for heading to the moors of the Peak District, the mountains of Wales, the South Downs beaches or maybe venturing further afield to the rugged wilderness of Scotland. There is plenty of space for all your gear, whether you want to pack hiking boots and rucksacks for a week of rambling, or snow boots and skis for a Scottish Winter expedition, Maudie will fit it all in, in her huge under bed storage space, as well as the over bed cupboards. With a rear skylight over the bed, we can't imagine anything better than chilling out with a glass of wine, fresh from the cool box, snuggled up in the super cosy bed as you gaze at the night sky on a wilderness adventure in this gorgeous campervan.
Essential Information
Hob
Heater
Dining Table
Refrigerator
Kitchen Sink
Outside Shower
Solar
Reversing Camera
Extra Storage
Pet Friendly
About the Campervan
Description of Beds: Maudie has a Fixed double bed which accommodates 2 adults.

Description of Seating: Two belted seat belts in the main cab. Suitable for child car seat using a belt

About the area: Maudie lives in Birmingham and is parked outside my house in Edgbaston not far from the city centre and transport links to North or South of the UK

Parking: There is parking available at the location. Hirers can park in Maudie's space

Cooking Equipment: Kitchen facilities include two hobs for cooking, sink and a coolbox fridge.

Water Facilities: Water to the sink is provided by a 7L jerrycan. Water to the shower is provided by a 45L underslung tank

Audio Equipment:AM/FM radio in the cab

Type of Heating: There is a Diesel Heater to warm you up on colder days.

Conversion Story: Maudie's owner loves the outdoors and would often plan trips well in advance. However the great British weather would often disappoint and this meant hiking in unpleasant conditions. My desire to get a van was heightened after experience the freedom of van life with friends who owned vans. They could change their plans to follow the weather and best of all was they didn't have to share a hostel room with snoring hikers! The next step was to find a van which was small enough to manoeuvre around tight country roads (and park!) but with enough storage space to pack all the necessary mountaineering equipment.

After an extensive internet search I came across Maudie and instantly knew she was perfect. Maudie was professionally converted by SSL conversions of Hampshire but I added a few of my own touches to add some individuality to the van
Pick up / Drop off Times
| - | Pick up | Drop off |
| --- | --- | --- |
| Sunday | 9:00AM - 5:00PM | 9:00AM - 5:00PM |
| Monday | 9:00AM - 5:00PM | 9:00AM - 5:00PM |
| Tuesday | 9:00AM - 5:00PM | 9:00AM - 5:00PM |
| Wednesday | 9:00AM - 5:00PM | 9:00AM - 5:00PM |
| Thursday | 9:00AM - 5:00PM | 9:00AM - 5:00PM |
| Friday | 9:00AM - 5:00PM | 9:00AM - 5:00PM |
| Saturday | 9:00AM - 5:00PM | 9:00AM - 5:00PM |
Note: Campervan Hire prices are per 24 hours. The default pick up and drop off time is 2pm. If you request a pick up or drop off outside of this, the owner will quote you for the additional time. Typically this is £12.50 per additional hour.
When would you like to go?
Sorry, there was a problem...
Vehicle Spec
Vehicle Type: Campervan
Make: Ford
Model: Transit
Year: 2013
Vehicle Length: 5.2 metres
Vehicle Height: 2.61 metres
Max Laden Weight (MAM): 3500 kg
Payload: 1,020 kg
Transmission: manual
Fuel Type: diesel
Registration: emailed when you book
Note: The hire of this vehicle is arranged by Quirky Campers ltd acting as the agent on behalf of Maudie's owners. We make every effort to ensure that all the vehicles listed with us are of a high standard but cannot guarantee the condition of the vehicle. If you experience any problems please notify us as soon as possible.