EX - Lottie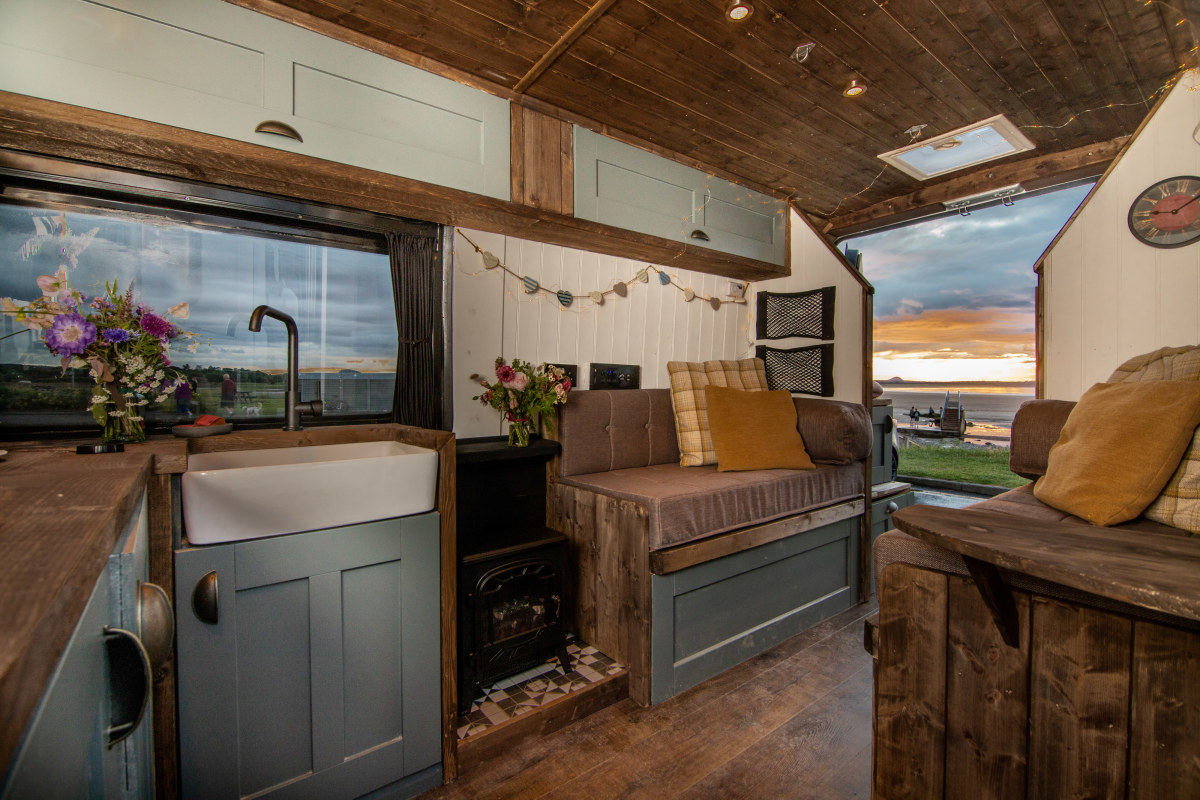 Dunbar
3 Belted seats 2 Adult berths
Lottie is an absolutely stunning, quintessentially country style camper van for hire in Scotland. If you have been wanting to experience the ultimate dream of van life, then Lottie is probably the camper for you!

This expertly hand-crafted, pet friendly camper has been converted into a frankly incredible living space which combines rustic, cosy charm with high spec finishes to give an end result that is both beautiful and practical. Lottie's layout is perfect for a couple off on an epic exploration of the Scottish wilderness; perhaps an NC500 road trip, or an adventure around the Scottish coast. She has a large kitchen workspace complete with Belfast sink and a fridge, two fabulously comfy sofa seats which transform at night into the double bed, and a really clever area at the rear of the campervan for storage of wellies, coats, camping chairs and the portable toilet.

Imagine parking her up in a secluded spot, snuggling up in bed with a hot chocolate, turning the overhead fairy lights on, and taking in the view from the open back doors onto your very own Scottish campervan holiday of a lifetime! When do we go?!
Essential Information
Hob
Heater
Dining Table
Refrigerator
Kitchen Sink
Bike Rack
Toilet
Awning
Radio
Pet Friendly
Gas Capacity: &nbsp4 litres
Toilet Capacity: &nbsp10 litres
Waste Tank Capacity: &nbsp25 litres
Water Tank Capacity: &nbsp25 litres
About the Campervan
Description of Beds:.
Lottie sleeps up to two people. The swinging table clicks off, and the seating area transforms into a double bed by putting two wooden slats (which are kept in under seating storage area) in middle section. The pillows for the seating are used as the base of the bed.

Description of Seating: Three belted seats in the front (including driver) with head rests. 2 out of 3 of the seats are suitable for a child car seat using the belt.

About the area: Lottie lives on the coast, in Dunbar, East Lothian and is parked in our own driveway close to the town centre. You can head West towards Edinburgh or head further north to the stunning Cairngorms National Park.

Parking: If you drive to collect Lottie, you are welcome to leave your car in our garage, or the driveway if your car won't fit in the garage! If you come by train, Lottie's owners will be able to pick you up from Dunbar station.

Cooking Equipment:
Lottie's beautiful country style kitchen has a 2-burner gas hob and all the fully equipped kitchen has all the equipment and utensils you will need to cook up something delicious including: 4 bamboo cups | 4 mugs | 4 dinner plates | 4 side plates | 4 bowls | cutlery | chopping boards | kettles | frying pan | 2 pots | kitchen knives | tin opener | bottle opener | cheese grater and a toasting rack that can be used on the gas hob. Lottie also comes with washing up equipment and a small dustpan and brush as well as kitchen towels.

Water Facilities: There is a 25-litre removable water tank that supplies water to the sink via a pump. You can hire a portable toilet as an optional extra.

Audio Equipment: USB plug-in and Bluetooth are both available so you can play your own music while in the cab.

Type of Heating: An electric heater will keep you warm and snuggly.

Conversion Story: Lottie started her life as a vending machine repair van until she was bought by Jack Sinclair from York who carried out her conversion. Jack is a joiner by trade and this shows in Lottie beautiful craftsman ship. This was Jack's first full van conversion who design and build everything in the van. The design is well thought out to provide lots of clever storage spaces while keeping it cosy and unique inside. We bought Lottie in June this year and have since taking her on lots of little adventures. We thought she was too good not to share with everyone!
Pick up / Drop off Times
| - | Pick up | Drop off |
| --- | --- | --- |
| Sunday | 9:00AM - 6:00PM | 9:00AM - 6:00PM |
| Monday | 9:00AM - 6:00PM | 9:00AM - 6:00PM |
| Tuesday | 9:00AM - 6:00PM | 9:00AM - 6:00PM |
| Wednesday | 9:00AM - 6:00PM | 9:00AM - 6:00PM |
| Thursday | 9:00AM - 6:00PM | 9:00AM - 6:00PM |
| Friday | 9:00AM - 6:00PM | 9:00AM - 6:00PM |
| Saturday | 9:00AM - 6:00PM | 9:00AM - 6:00PM |
Note: Campervan Hire prices are per 24 hours. If you request pick-up at an earlier time than your drop-off time the owner will quote you for the additional hours. Typically this is £12.50 per additional hour.
Vehicle Spec
Vehicle Type: camper-van
Make: Citroen
Model: Relay
Year: 2009
Vehicle Length: 5.4 metres
Vehicle Height: 2.5 metres
Length with hitch: 5.4 metres
Max Laden Weight (MAM): 3500 kg
Payload: 640 kg
Fuel Type: diesel
Registration: emailed when you book
Note: The hire of this vehicle is arranged by Quirky Campers ltd acting as the agent on behalf of EX - Lottie's owners. We make every effort to ensure that all the vehicles listed with us are of a high standard but cannot guarantee the condition of the vehicle. If you experience any problems please notify us as soon as possible.