Floyd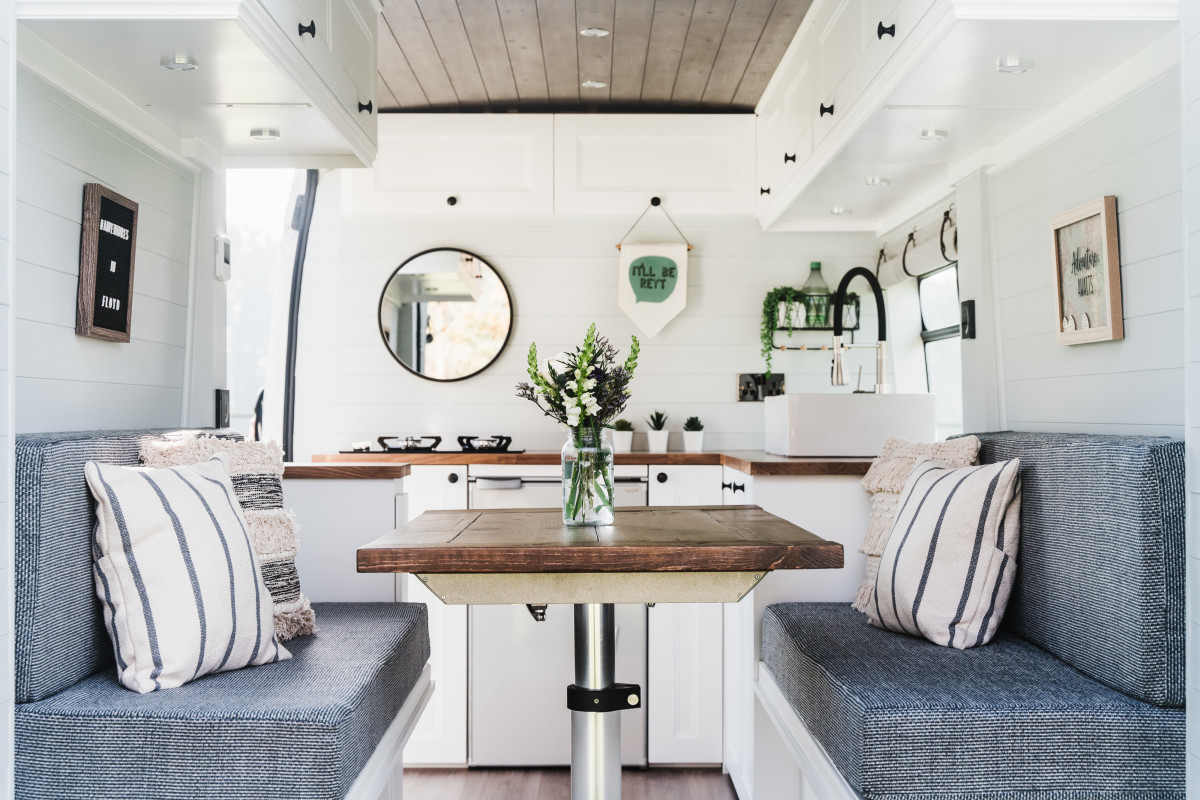 Melton Mowbray
3 Belted seats 2 Adult berths
This campervan doesn't half pack a punch! Floyd is a freshly converted super sleek and very high spec 2-berth campervan for hire in Leicestershire. This is one heck of a cool styled camper with a crisp white and solid wood interior that makes it feel really spacious inside.

His owners have created a totally off-grid camper which feels like a tiny home inside! Floyd has hot and cold water; radiant underfloor heating; decent sized appliances and lots of storage for all your adventure needs! There is enough solar generated electricity to not have to worry about it; 240v power there when you need it; a toilet and shower; and a projector for kicking back with a good film and bottle of wine after a long day exploring or when the darker nights draw in.

With large comfy sofas during the day and a snuggly double bed at night – Floyd is the prefect camper van to hire for a romantic getaway, a couples wild camping adventure, and most importantly, an incredible rolling home away from home.
Essential Information
Air Conditioner
Heater
Dining Table
Refrigerator
Kitchen Sink
Outside Shower
Bike Rack
Toilet
Ceiling Fan
Tow Bar
Solar
TV / DVD
CD Player
Audio Inputs
Radio
Inverter
Gas Capacity: &nbsp4.6 litres
Waste Tank Capacity: &nbsp50 litres
Water Tank Capacity: &nbsp90 litres
About the Campervan
Description of Beds: Floyd sleeps up to two people in a full-width luxury foam double bed which effortlessly converts into a four-seater dinette area using a gas-sprung pedestal.

Description of Seating: Three belted seats in the cab (including driver), all front facing with head rests.

About the area: Floyd lives in Melton Mowbray, Leicestershire; perfectly located to explore rolling countryside and rural market towns, as well as the nearby vale of Belvoir and picturesque county of Rutland. It's also really easy to hop on the A1 or A46 to venture further afield in any direction.

Parking: If you drive to collect Floyd, you are welcome to leave your car in his normal spot on a driveway in a quiet residential street. If you come by train, Floyd's owners will be able to pick you up from Melton Mowbray station.

Cooking Equipment: In addition to the two-burner gas hob inside, there is an optional compact BBQ that you can use to cook outside. Floyd has everything you could need to cook up a feast, including: mugs | plates | bowls and cutlery for four |two crystal-look acrylic wine glasses | champagne flutes | large tumblers | two chopping boards | stove top kettle | toaster | frying pan | large and small saucepans |various cooking utensils. Floyd also has a collapsible washing up bowl | dish drying mat and a small dustpan and brush.

Water Facilities: Floyd has a 70-litre cold water tank and 22 litre hot water tank. These feed the kitchen sink and the outside shower and are filled from a single water inlet point on the outside of the van. The hot water is heated by either the diesel heater or an electric immersion heater, which can be used even when off-grid. Waste water drains into the grey water tank slung under the floor. This is easy to empty into an appropriate disposal point via the tank's drain tap. There is also a portable toilet available.

Audio Equipment: Floyd has a radio, CD player and Bluetooth in the cab. In the main living space, there is an optional portable Bluetooth speaker. For those who enjoy relaxing to a movie after a long day exploring, Floyd can be hired with an integrated projector and 55" retractable screen. The projector accepts HDMI and USB connections allowing files to be played from a memory stick or streamed from services like Netflix via your phone or tablet.

Type of Heating: Floyd has underfloor heating, powered by a diesel heater which lives under the van. Fuel is taken directly from the main diesel tank so there is no need for separate top-ups. The heating can be programmed to come on and go off at set times or set temperatures, using a thermostat; just as in most homes. This type of radiant heating system may take a little longer to heat than other types, but it warms the fabric of the van, rather than blowing warm air. Therefore, once up to temperature, Floyd stays warm and provides a comfortable living space at any time of year!

Conversion Story: After listening in awe to the tales of their friends and family who owned and travelled in campers, it'd always been a dream of Dave and Helen's to own one for themselves. With Dave a self-confessed DIY addict and Helen a lover of any excuse to get creative and play with interior design, they knew the ultimate goal was to build their own camper from scratch, with the hope of creating a real feel of home from home. In July 2019, the dream became a reality when they found Floyd; a 2015 Peugeot Boxer courier van with a ton of potential! The dimensions of Floyd were perfect for their needs; tall enough to stand in, wide enough to sleep across the van, long enough to feel spacious and short enough to fit on the driveway!

With Floyd attracting many admirers, Dave and Helen now take bespoke commissions as proud Quirky Converters; Country Road Campers. To follow their story in full check out @country.road.campers on Instagram. They really hope that you'll love Floyd just as much as they do; he makes the perfect travel companion for adventures of all kinds.

PLEASE NOTE: we've recently received a number of enquiries about pets. Much as we love them, pets are not permitted when hiring Floyd. This allows us to keep him in best possible condition for everyone to enjoy.. we hope you understand.
Pick up / Drop off Times
| - | Pick up | Drop off |
| --- | --- | --- |
| Sunday | 9:00AM - 7:00PM | 9:00AM - 7:00PM |
| Monday | 9:00AM - 7:00PM | 9:00AM - 7:00PM |
| Tuesday | 9:00AM - 7:00PM | 9:00AM - 7:00PM |
| Wednesday | 9:00AM - 7:00PM | 9:00AM - 7:00PM |
| Thursday | 9:00AM - 7:00PM | 9:00AM - 7:00PM |
| Friday | 9:00AM - 7:00PM | 9:00AM - 7:00PM |
| Saturday | 9:00AM - 7:00PM | 9:00AM - 7:00PM |
Note: Campervan Hire prices are per 24 hours. The default pick up and drop off time is 2pm. If you request a pick up or drop off outside of this, the owner will quote you for the additional time. Typically this is £12.50 per additional hour.
When would you like to go?
Sorry, there was a problem...
Vehicle Spec
Vehicle Type: Campervan
Make: Peugeot
Model: Boxer
Year: 2015
Vehicle Length: 5.4 metres
Vehicle Height: 2.7 metres
Max Laden Weight (MAM): 3500 kg
Payload: 600 kg
Transmission: manual
Fuel Type: diesel
Registration: emailed when you book
Note: The hire of this vehicle is arranged by Quirky Campers ltd acting as the agent on behalf of Floyd's owners. We make every effort to ensure that all the vehicles listed with us are of a high standard but cannot guarantee the condition of the vehicle. If you experience any problems please notify us as soon as possible.