Nathaniel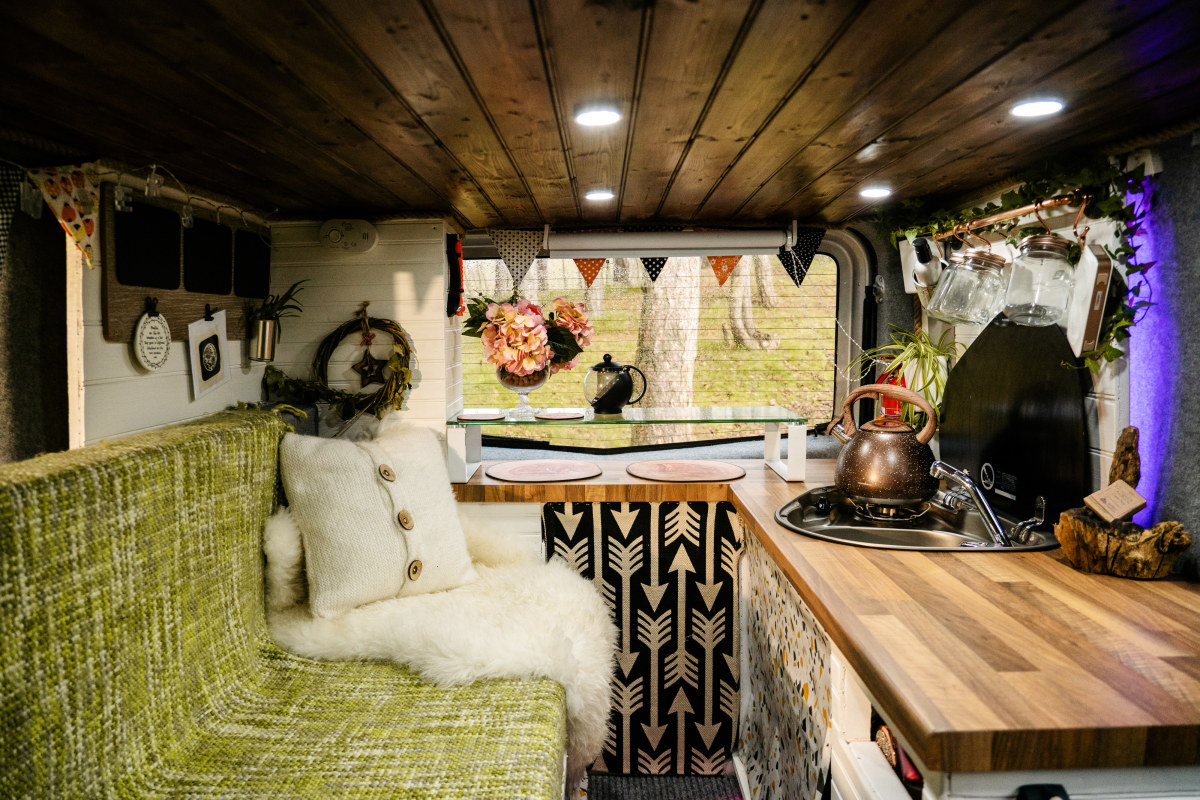 Liverpool
3 Belted seats 2 Adult berths
Nathaniel is a beautifully converted campervan for hire in Liverpool. He has a country kitchen style vibe, with some high-tech additions that will make your camper van holiday be totally awesome! Imagine chilling out on the double bed, snuggled up in a Winter Scottish landscape with the heater on and the projector screen set up with your favourite movie – bliss!

Nathaniel is a compact camper who is the perfect rolling base for adventures in the mountains or beachside park ups; with extra storage for bikes and snowboards on the back, he is perfect for getting off grid and having a real break from the rat race.

Whether it's a solo adventure, a romantic couple's getaway or a small family holiday, pet friendly Nathaniel is the perfect space to relax, unwind, and have an amazing campervan road trip.
Essential Information
Hob
Heater
Dining Table
Refrigerator
Kitchen Sink
Toilet
Ceiling Fan
Tow Bar
Solar
Radio
Pet Friendly
EU Travel Allowed
About the Campervan
Description of Beds: Nathaniel is a 2-berth campervan but could also fit in a small child in the double bed.

Description of Seating: Three belted seats in the front (including driver) with head rests. A child's car seat can be added to the front of the van. The seating area pulls out to make a double bed. The dimensions are 75 inches in length and 41 inches in width.

About the area: Nathaniel lives in Kirby, Liverpool. From here you can easily head North to the Scottish Highlands, or a little South towards the mountains and beaches of North Wales and Snowdonia.

Parking: Nathaniel is parked in a quiet residential area. If you drive to collect him, you are welcome to leave your car in his normal spot on the owner's driveway. If you come by train, Nathaniel's owner will be able to pick you up from Kirkby station.

Cooking Equipment: Nathaniel's fully equipped kitchen is set up for cooking inside as well as outside with a single gas burner and a portable stove as well an electric cool box. His spacious work surface is great for cooking using all the equipment in his cupboards including: 3 glass mugs | 2 plastic cups and 2 bowls | 2 dining plates | cutlery for 2 | chopping board | kettle | frying pan and saucepan | tin and bottler opener | potato peeler | grater and sieve. There is also a Kelly Kettle for use outside, a teapot that adds fresh leaf tea and a toasting rack that you can use over the gas hob. Nathaniel also has a small dustpan and brush.

Water Facilities: There is a 10-litre removable water tank (one fresh and one grey water) that supplies water to the sink via a pump.

Audio Equipment: Nathaniel has a built in iPad in the front of the van. Bluetooth is available so you can play your own music. There is also a Bluetooth speaker in the back of the van to attach your phone/iPad to.

Type of Heating: . The van has a gas heater with a fire guard that you can use when you are off grid. Alternatively, you can use a fan heater with an extension lead when you are hooked up to electricity on a camp site.

Conversion Story: Nathaniel began life as a builder's van, and his current owner bought him in November 2020 and put her own unique stamp on it, as well as great additions for long campervan holidays such as: Thule storage rack, bike rack, portable camping toilet and tent, hammock and a portable outdoor fire. You can find Nathanial on Instagram https://www.instagram.com/nathanielquirky/
Pick up / Drop off Times
| - | Pick up | Drop off |
| --- | --- | --- |
| Sunday | 2:00PM - 2:00PM | 12:00PM - 12:00PM |
| Monday | 2:00PM - 2:00PM | 12:00PM - 12:00PM |
| Tuesday | 2:00PM - 2:00PM | 12:00PM - 12:00PM |
| Wednesday | 2:00PM - 2:00PM | 12:00PM - 12:00PM |
| Thursday | 2:00PM - 2:00PM | 12:00PM - 12:00PM |
| Friday | 2:00PM - 2:00PM | 12:00PM - 12:00PM |
| Saturday | 2:00PM - 2:00PM | 12:00PM - 12:00PM |
Note: Campervan Hire prices are per 24 hours. If you request pick-up at an earlier time than your drop-off time the owner will quote you for the additional hours. Typically this is £12.50 per additional hour.
When would you like to go?
Sorry, there was a problem...
Vehicle Spec
Vehicle Type: camper-van
Make: Renault
Model: Trafic
Year: 2005
Vehicle Length: 5 metres
Max Laden Weight (MAM): 2700 kg
Payload: 500 kg
Registration: emailed when you book
Note: The hire of this vehicle is arranged by Quirky Campers ltd acting as the agent on behalf of Nathaniel's owners. We make every effort to ensure that all the vehicles listed with us are of a high standard but cannot guarantee the condition of the vehicle. If you experience any problems please notify us as soon as possible.