Ike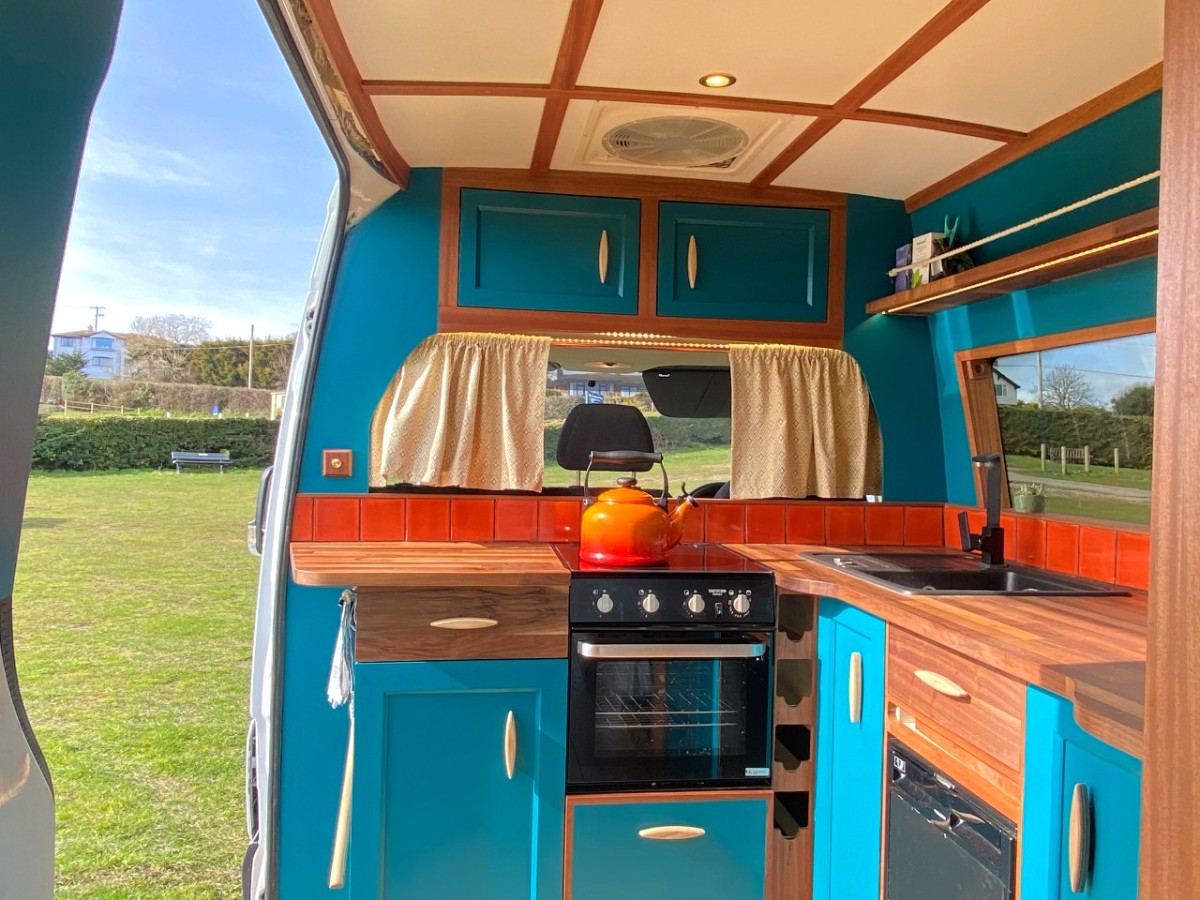 Bristol
3 Belted seats 2 Adult berths 1 Child berths
Ike is a fantastic, freshly converted camper for hire in Bristol. He has been amazingly handcrafted to provide a self-contained 3-berth campervan that is ready to hit the open road on a totally awesome family campervan holiday! Ike manages to fit in everything you could possibly need on a campervan adventure; the spacious sofa seating means you can chill out with a view over your park up, and it turns into a big double bed at night. Solar power, a huge water tank and hot water for the inside shower mean that Ike is fully set up for off grid wild camping.

Ike has a stunningly crafted interior design with a super high-spec finish including a speaker system, and unique features such as the brass window in the shower sourced from a German yacht equipment supplier, and a wine rack in the kitchen! Ike is set up for all-season camping with an efficient gas heater, as well as the quintessential wood burner which is the epitome of classic van life. Imagine snuggling up, watching flames licking the burner's glass window whilst looking out at snowy mountains – absolute campervan bliss!
Essential Information
Hob
Heater
Dining Table
Oven
Refrigerator
Kitchen Sink
Inside Shower
Bike Rack
Toilet
Ceiling Fan
Solar
Reversing Camera
Extra Storage
CD Player
Audio Inputs
Radio
Inverter
King Beds: &nbsp1
Gas Capacity: &nbsp25 litres
Toilet Capacity: &nbsp75 litres
Waste Tank Capacity: &nbsp50 litres
Water Tank Capacity: &nbsp75 litres
EU Travel Allowed
About the Campervan
Description of Beds: Ike is a 3-berth camper; there is a double bed that can sleep two adults and a small child; alternatively, a child can sleep in the bunk that goes across the double bed.

Description of Seating: There are three belted seats (including the driver) in the cab of the van. In the living area two long sofa-style benches can comfortably seat up to six people.

About the area: Ike lives in Easton, Bristol in the home of Roam and Slumber campervans. There is plenty of space for looking around the van off street and also get a feel for driving the camper before hitting the open road.

Parking: If you drive to pick up Ike you are welcome to leave your vehicle on the off-street parking where Ike is normally parked. If you are travelling to Bristol on public transport, Ike's lives around one mile from Bristol Temple Meads train station and is a similar distance from the bus station.

Cooking Equipment: Ike has a fully equipped kitchen, complete with gas oven, three-burner hob and grill, as well as a fridge freezer. You will find baking dishes, a variety of pans, a colander, a large chopping board and knives alongside cutlery and various other utensils. There are four mugs, plates, big pasta bowls and two cereal bowls. You even can use nice big wine glasses craftily safely stowed in their very own rack made with wine corks. The kitchen showpiece is the beautiful fading orange, 2-litre, Le Creuset kettle ready to fill the glass loose leaf tea strainer and big cafetière for your coffee.

Water Facilities: Ike has a 75-litre underslung black water tank feeding hot water to the kitchen sink and shower, which heats up in less than 15 minutes. The tank is filled via an external water point. Kept in the van is a 10m length of food standard hose for easy refilling of the tank. Waste water is collected in underslung 50-litre grey water tank. This release tap can be kept open when parked somewhere waste water can simply drain away.

Audio Equipment: Ike is very well equipped for music lovers, with two sets of JBL speakers built in to solid sapele speaker boxes that are capable of creating a party atmosphere. You can connect to the big touch screen stereo in the cab via Bluetooth or USB cable to your phone.

Type of Heating: Ike is built to keep you really toasty through the colder months of the year. There is a 3KW underslung heater powered by the LPG tank as well as a beautiful 3kw wood burner if you opt for the old romantic way of keeping warm.

Conversion Story:. Ike began life as a standard panel van, and has been converted by the owner of Quincy who is also on the Quirky Campers rental fleet. Ike's owner has taken everything he learnt from building Quincy to enhance the comfort, usability, luxury and finish in Ike. An awful lot of time was spent agonising over the best colour and real timber combinations, along with many other details. The cupboard doors, the handles, even the solid ash floor were all handmade with great care and attention and the end result is a truly luxurious and spacious off-grid camper that makes you smile every time you open the door.

Warning: The payload of this vehicle is 260kg. This is below the Quirky Campers recommended payload of 370kg for a vehicle with 3 belted seats. Drivers need to be aware that the total weight of driver, passengers and baggage must be below 260kg to keep the vehicle within its legal Max Allowed Mass (MAM) of 3500kg
Pick up / Drop off Times
| - | Pick up | Drop off |
| --- | --- | --- |
| Sunday | 9:00AM - 5:00PM | 9:00AM - 5:00PM |
| Monday | 9:00AM - 5:00PM | 9:00AM - 5:00PM |
| Tuesday | 9:00AM - 5:00PM | 9:00AM - 5:00PM |
| Wednesday | 9:00AM - 5:00PM | 9:00AM - 5:00PM |
| Thursday | 9:00AM - 5:00PM | 9:00AM - 5:00PM |
| Friday | 9:00AM - 5:00PM | 9:00AM - 5:00PM |
| Saturday | 9:00AM - 5:00PM | 9:00AM - 5:00PM |
Note: Campervan Hire prices are per 24 hours. The default pick up and drop off time is 2pm. If you request a pick up or drop off outside of this, the owner will quote you for the additional time. Typically this is £12.50 per additional hour.
When would you like to go?
Sorry, there was a problem...
Vehicle Spec
Vehicle Type: Campervan
Make: Mercedes-Benz
Model: Sprinter
Year: 2015
Vehicle Length: 7 metres
Vehicle Height: 3 metres
Length with hitch: 7.5 metres
Max Laden Weight (MAM): 3500 kg
Payload: 260 kg
Transmission: manual
Fuel Type: diesel
Registration: emailed when you book
Note: The hire of this vehicle is arranged by Quirky Campers ltd acting as the agent on behalf of Ike's owners. We make every effort to ensure that all the vehicles listed with us are of a high standard but cannot guarantee the condition of the vehicle. If you experience any problems please notify us as soon as possible.