Douglas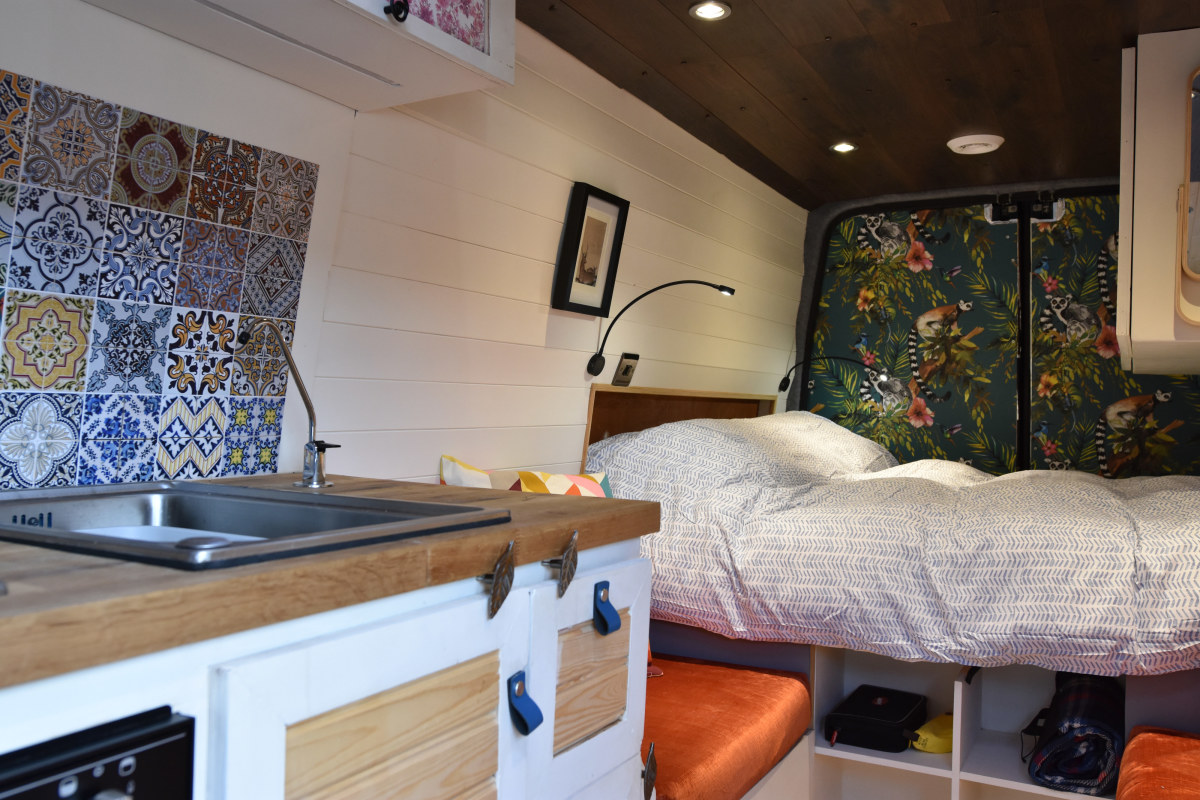 London
3 Belted seats 3 Adult berths
Douglas is an absolute corker of a top-spec high-end campervan conversion for hire in London. For a small space, he feels improbably open and spacious throughout yet has managed to fit in loads of super clever storage like an overhead wardrobe, a large garage area under the fixed rear double bed and oodles of kitchen cupboards!

He is totally set up for a self-contained off-grid wild camping adventure with solar power, an inverter system a large fresh water supply and a super-efficient diesel heater. This pet-friendly London camper also sports tinted windows and blackout curtains; he is perfectly cloaked for stealth!

Douglas has a super cool design vibe with a bold eclectic mix of patterns from the kitchen tiles to the gorgeous rear doors. Set against a bright white interior with awesome features like the reclaimed pallet wood dining table. Jam-packed with excellent features like bedside lamps with USB charging points, a kitchen that would rival many homes and an easy drive with turbo engine and reversing camera, Douglas is the ultimate family campervan or live/work base to take on a fabulous staycation camping holiday this year!

Essential Information
Hob
Heater
Dining Table
Oven
Refrigerator
Kitchen Sink
Outside Shower
Toilet
Ceiling Fan
Solar
Reversing Camera
Leveling Jacks
CD Player
Radio
Inverter
Pet Friendly
Gas Capacity: &nbsp6 litres
Waste Tank Capacity: &nbsp10 litres
Water Tank Capacity: &nbsp50 litres
EU Travel Allowed
About the Campervan
Description of Beds: Douglas sleeps up to three people. Two in the fixed rear bed; complete with a custom gel foam mattress. An additional bed can be made by transforming the bench seating.

Description of Seating: Bench seats for three (and an optional extra comfy set-up 2 for the outside) mean there is plenty of space to eat and work. And of course drink tea!

About the area: Douglas lives in East London. He is parked right next to Plaistow Station for easy transport access and a swift getaway! If you do not want to drive, his owner is happy to take the van to a campsite with 25 miles of London for a fee.

Parking: No parking is available while you borrow Douglas. But we are right next to the tube station.

Cooking Equipment: Douglas is made for cooks and for passionate tea lovers. He has a solid oak worktop and an additional preparation island that will allow you to cook and take in the view. Kitchen features include: 2 hob gas burner - one of which is a Wok Burner | Thetford Spinflo Duplex LPG oven with a grill that makes the best toast |40l 12v cool box | overhead crockery and mug storage | a filtered drinking water tap | pull out larder with 3 large shelves for food | pan storage with all the pans and utensils you will need | dry food storage drawer | teas of all styles and a temperature-controlled kettle for the perfect brew.

The skylight means you can ventilate properly whilst cooking; it also has a blackout blind and integrated fly screen.

Water Facilities: 2x25L Freshwater tanks in the garage - there are easy to remove and fill up - and there is a trolly to help transport the canister to an easy location to fill.
1x10L grey water tank. There is a Thetford porta-potti situated under one of the benches. There is also the option for a shower tent and a USB charged pump shower with a foldable bucket which is perfect for a refreshing and private shower.

Power: Douglas has ample solar power to charge up phones and tablets and keep the fridge going. He has an invertor so a laptop can be used with a normal 240 plug. A split relay adds extra charge whilst you drive. Although he does not have a EHU point built-in he comes with an EHU cable that will allow you to plug into an EHU power socket and trail a 3 plug socket through the window/roof for more power.

Type of Heating: There is a diesel heater located under one of the benches that keeps the van warm and can be operated by remote from the bed!

Extra Bits: He is well maintained and the owners have had lots of work done to make sure he is a sturdy reliable ride. The turbo makes even the steepest of hills effortless despite having a full payload in the back. He does 550-600 miles on a full tank of diesel. The cab is clean with additional charging points and has a reversing camera. Additional security in the form of rear & side door deadlocks have both been professionally installed.

Note: from October the cost of the UltraLow Emission Zone will be charged to this van and will need to be paid as an extra. If you drive within the zone (all of London within the North and South Circular) for more than the two days in the extras then the additional £12.50 a day charge will be taken from the deposit.

Home delivery: Both drivers need to be present for collection for insurance purposes. If this is difficult I can deliver the van for £25 and can be booked in add-ons. This quote is for zone 1-6 - do ask me for a quote for other areas surrounding London.

This van is not suitable if you need to use a child seat that requires airbag deactivation.
Pick up / Drop off Times
| - | Pick up | Drop off |
| --- | --- | --- |
| Sunday | 7:30AM - 8:30PM | 7:30AM - 8:30PM |
| Monday | 7:30AM - 8:30PM | 7:30AM - 8:30PM |
| Tuesday | 7:30AM - 8:30PM | 7:30AM - 8:30PM |
| Wednesday | 7:30AM - 8:30PM | 7:30AM - 8:30PM |
| Thursday | 7:30AM - 8:30PM | 7:30AM - 8:30PM |
| Friday | 7:30AM - 8:30PM | 7:30AM - 8:30PM |
| Saturday | 7:30AM - 8:30PM | 7:30AM - 8:30PM |
Note: Campervan Hire prices are per 24 hours. The default pick up and drop off time is 2pm. If you request a pick up or drop off outside of this, the owner will quote you for the additional time. Typically this is £12.50 per additional hour.
Vehicle Spec
Vehicle Type: Campervan
Make: Ford
Model: Transit
Year: 2007
Vehicle Length: 6.4 metres
Vehicle Height: 2.59 metres
Length with hitch: 6.4 metres
Max Laden Weight (MAM): 3500 kg
Payload: 500 kg
Transmission: manual
Fuel Type: diesel
Registration: emailed when you book
Note: The hire of this vehicle is arranged by Quirky Campers ltd acting as the agent on behalf of Douglas's owners. We make every effort to ensure that all the vehicles listed with us are of a high standard but cannot guarantee the condition of the vehicle. If you experience any problems please notify us as soon as possible.