Deets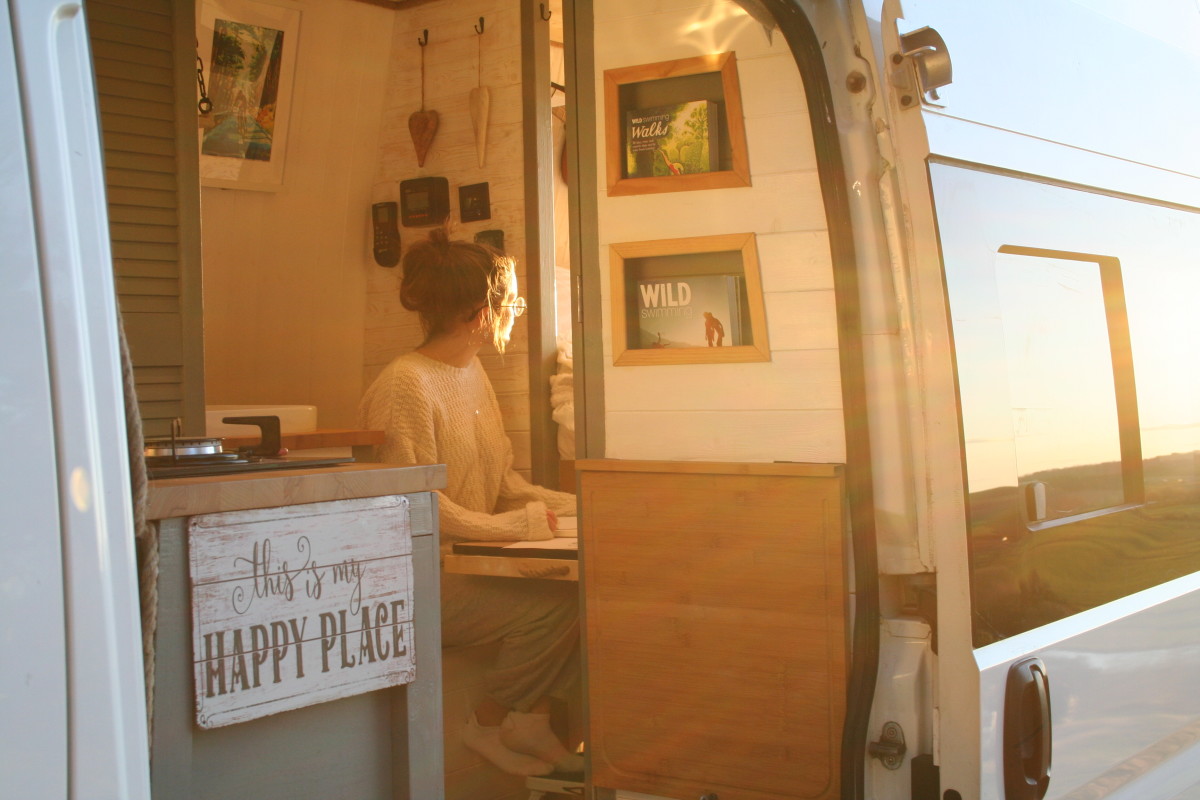 Romsey
3 Belted seats 2 Adult berths
Deets is a beautiful hand-crafted bespoke camper van conversion for hire in Romsey. This pet-friendly camper is the perfect rolling home for two. A fixed rear double bed means you have a faff free set up at night; you can simply snuggle up with the fairy lights on watching the sun set out the window, chilling out with a glass of wine in hand.

Deets is totally set up for self-contained off grid wild camping adventures. You can power up with solar as well as an inverter, whilst the large water tank feeds the indoor hot water shower. There is a large storage space above the cab accessed from within the van and under seat storage in the rear as well as large garage area. There is also a full-length wardrobe. An underfloor void means that provisions can be stored for extended periods off grid. In terms of adventure, Deets was originally designed to accommodate two full length surfboards inside the van and so you can bring your boards along for the ride. As an additional option Deets can carry two bikes (including e-bikes) at her back via an optional swing out rack.

The fresh, Scandi style design vibe is cosy and inviting as well as looking super swish on photos! Wherever you park up, you will be the envy of every other camper; having an epic camper van holiday in this high spec luxurious rolling home from home.
Essential Information
Heater
Dining Table
Refrigerator
Kitchen Sink
Inside Shower
Outside Shower
Bike Rack
Toilet
Wifi
Ceiling Fan
Solar
Reversing Camera
Leveling Jacks
CD Player
Radio
Inverter
Pet Friendly
Gas Capacity: &nbsp25 litres
Waste Tank Capacity: &nbsp60 litres
Water Tank Capacity: &nbsp220 litres
EU Travel Allowed
About the Campervan
Description of Beds: Deets sleeps two people in a fixed double bed across the rear of the van; in addition, an infant could be accommodated in a Moses basket.

Description of Seating: Three belted seats in the front (including driver) with head rests.

About the area: Deets lives in Romsey, Hampshire and is parked on a quiet residential street.

Parking: If you drive to collect Deets, you are welcome to leave your car in her normal spot. If you come by train, Deets' owners will be able to pick you up from Romsey, Winchester or Southampton stations.

Cooking Equipment: In addition to the two gas hobs inside, there is a portable BBQ option available that you can use to cook outside. Deets has everything you could need to enjoy a fabulous meal together, including: wine glasses | mugs | cups | bowls | dining & small plates & cutlery for 2. The kitchen is supplied with chopping boards | kettle | large and small frying pan | large and small saucepan | kitchen knives | tin opener | corkscrew/bottle opener. There is also a colander | washing up bowl & liquid | small dustpan & brush.

Water Facilities: There is a 250-litre water tank that supplies water to the sink & shower via an instantaneous water heater. The wet room/bathroom has a rainfall shower head in addition to a detachable hand-held shower head.
Deets also comes with a Thetford Porta Potti chemical toilet. There is also an outside shower at the rear of the van.

Audio Equipment: In the cab, the DAB/FM/AM head unit has a CD player with USB plug-in and blue-tooth so you can play your own music. In the rear of the van there is a portable Bluetooth speaker for connecting to your own device and there are several USB charging ports.

Deets also has an on-board WiFi 4G repeater which boosts any available 3G/4G signal to provide reliable WiFi inside the van. Available as an option with a data SIM card providing 15GB per week.
Combine the WiFi package with the projector bundle and you can enjoy streamed cosy movie nights in the van or large screen on the side of the van. (Location dependant)

Type of Heating: A super-efficient diesel heater keeps you toasty warm all year round.

Deets' Treats We have partnered with a local bakery to provide a luxury hamper to get you started on your journey.

Select Deets' Treats in the add extras section of your booking to indicate your interest and we will send you details of the various options & prices to choose from.

Conversion Story: Deets is named after her builder Dietlind Schirmer who painstakingly converted her in late 2019/early 2020 to be her new home to further her photography/film production business. She was named as the Best Self build of 2020 by Nate Murphy's Adventure Channel. Lisa and Mark bought her in early 2021 after Dietlind decided to relocate to South Africa and build herself a 4x4 version. Her conversion story is documented on Dietlind's You Tube Channel, SchirmerShoots.

Warning: The payload of this vehicle is 220kg. This is below the Quirky Campers recommended payload of 370kg for a vehicle with 3 belted seats. Drivers need to be aware that the total weight of driver, passengers and baggage must be below 220kg to keep the vehicle within its legal Max Allowed Mass (MAM) of 3500kg
Pick up / Drop off Times
| - | Pick up | Drop off |
| --- | --- | --- |
| Sunday | 1:00PM - 8:00PM | 12:30PM - 8:00PM |
| Monday | 8:00AM - 8:00PM | 8:00AM - 8:00PM |
| Tuesday | 8:00AM - 8:00PM | 8:00AM - 8:00PM |
| Wednesday | 8:00AM - 8:00PM | 8:00AM - 8:00PM |
| Thursday | 8:00AM - 8:00PM | 8:00AM - 8:00PM |
| Friday | 8:00AM - 8:00PM | 8:00AM - 8:00PM |
| Saturday | 8:00AM - 8:00PM | 8:00AM - 8:00PM |
Note: Campervan Hire prices are per 24 hours. The default pick up and drop off time is 2pm. If you request a pick up or drop off outside of this, the owner will quote you for the additional time. Typically this is £12.50 per additional hour.
When would you like to go?
Sorry, there was a problem...
Vehicle Spec
Vehicle Type: Campervan
Make: Citroen
Model: Relay
Year: 2015
Vehicle Length: 6 metres
Vehicle Height: 2.7 metres
Length with hitch: 6.1 metres
Max Laden Weight (MAM): 3500 kg
Payload: 220 kg
Transmission: manual
Fuel Type: diesel
Registration: emailed when you book
Note: The hire of this vehicle is arranged by Quirky Campers ltd acting as the agent on behalf of Deets's owners. We make every effort to ensure that all the vehicles listed with us are of a high standard but cannot guarantee the condition of the vehicle. If you experience any problems please notify us as soon as possible.
Reviews
See Full Reviews...

November 2022

Henry and Amy

September 2022

Thomas, Emma & Crash

From Mark Gilmour...
Thank you so much for looking after Deets so well, glad you had a fabulous time.

July 2022

Jazzy

From Mark Gilmour...
Thanks Jazzy, Sarah & Blue. You are most welcome back anytime. Glad you had a fantastic weekend. Mark

July 2022

Tim

From Mark Gilmour...
Thanks Tim, you had glorious weather as well. Glad you enjoyed your trip and thanks for looking after Deets so well.