Arwen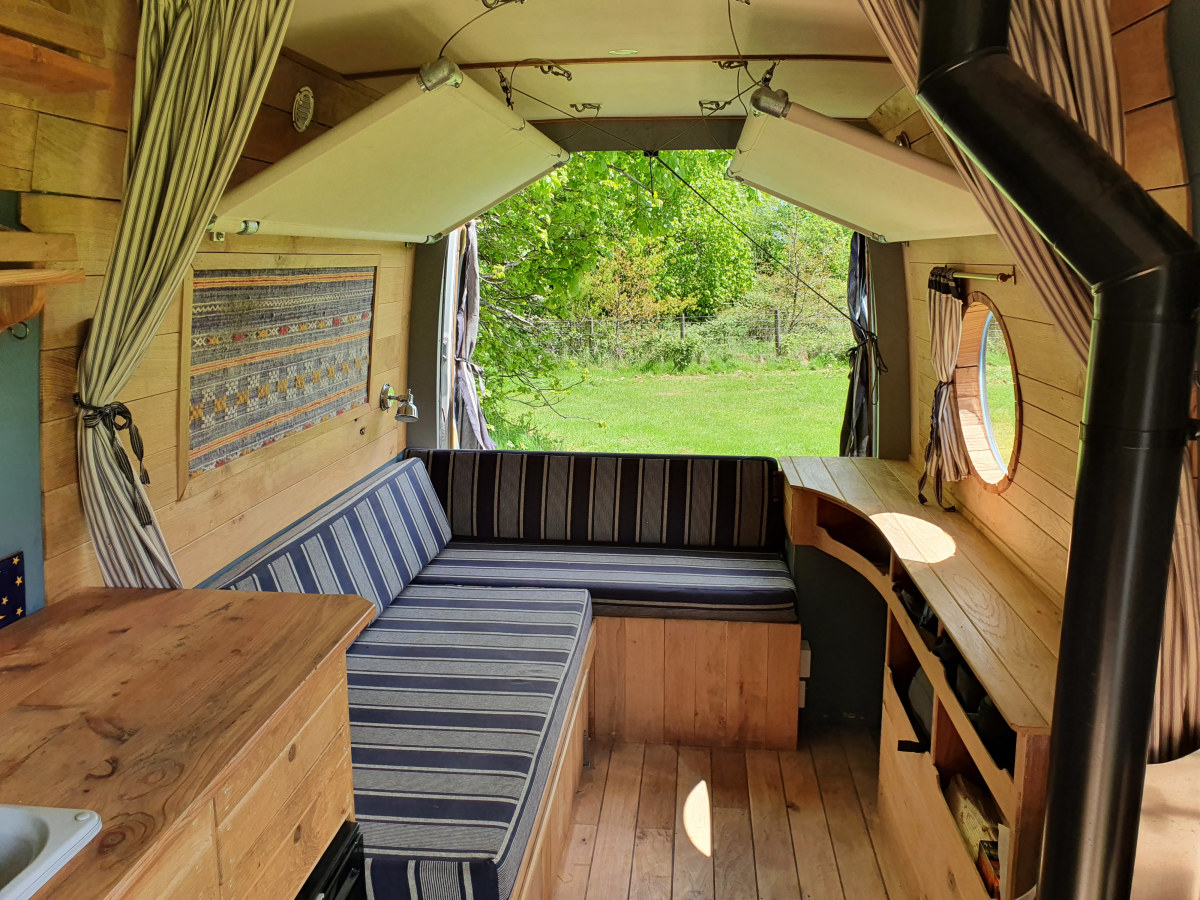 London
4 Belted seats 2 Adult berths 2 Child berths
Seeking a culturally rich, one of a kind camper for your upcoming getaway? Then seek no more! Say hello to Arwen, a beautiful rustic van with a Welsh heart who is the perfect option if you're wanting to escape to a simpler way of life. She has been beautifully crafted by Bill and Becks of 'Rustic Campers', and is full of thoughtful and unique touches; a wood burning stove made by a Welsh Craftsman, Tolkien-esque porthole windows, salvaged fishing net shelves, hooks made of repurposed spoons and nails, and fabric from her travels to Morocco.

Arwen is the definition of versatile and is ready for any type of trip, whether it be a romantic weekend escape featuring midnight stargazing and beach strolls, or an action-packed family holiday partaking in mountain biking and bouldering. Sleeping 2 in a cosy pull-out bed, there is also room for two small children in two nifty fold-out bunks that can easily be tidied away to create more space.

Spend your evenings cooking up a feast in her stylish and fully equipped kitchen. Fitted with a gas oven, refrigerator and plenty of cooking utensils, you have the option to create a 3 course meal one night and an oven pizza the next. Whatever you're eating, Arwen will trick you into thinking you're out for dinner at a quaint bistro in Morocco or Italy. She's wonderfully spacious and cosy, and is perfect for exploring, going to a festival or just getting back in touch with nature. So what are you waiting for? Your adventure awaits!

Essential Information
Hob
Dining Table
Oven
Refrigerator
Kitchen Sink
Solar
Double Beds: &nbsp1
Water Tank Capacity: &nbsp20 litres
EU Travel Allowed
About the Campervan
Description of Beds:.
The Van sleeps up to 4 people. Two adults in the pull-out double bed (135 x 190) and two children under 9 years old (no adults please) in the fold out bunks (60 x 150).

Description of Seating:
The van is wonderfully spacious. While driving there are four belted seats with headrests.
When parked, the front two seats turn round to face the other belted seats and create a dining space for four. When the bed is put away, it forms an L-shaped sofa at the other end of the van which can also seat four.

Description of Electrical Setup:
The 2x usb sockets, van lights and fridge-freezer are powered by a solar panel. There is a 240v plug for charging laptops. There is a socket underneath the van which you can connect to an electric hook up.
You'll only need to use it if you're planning to plug in high drain items.

About the area:
The van lives in West Norwood in South East London on a quiet street off the main road.
The Garden of England, Kent is within easy reach, but the M25 makes it easy to escape London in many directions.

Parking:
There is free parking on the street if you'd like to leave a vehicle there during your rental.
If you are coming by train and would prefer to be met at a station, let me know when you book and we'll see if we can arrange something.

Cooking Equipment:
The van is equipped with a gas oven, but I also heat water and keep food warm on top of the wood burning stove.

Cooking equipment includes: Saucepan and frying pan | kettle and coffee maker | knife | chopping board and cooking utensils | unbreakable mugs, glasses, plates, bowls and cutlery for four | ovenware | colander | tin opener and a corkscrew/bottle opener | teabags | salt & pepper and sugar will be provided and there will be milk and butter in the fridge.

Cleaning supplies will be provided, and for peace of mind a fire blanket and extinguisher. A carbon monoxide alarm has also been installed.

Water and Sanitation:
There is a removable water tank. The water is drinkable and the tap is operated by a foot pump.
Water can be heated in the kettle using the gas oven or wood burning stove to give you hot water for tea, cooking and washing up.

There is no toilet or shower in the van.

Audio Equipment:
A splashproof Bluetooth speaker is included. The van's media centre will play CDs and Radio.

Type of Heating:
The van is heated by a wood burner stove. It looks small, but it can keep the van very toasty when required.

Extra Information:
I'm a singer and I use the van as my home away from home when I'm travelling for work. Some of this can be quite last minute, so I keep the long-term availability of the van limited on the calendar.

If you're interested in hiring the van for a long trip at some point, or just want to enquire for something in a few months time, do drop me a message, we can probably work something out.

Likewise, if you have a more unusual request, you need a van for a photoshoot for example, just get in touch and let's have a chat.

Conversion Story:
Arwen started life as a parcel force van, and was converted by the lovely Bill and Becks of 'Rustic Campers' and became their family van.

She was then bought by an intrepid singer. (Me!) And she now lives in London, her new base for more adventures.
Pick up / Drop off Times
| - | Pick up | Drop off |
| --- | --- | --- |
| Sunday | By arrangement | By arrangement |
| Monday | By arrangement | By arrangement |
| Tuesday | By arrangement | By arrangement |
| Wednesday | By arrangement | By arrangement |
| Thursday | By arrangement | By arrangement |
| Friday | By arrangement | By arrangement |
| Saturday | By arrangement | By arrangement |
Note: Campervan Hire prices are per 24 hours. If you request pick-up at an earlier time than your drop-off time the owner will quote you for the additional hours. Typically this is £12.50 per additional hour.
When would you like to go?
Sorry, there was a problem...
Vehicle Spec
Vehicle Type: camper-van
Make: Mercedes-Benz
Model: Sprinter
Year: 2013
Vehicle Length: 7 metres
Vehicle Height: 3 metres
Length with hitch: 7 metres
Max Laden Weight (MAM): 3500 kg
Payload: 400 kg
Transmission: manual
Fuel Type: diesel
Registration: emailed when you book
Note: The hire of this vehicle is arranged by Quirky Campers ltd acting as the agent on behalf of Arwen's owners. We make every effort to ensure that all the vehicles listed with us are of a high standard but cannot guarantee the condition of the vehicle. If you experience any problems please notify us as soon as possible.