Wensley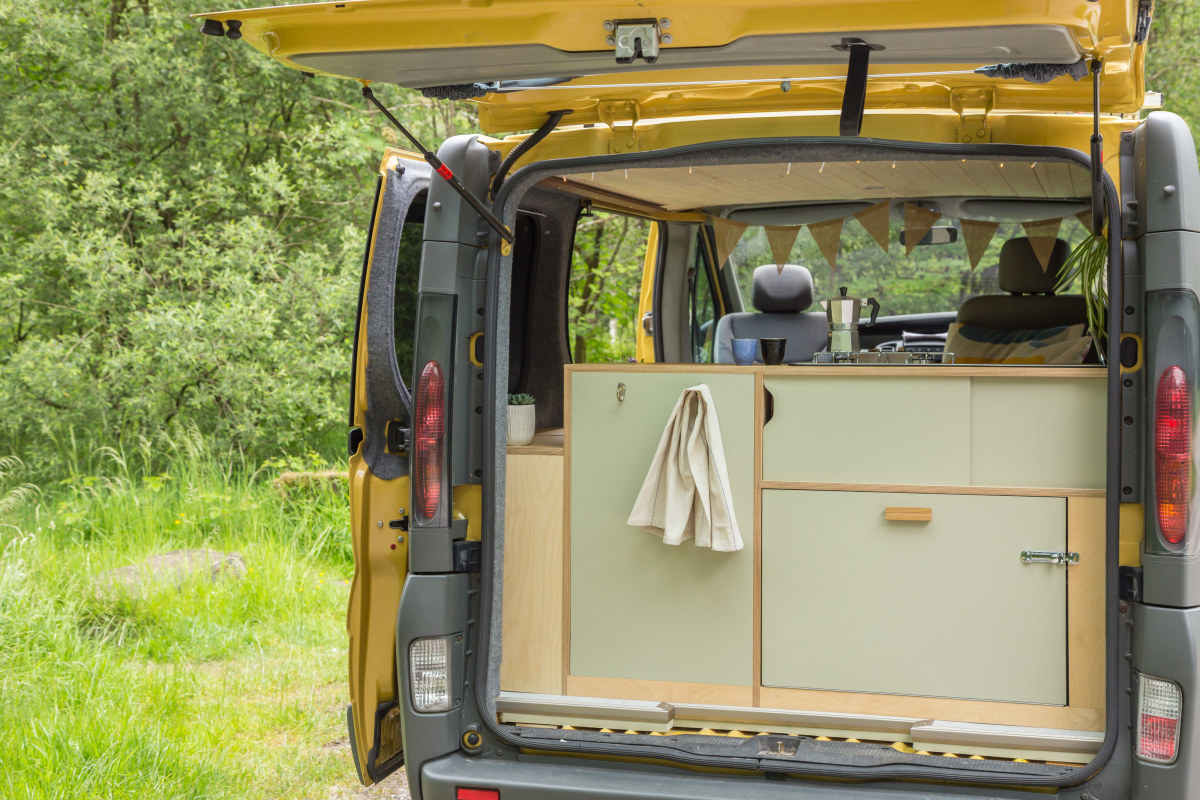 Horton In Ribblesdale
2 Belted seats 2 Adult berths
Seeking all the comforts of a campervan with all the size and convenience of a car? Then feast your eyes on Wensley! Deliciously crafted by the one and only Contour Campers, this 2 berth campervan is far from cheesy and hosts all the ingredients to create a romantic weekend away. Spacious enough inside to kick back and relax but small enough to guide through countryside roads with ease, there really are no limits with Wensley.

Wake up in the morning and enjoy panoramic views from the comfort of your own double bed. The kitchen has been cleverly designed and placed towards the rear of the camper, allowing you to have the option of cooking inside or out. Come the evening, simply pull up at a remote location of your choice, fire up that stove and experience alfresco dining like never before.

Located in the Yorkshire Dales, he is perfectly positioned for long hikes and stunning countryside views. There is a tow hitch, giving you the opportunity to pack climbing gear and/or a kayak. Will you choose to conquer the rocks in Yorkshire or surf the waves of the Cornish coast?
Essential Information
Air Conditioner
Hob
Kitchen Sink
Outside Shower
Toilet
Tow Bar
Solar
CD Player
Radio
Pet Friendly
Waste Tank Capacity: &nbsp16 litres
Water Tank Capacity: &nbsp16 litres
About the Campervan
Description of Storage:. In addition to storage in the living area, Wensley also has a 250L roof box which provides ample space for camping gear, as well as any equipment needed for your outdoor pursuits!

Description of Beds:. Wensley sleeps two adults in a luxurious double bed. It is custom made using super comfy 10cm thick foam, to ensure that you have a good night's sleep wherever you end up! All bedding can be stored hassle-free and out of the way in the compact side unit. Bed Size: 180x120cm
.
Description of Seating:  There are two belted seats in the front. In the back you have a comfy sofa with ample room for lounging, you can even swivel the passenger seat round to make room for four adults. Perfect for escaping the rain and getting the kettle on!

Description of Electrical Setup: Wensley has four USB charging points, and with a split charge system and solar panel you'll never be short of power. When you've had enough of off-grid living, treat yourself to some creature comforts using a 240V hookup at a campsite so you can plug in a laptop or heater!

About the area: Wensley resides in Horton-in-Ribblesdale, in the heart of the Yorkshire Dales. He is ideally situated for testing yourself on the Yorkshire Three Peaks, mountain biking, climbing at some of the country's best limestone crags or recreating a stage of the Tour de France. Whether you are heading to a remote Scottish Island (he's cheaper on ferries too!), hiking up Pen-y-Ghent or going climbing in the Lake District, sit back and stargaze with an ale in your hand in your home away from home.

Parking: If you drive to collect Wensley, there is ample parking on the main street of the village, just around the corner from the owner's house. There is also a train station directly across the road from the owner's house, and regular bus connections with the surrounding area.

Cooking Equipment: Wensley has a movable coolbox. The hob and under counter storage can be accessed from both inside and outside the van, which makes cooking easy whatever the weather. From the back of the van, the clever drop down bumper bar makes for enjoyable alfresco dining. The kitchen has a two burner hob and sink and is equipped with cooking equipment for whipping up a feast, including: frying pan | saucepan | kettle | coffee percolator | trivets and cutlery and dinnerware for two. There is also a grater | peeler | corkscrew | bottle/can opener as well as a dustpan and brush.

Water and Sanitation: This camper packs in an impressive 16L freshwater capacity into the compact space, allowing you to easily go off-grid for a few days. Water is supplied to the tap and sink via a pump. The removable water tanks are located in the services cupboard at the back of the van for easy access & refills on the road. There is a solar shower that can be used outside (you use a hook to hang it). This can either be heated by the sun or you can use the kettle to make a hot shower whenever you need! There is a portable toilet that fits under the sofa-bed that can be added as an extra.

Audio Equipment: The cab boasts a factory fitted head unit with CD player and radio. There isn't any audio equipment supplied for the living area, but if you bring a portable speaker you can easily charge it via the many USB ports.

Type of Heating: Heat up your trip with the optional electric fan-heater. The heater can only be used when connected to a 240V mains hook-up.

Extra Information: Wensley has been built to be your perfect adventure companion! He is compact and easy to drive, but also packs a punch with his well thought through eco interior. Only the most sustainable Cumbrian Cosywool insulation, FSC certified plywood and low VOC products have been used throughout so you can camp out with a clear conscience. He's low-profile, gets great mileage, is easy to drive down narrow country lanes and fits in a normal parking space, which gives you one less thing to worry about when on the road. With 5 windows he has an open and airy living space giving you great views in every direction (and making turning around and parking easy), and his innovative top and front opening sofa-bed makes organisation a doddle.

Conversion Story: Wensley is a professionally designed campervan with bespoke furniture, heaps of storage and dimmable warm lighting all fit into a compact and homey space. He is the prototype conversion of his owners' campervan furniture business and contains the innovative and stylish furniture that characterises what's on offer at Contour Campervan Furniture Ltd. @contourcampers.

Whether you are going to a festival, remote working with views of the sea or taking that road trip you've always dreamed of you can relax with the knowledge that all the little details have been thought of.

Please contact us regarding alternative pick up/drop off times which fall outside of the hours below and we will do our best to accommodate.
Pick up / Drop off Times
| - | Pick up | Drop off |
| --- | --- | --- |
| Sunday | 8:00AM - 8:00PM | 8:00AM - 8:00PM |
| Monday | 8:00AM - 8:00PM | 8:00AM - 8:00PM |
| Tuesday | 8:00AM - 8:00PM | 8:00AM - 8:00PM |
| Wednesday | 8:00AM - 8:00PM | 8:00AM - 8:00PM |
| Thursday | 8:00AM - 8:00PM | 8:00AM - 8:00PM |
| Friday | 8:00AM - 8:00PM | 8:00AM - 8:00PM |
| Saturday | 8:00AM - 8:00PM | 8:00AM - 8:00PM |
Note: Campervan Hire prices are per 24 hours. The default pick up and drop off time is 2pm. If you request a pick up or drop off outside of this, the owner will quote you for the additional time. Typically this is £12.50 per additional hour.
When would you like to go?
Sorry, there was a problem...
Vehicle Spec
Vehicle Type: Campervan
Make: Renault
Model: Trafic
Year: 2006
Vehicle Length: 4.99 metres
Vehicle Height: 2.42 metres
Length with hitch: 5.2 metres
Max Laden Weight (MAM): 2700 kg
Payload: 620 kg
Transmission: manual
Fuel Type: diesel
Registration: emailed when you book
Note: The hire of this vehicle is arranged by Quirky Campers ltd acting as the agent on behalf of Wensley's owners. We make every effort to ensure that all the vehicles listed with us are of a high standard but cannot guarantee the condition of the vehicle. If you experience any problems please notify us as soon as possible.