Daisy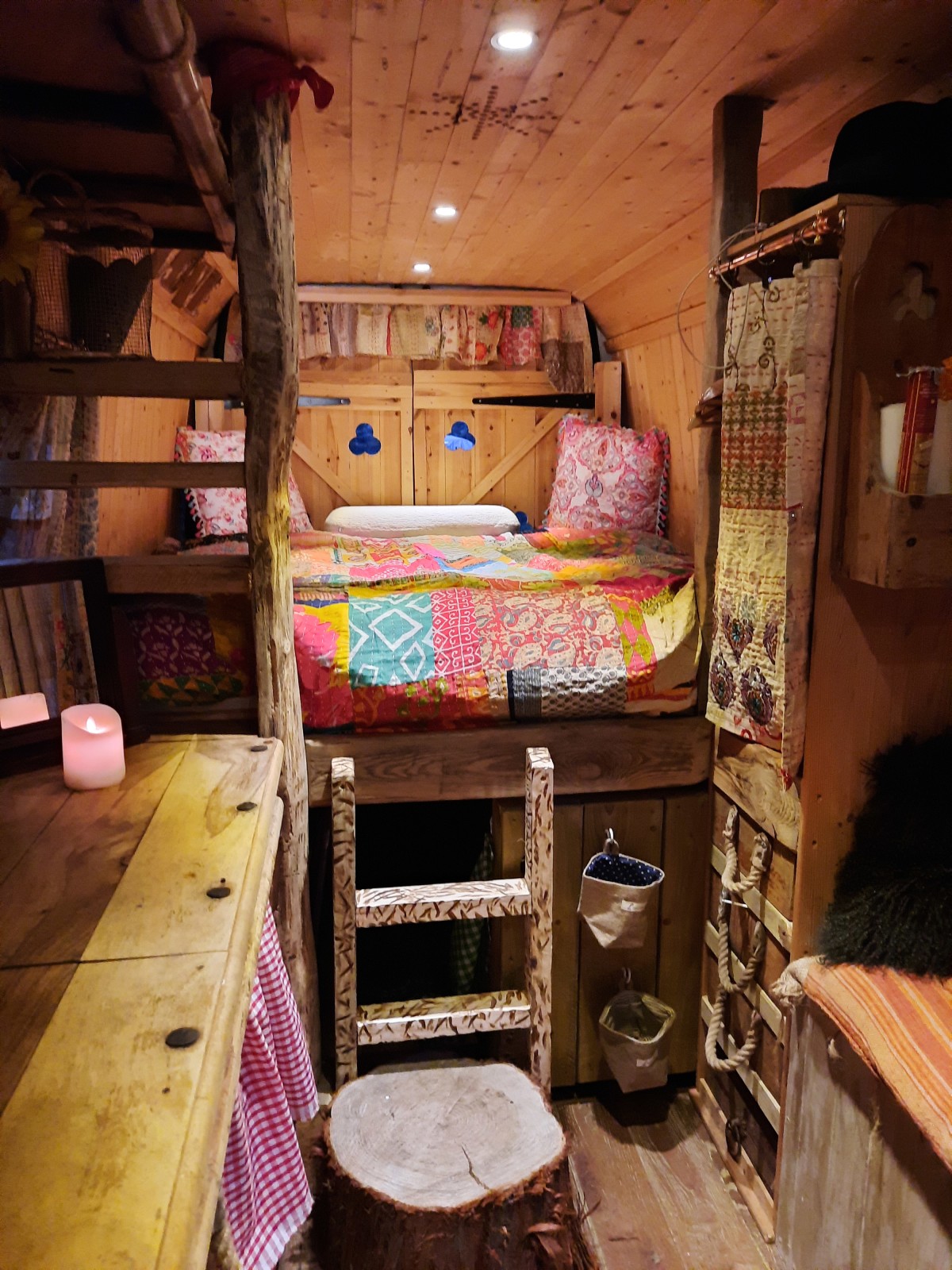 Chichester
2 Belted seats 2 Adult berths
Oh my DAISY, you truly have to see this van to believe it. Arguably one of the quirkiest campers we've ever welcomed into the family, this van is the epitome of a free spirit. From the pastel green exterior to the rustic bohemian interior, the attention to detail is second to none. Thoughtful touches have been dotted around Daisy to create a cosy and homely vibe, including a wood trunk stool, colourful mosaic tiles and patchwork soft furnishings. When it comes to settling in at night, there will be no faffing around. Daisy sleeps 2 in a fixed double bed, meaning you can climb straight in after a long day of exploring. There is also a loveseat style sofa located towards the front, ideal for snuggling up with a loved one or winding down to read a book.

Arguably Daisy's most striking feature is the handcrafted pull out kitchen. Beyond any food lover's wildest dreams, this kitchen is ready to take your cooking experience to the next level, come rain or shine! With a 2 ring gas hob and an abundance of cooking utensils, you can rustle up your favourite dish whilst soaking in panoramic views. When it's raining, the kitchen simply sits underneath a canvas, so there will be no soggy pasta on your travels. There is also a fire pit available - just invisage cuddling round a fire underneath the stars. Dreamy right?

If campsites aren't your thing, why not go off-grid? Daisy has everything you need to feel at home in the wild including solar power, a toilet and a hot shower. There is also plenty of food storage and a refrigerator located within one of the seats. Meaning you can stock up and truly take a trip into the wilderness without worrying about needing supplies.

Please note: Daisy requires a Category C1 or equivalent driving licence, allowing the driver to drive vehicles OVER 3.5T.
Essential Information
Oven
Outside Shower
Toilet
Awning
Solar
Radio
About the Campervan
Description of Beds:The bed is solid 6ftx6ft bed with the most comfortable mattress. The wooden doors on the back give you privacy if it's warm and you want to have the van doors open with great cover peep holes to watch what's going on in the world…

Description of Electrical Setup:There is a briefcase solar panel if needed fitted with a 100 amp leisure battery and an inverter to run your toaster or hair dryer both provided.

Cooking Equipment: Outdoor living is the way to go whatever the weather it's all possible. The kitchen is a rustic creation of mine. It pulls out the back of the van under a canvas if it's raining that's easy to assemble. It has a full working oven with 2 gas rings and all the cooking utensils you could wish for. There is a small barbe that turns into a fire pit for that ambiance of a lovely evening under the stars.

Water and Sanitation: The shower is an outdoor hot water shower under the canopy if you wish.

Extra Information: Daisy is very easy to drive as she is AUTOMATIC and very economical on diesel.

Conversion Story: Daisy is my absolute pride and joy. I've spent many hours of inspiration and love creating my dream camper. She is now fully fitted out with everything you need for a wonderful dreaming time away.

Please note: Daisy requires a Category C1 or equivalent driving licence, allowing the driver to drive vehicles OVER 3.5T.
Pick up / Drop off Times
| - | Pick up | Drop off |
| --- | --- | --- |
| Sunday | 2:00PM - 3:00PM | 12:00PM - 1:00PM |
| Monday | 2:00PM - 3:00PM | 12:00PM - 1:00PM |
| Tuesday | 2:00PM - 3:00PM | 12:00PM - 1:00PM |
| Wednesday | 2:00PM - 3:00PM | 12:00PM - 1:00PM |
| Thursday | 2:00PM - 3:00PM | 12:00PM - 1:00PM |
| Friday | 2:00PM - 3:00PM | 12:00PM - 1:00PM |
| Saturday | 2:00PM - 3:00PM | 2:00PM - 3:00PM |
Note: Campervan Hire prices are per 24 hours. The default pick up and drop off time is 2pm. If you request a pick up or drop off outside of this, the owner will quote you for the additional time. Typically this is £12.50 per additional hour.
When would you like to go?
Sorry, there was a problem...
Vehicle Spec
Vehicle Type: Campervan
Make: Mercedes-Benz
Model: Sprinter
Year: 2005
Vehicle Length: 6.6 metres
Class / Floorplan: C1
Max Laden Weight (MAM): 4500 kg
Payload: 980 kg
Transmission: automatic
Fuel Type: diesel
Registration: emailed when you book
Note: The hire of this vehicle is arranged by Quirky Campers ltd acting as the agent on behalf of Daisy's owners. We make every effort to ensure that all the vehicles listed with us are of a high standard but cannot guarantee the condition of the vehicle. If you experience any problems please notify us as soon as possible.