Dulsy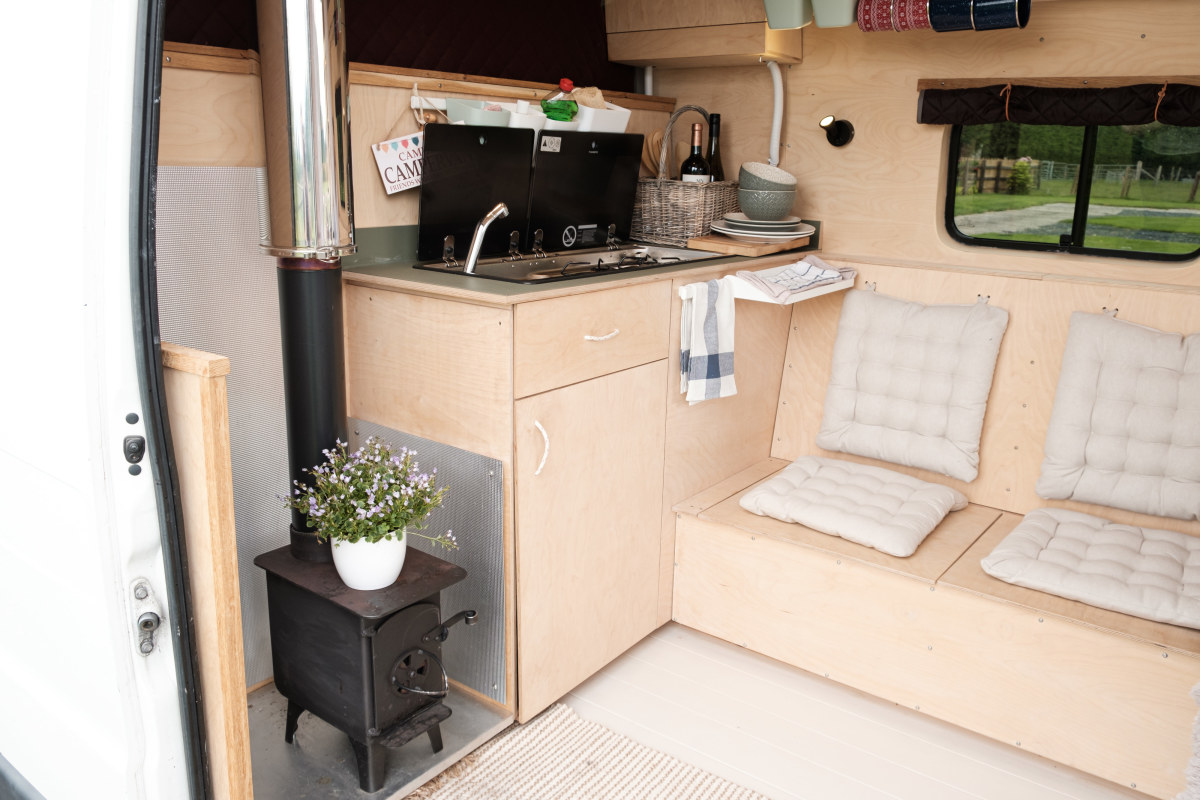 Market Drayton
3 Belted seats 2 Adult berths
You could call this camper four seasons, because Dulsy would be the perfect choice all year round! Located in the traditional town of Market Drayton, just over an hour's drive away from the Peak District, Dulsy is truly a hiker's dream. Her simplistic wooden design, paired with a selection of country style furnishings, creates a romantic and homely atmosphere. Sleeping two in a comfortable double bed and seating 4 around the table, this camper is ideal for hosting friends by day and snuggling up with your partner by the wood burner at night.

Rain or shine, Dulsy has everything you need to cook up a delicious feast. With a charcoal barbeque and two camping chairs, you can enjoy your burgers and hot dogs underneath the stars. Inside there is a domestic stove, hob and coolbox for you to keep your ingredients fresh. And with the dining table being situated by the back windows, you can still enjoy front row views of your beautiful surroundings. Fancy a sunset hike? Why not pack a breakfast picnic with the picnic bag provided - does it get any better than croissants and panoramic countryside views?

For those dreaming of off-grid adventures, Dulsy has been fitted with solar power, to give you enough juice on the go. There is also the option to hire a Porta Potti. So whether you plan on parking up by the beach, mountain, or deep within a forest - Dulsy is the ultimate camper for you!
Essential Information
Hob
Dining Table
Kitchen Sink
Toilet
Awning
Solar
Extra Storage
Radio
Inverter
EU Travel Allowed
About the Campervan
Description of Beds:1 double bed that folds out to create the dining space with table and bench seating. 2 x single natural mat mattresses that velcro together included. Freshly laundered bed sheets can be provided or if you prefer, please feel free to bring your own.

Description of Seating: The van has three belted seats in the cab including the driver's seat. The living area can comfortably seat 4 people around the table and has two fixed sofa seats as well. The living area in this van is a well thought-out, simple and usable space that is perfect for a couple or even a small family. There are two outdoor camping chairs for those sunset or campfire evenings.

Description of Electrical Setup: The 12v electric system runs off of a solar panel on the roof and features 6 downlights, 3 reading lights and an outside light. It also powers the submersible pump for the sink tap, 2 USB sockets and a 300w inverter primarily used to charge a small laptop or phone. Also included is a 15 metre 16A extension lead (3 -Pin Plug for campsite hook up) with 4 UK main socket outlets, which can be used in the daytime when you are in the van through either a window or the door. This can be used for appliances requiring more power such as a hair dryer for example. However, please be aware it is not inbuilt into the van.

About the area and parking: Dulsy lives in the quiet market town of Market Drayton in Shropshire. She is tucked away in a lock up on the outskirts whereby you are welcome to keep your vehicle whilst you are away. The town is easy to get to from all major routes. The nearest train station is Crewe which is around a 20 minute drive if you choose to arrange a taxi. You could also use Prees, Whitchurch, Shrewsbury, Stoke or Telford train stations which are all around about the same distance away. If I am not at work I can come and collect you from the station, just ask :)

Cooking Equipment: The kitchen features a built in domestic stove and sink to prepare and cook meals. The bed transforms into the dining area. There is a campers charcoal barbeque included too if chargrilled vegetables, halloumi, sausages and burgers are your thing. (I will ensure you have charcoal).

Inside, Dulsy has everything you need to cook up something scrumptious on the hob including a coffee cafetiere, a stove top toaster rack, 4 campers mugs, 2 campers wine glasses, 2 large plates, 2 side plates, 2 bowls, cutlery for 4, a sharp knife, a good quality frying pan, a saucepan, a colander, a wok and wooden utensils.

In addition is a little picnic bag with four plastic plates, cups, knives, forks and bowls which is great for a picnic or if you have visitors dining with you.

The stove top kettle and saucepans will come to the boil on the Windy Smithy log burner once it gets going too! There is nothing more satisfying than hearing the kettle whistle after sitting on the top of the burner. Also you have the YETI Roadie 24 bomb-proof coolbox which keeps stuff brilliantly cool for days. This cooler accommodates an upright bottle of wine and is sturdy enough to be used as a seat to instantly up your picnic game. It will keep food and drink brilliantly cool for days. We have had ice cubes still solid after 2 days in there! Plenty of room for a few days worth of milk, butter, cheese etc until your next stop at a shop.

Water and Sanitation: Dometic built in sink and burner with 10L water and waste water tanks and gas bottle included. The tanks are easy to get to from beneath the sink. The water from the tap is cold water and you can easily warm some water in the kettle to do the washing up. A Porta Potti cassette toilet can also be provided for you if you choose. This fits beneath the bed in the storage area when in transit.

Audio Equipment: In the cab is a Bluetooth head unit which also has AUX and USB capability. This runs through two Fly speakers and is simple to connect to. In the living space I have included a portable JML clip speaker which packs a punch. It is also shock resistant and splash proof! Easy to connect to via Bluetooth or AUX so you can play your own tunes.

Type of Heating: The van is heated via the Windy Smithy log burner so logs are a must! It is easy to get going and will make the van so warm you have to open a window for air! The burner itself will keep warm through most of the night after you have stopped putting logs on it. I sometimes also fill a hot water bottle to have with me through the night. If you like I can include this in the van.

Extra Information: Some optional extras if you choose;

The Porta Potti. This is great to have for peace of mind. I will ensure it has the chemicals filled correctly on your arrival. You would be required to empty and clean it before bringing Dulsy back. It fits beneath the bed area when in transit. It is quite heavy as it holds a fair amount of chemicals and water so please be weary of this.

Logs. I can provide you with some cut logs ready for your arrival at £6 per bag. As the log burner takes small logs only, I include a travel axe in the van so you can easily split any logs that are a little too big.

Conversion Story: Dulsy the Ducato is a really tidy van that has been well looked after. She feels very solid and smooth to drive with plenty of power coming from that big diesel engine. The engine has just been serviced and all mechanics maintained regularly.

The van isn't new but it has been well looked after and has always been very reliable, this van will do plenty more miles and perfect for touring the UK or an adventure round Europe. She likes a slower pace of life when driving around the countryside but plenty of oomph when you want it such as on the motorway.

I purchased the van through Quirky Campers from a young man who built this van for himself and his partner. He worked away a lot so built the van to have a home from home and go on adventures with his girlfriend. Due to his job he had access to a workshop so used good quality materials and fixings throughout. I have had many adventures myself in Dulsy since and she is my pride and joy. I wish I could say I built her as I feel very attached to her and hate to put her away in the shed.

The interior is lined in birch ply to create an elegant, modern and light internal space with plenty of natural light coming through the windows and roof vent. The white painted flooring, copper padded blinds and oak detailing adds a warmth and character to the conversion.

The van features a beautiful Windy Smithy wood burning stove that is perfect for the temperate climate of the UK, there is nothing better than the crackle of the fire in the evening. The stove can be used to dry clothes and can even be cooked on. The walls, floor and ceiling are fully insulated and the blinds are padded so the van holds its heat very well. The permanent bench seating is great when you don't want to fold down the bed and has plenty of storage space cleverly concealed within it. The kitchen features a built-in Dometic stove and sink to prepare and cook meals and the bed transforms into the dining area. The 12v electric system runs off of a solar panel on the roof and features 6no. downlights, 3 reading lights and an outside light, it also powers the submersible pump for the sink tap, 2 USB sockets and a 300w inverter primarily used to charge a laptop.
Pick up / Drop off Times
| - | Pick up | Drop off |
| --- | --- | --- |
| Sunday | By arrangement | By arrangement |
| Monday | By arrangement | By arrangement |
| Tuesday | By arrangement | By arrangement |
| Wednesday | By arrangement | By arrangement |
| Thursday | By arrangement | By arrangement |
| Friday | By arrangement | By arrangement |
| Saturday | By arrangement | By arrangement |
Note: Campervan Hire prices are per 24 hours. If you request pick-up at an earlier time than your drop-off time the owner will quote you for the additional hours. Typically this is £12.50 per additional hour.
When would you like to go?
Sorry, there was a problem...
Vehicle Spec
Vehicle Type: camper-van
Make: Fiat
Model: Ducato
Year: 2003
Vehicle Length: 5.7 metres
Vehicle Height: 2.8 metres
Length with hitch: 5.7 metres
Max Laden Weight (MAM): 3050 kg
Payload: 400 kg
Transmission: manual
Fuel Type: diesel
Registration: emailed when you book
Note: The hire of this vehicle is arranged by Quirky Campers ltd acting as the agent on behalf of Dulsy's owners. We make every effort to ensure that all the vehicles listed with us are of a high standard but cannot guarantee the condition of the vehicle. If you experience any problems please notify us as soon as possible.