Evangeline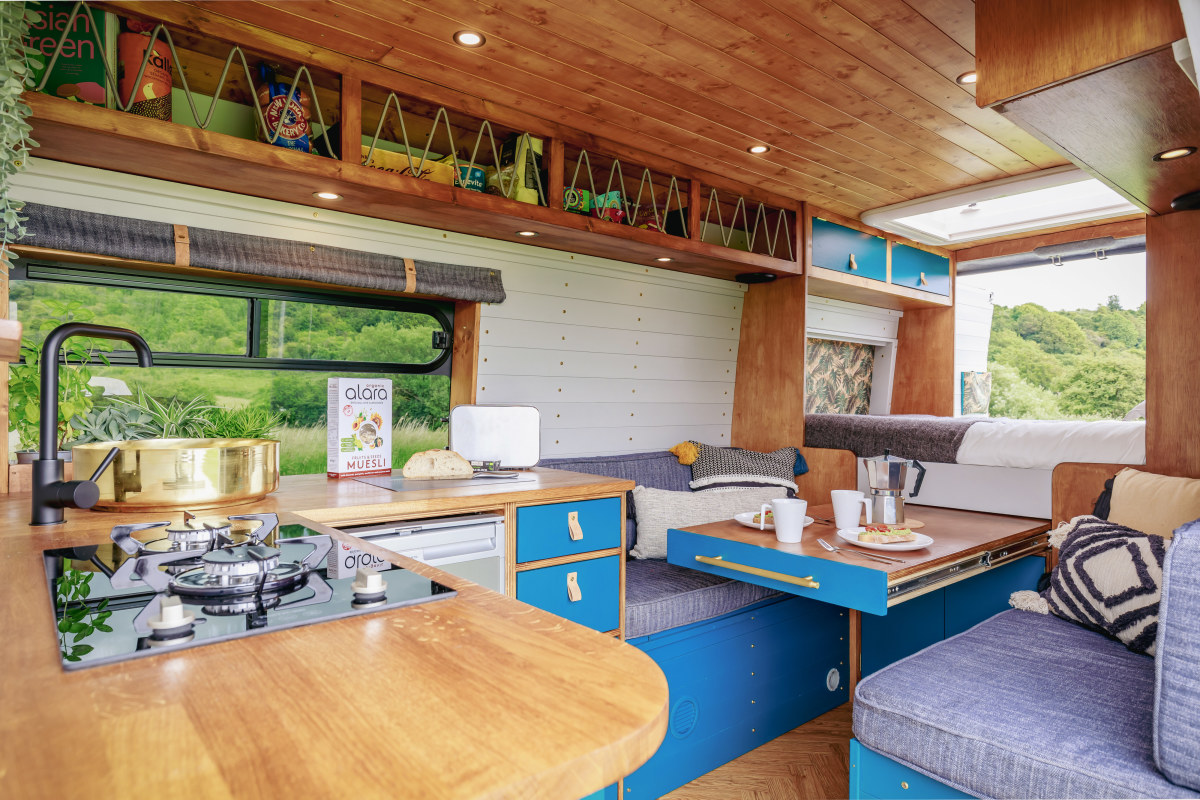 Brighton
3 Belted seats 3 Adult berths
Roses are red, violets are blue, oh Evangeline, we can't help but fall in love with you. Truly poetic in style and grace, Evangeline is ready to whisk you away on whatever type of adventure you desire. Spacious enough to accommodate a small family on an action packed trip, yet cosy enough for two lovebirds to snuggle up in the evening. Sleeping two in a fixed double bed means there will be less time faffing in the evening and more time stargazing. The seating area also transforms into a small double, sleeping one adult or two children comfortably.

Chef hats at the ready; Evangeline is home to a stylish and practical kitchen with a 2 ring gas hob, selections of pans and cutlery and a gold bowl style sink. There is even a fridge/freezer so you can stock up on the ice lollies to keep the little ones happy. There's no need to plan your camping trip around the unpredictability of good old British weather as Evangeline has been fitted with a combi heating and water system, so you can stay toasty inside in the height of winter. With an abundance of storage space and a dining area which could easily seat 4, there is plenty of room for you to not only store the games but play them too.

For those looking to hit the open road and steer clear of campsites, Evangeline is fully prepared with a toilet, shower and solar power. You really are in the driver's seat when it comes to planning your great escape!
Essential Information
Hob
Heater
Dining Table
Refrigerator
Kitchen Sink
Outside Shower
Toilet
Ceiling Fan
Solar
Reversing Camera
Radio
Inverter
Double Beds: &nbsp2
Gas Capacity: &nbsp25 litres
Waste Tank Capacity: &nbsp66 litres
Water Tank Capacity: &nbsp66 litres
EU Travel Allowed
About the Campervan
Description of Beds:. Evangeline sleeps up to four people; two on the fixed double bed with memory foam mattress (190cm x122cm), and the seating area can convert into a small double bed (180cm x 110cm) and will sleep two children or one adult.

Description of Seating: There are three belted seats in the front cab (including driver) with headrests. Four adults can comfortably fit in the seating area, around the extra large pull-out table with 100kg max load rails for sturdiness.

Description of Electrical Setup:
• 200Ah leisure battery
• 540W solar panels, allowing you to stay completely off-grid
• 4 x 240V sockets – 1 next to the kitchen, 1 in the seating area and a double socket in the garage
• 2 x 12v sockets – 1 in the garage, 1 in the seating area
• 1 x double USB 12v socket in electrical cupboard above the seating area
• Electrical hook up is possible, if desired, and the cable is provided.

About the area: Evangeline is located in Brighton on the south coast, ten minutes from the breathtaking scenery of Devil's Dyke and the South Downs National Park. If you're looking to venture into Europe, the port of Newhaven, with ferry links to Dieppe, is only 25 minutes away.

Parking: Being in Brighton, there are plenty of transport options available to you when collecting the van. If you drive to collect Evangeline, you are welcome to leave your car in her normal spot, where parking is unrestricted. The van is parked 2 miles from Brighton train station.

Cooking Equipment: Evangeline is fitted with a 2 ring gas hob, hooked up to a 25 litre underslung refillable LPG gas tank. The kitchen comes provided with a fridge/freezer, toaster, kettle, saucepans and frying pans, as well as cutlery, plates, bowls, and cups (all plastic). Also included are utensils, colander, tea towels, dust pan and brush, grater, bottle opener, corkscrew, chef's knife, cork placemats, and a stove top moka pot for your morning coffee. The kitchen area also has an extractor fan, which can be reversed to act as a regular fan to keep you cool in warm weather.

Water and Sanitation: There is a 66L underslung fresh water tank (fitted with a tank blanket to prevent freezing), and 66L underslung grey water tank. Up to 10 litres of hot water is provided by the boiler. There is a handmade circular brass kitchen sink with hot and cold swivel tap.

On the outside, an external hot and cold water shower point is perfect for refreshing outdoor showers in the morning, or for rinsing sand off your feet when you get back from the beach. A portable toilet can be stored underneath the seating area, available in either chemical or composting versions, whichever the hirer prefers.

Audio Equipment: The cab is equipped with a DAB radio with bluetooth connectivity for phone calls and music. In the back is a separate Kenwood DAB stereo and 4 speakers, also with bluetooth, allowing you to play your own music in the living area with surround sound. There is also a mic in the living area for bluetooth phone calls.

Type of Heating: The Truma 4e Combi heating and hot water system provides the van's heating, with three vents in the main living area, and one in the garage, to make sure your bed is toasty.

Extra Information: Evangeline has been thoughtfully crafted with everything you need to live very comfortably off-grid, with elements of luxury. Her unique, extra-large seating area makes her the perfect van for a family to enjoy a meal together around the table, or for friends to have a homely space to socialise together indoors when on the road.

The styling comprises painted and varnished cladding to the walls and ceiling with expressed brass screw fittings, making a design feature carried on throughout the interior. The cabinetry is all handmade and oak stained and/or painted in vibrant deep teal, and the kitchen worktops are 22mm solid oak. The sleeping area features inset frames providing additional leg/headroom and are finished with a leaf print cork material with recessed LED lighting. Above the bed is an extra-large deluxe skylight with integrated lights, mosquito net and blind, which is great for stargazing at night or just lying in the sunshine when having a nap during the day. For the driver's convenience, the cab is fitted with a rear-view camera in place of a mirror, complete with parking sensors and night vision, which also doubles as a dash cam.

Conversion Story: Evangeline began life as a courier van, and was lovingly converted over 4 months, completed in July 2021. Finished to a very high standard, the ethos was to use ethical materials where possible without compromising performance. Externally, apart from the windows the camper is as stealth and van-like as possible, making it easier for overnight stays in more densely populated/urban locations.
Pick up / Drop off Times
| - | Pick up | Drop off |
| --- | --- | --- |
| Sunday | 10:00AM - 9:00PM | 10:00AM - 9:00PM |
| Monday | 6:00PM - 9:00PM | 6:00PM - 9:00PM |
| Tuesday | 6:00PM - 9:00PM | 6:00PM - 9:00PM |
| Wednesday | 6:00PM - 9:00PM | 6:00PM - 9:00PM |
| Thursday | 6:00PM - 9:00PM | 6:00PM - 9:00PM |
| Friday | 6:00PM - 9:00PM | 6:00PM - 9:00PM |
| Saturday | 10:00AM - 9:00PM | 10:00AM - 9:00PM |
Note: Campervan Hire prices are per 24 hours. If you request pick-up at an earlier time than your drop-off time the owner will quote you for the additional hours. Typically this is £12.50 per additional hour.
When would you like to go?
Sorry, there was a problem...
Vehicle Spec
Vehicle Type: camper-van
Make: Peugeot
Model: Boxer
Year: 2017
Vehicle Length: 6.36 metres
Vehicle Height: 2.65 metres
Max Laden Weight (MAM): 3500 kg
Payload: 360 kg
Transmission: manual
Fuel Type: diesel
Registration: emailed when you book
Note: The hire of this vehicle is arranged by Quirky Campers ltd acting as the agent on behalf of Evangeline's owners. We make every effort to ensure that all the vehicles listed with us are of a high standard but cannot guarantee the condition of the vehicle. If you experience any problems please notify us as soon as possible.