Ozzy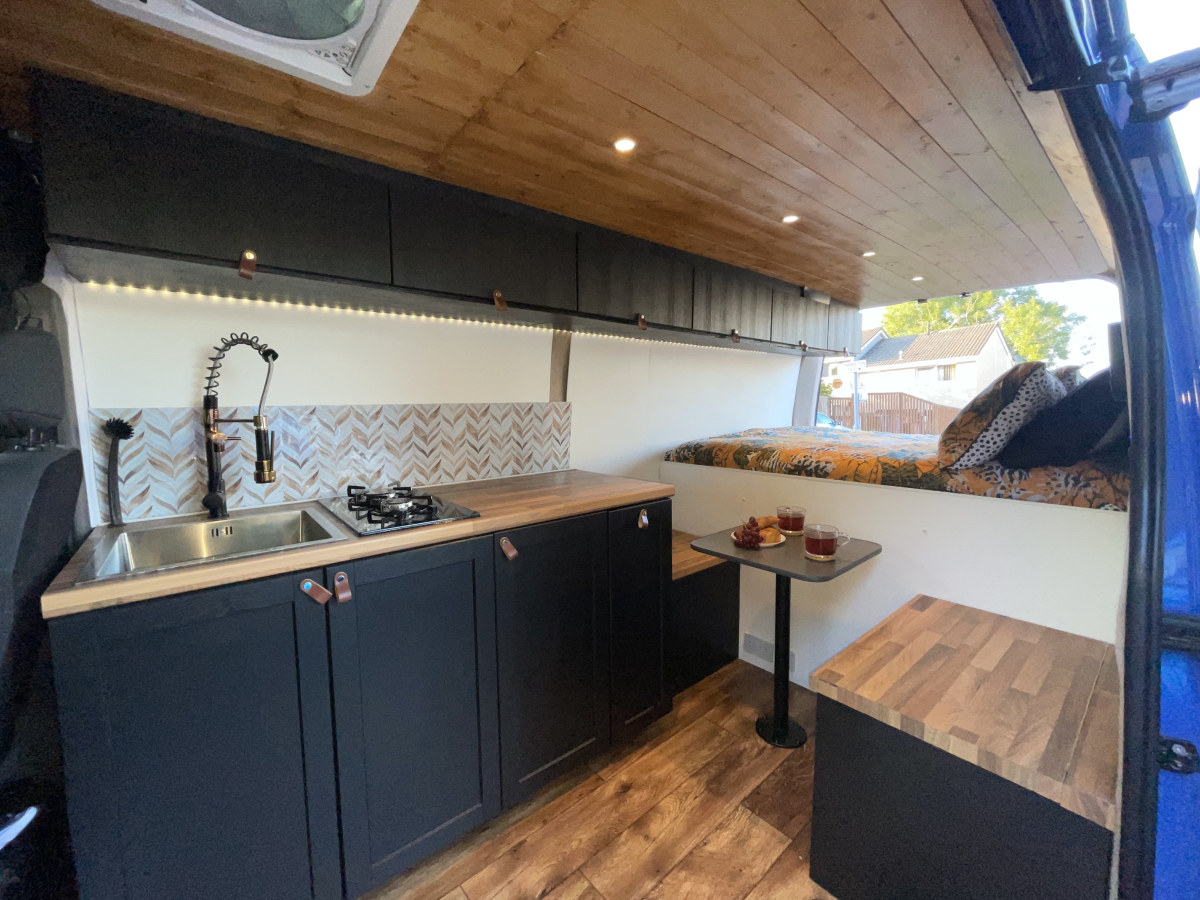 East Kilbride
2 Belted seats 2 Adult berths
Ozzy is ready to rock your world! Why not hit the open road and treat your very own Sharon to the romantic getaway they deserve? Located in the heart of Scotland, a campervan eutopia, Ozzy is perfectly situated to explore the Scottish highlands and beyond. Surprisingly there is no rock and roll bed, however, there is a fixed memory foam double; meaning you can spend less time faffing and more time staring in each other's eyes. His light whitewashed design has been complimented with sleek black cabinetry to create a stylish, yet cosy vibe throughout.

Serve up a side of incredible views with your pancakes in the morning. Simply pull up mountain side, open up the backdoors and get cooking in Ozzy's epic kitchen. Fully fitted with a 2 ring gas hob, dining set for 2 and a refrigerator with the capacity to hold 18 bottles of wine, proving that dreams in fact do come true. There is also a coolbox available to hire, so you could take a sunset stroll, host our very own picnic date and enjoy a couple of cold beers.

Off-grid escape? No problem. Ozzy has been fitted with solar power and a diesel heater, meaning you can come back after a chilly wild swim and warm up inside with a hot cuppa in hand. So get ready to step outdoors and rock on with Ozzy!

Ozzy is pooch friendly but this is an addition add-on.
Essential Information
Hob
Heater
Dining Table
Refrigerator
Kitchen Sink
Toilet
Ceiling Fan
Solar
Reversing Camera
Extra Storage
Leveling Jacks
Audio Inputs
Radio
Inverter
Pet Friendly
Double Beds: &nbsp1
Gas Capacity: &nbsp4 litres
Waste Tank Capacity: &nbsp25 litres
Water Tank Capacity: &nbsp25 litres
About the Campervan
Description of Beds: Ozzy Sleeps 2 people in a luxury memory foam double bed, perfect for those romantic getaways to relax & unwind. 173 cm in length, 135 cm wide.

Description of Seating: Ozzy has 2 belted seats in the front (including driver) with headrests. 1 out of the 2 seats is suitable for a child car seat using the belt.

About the area: Ozzy lives in East Kilbride, South Lanarkshire, only a 30-minute drive south of Glasgow. An easy 10-minute drive from M74/M8 to start exploring the fantastic Scottish roads. Ozzy is parked on a quiet residential street and there is free street parking to leave your own vehicle here.

Cooking Equipment: Ozzy is kitted out with full cooking equipment, you will only need to pack your food & drinks. 2 gas burners in the fitted kitchen is fantastic for cooking all meals. 45-litre fridge, this can hold up to 18 bottles of wine or 42 cans of beer, what else would you need for camping? We do also give a cooler box out to all renters, this can be taken to the beach or a walk if you want to have a picnic while out & about. Ozzy has everything you could need to cook up a feast, including; 2 mugs, 2 bowls, 2 large dining plates, 2 small side dining plates, cutlery for 4, a chopping board, kettle with tea & coffee supplied, 1 frying pan, 2 saucepans, 1 sharp knife, corkscrew/bottle opener. There is a full kitchen utensil silicone set to whip up all your favourite recipes without having to pack them all. Cleaning supplies are included so doing the dishes and the after-dinner clean up will be made easy.

Description of Electrical Setup: There are two leisure batteries on board with a total of 300AH which power all the electrics in the van. The batteries can be charged in three different ways. Driving Ozzy will charge the batteries via the vans alternator, the solar panels on the roof will charge them via sunlight and lastly, you can plug into the mains power at a campsite. The batteries will power the lights, fan, fridge, water pump and USB sockets. There are 3x 240V plug sockets in the van. The single-socket is powered by a 1200W inverter and can be used off-grid. The double socket can be used when plugged into the mains power at a campsite.

Water and Sanitation: There is a 25- litre removable water tank under the sink that supplies cold water via a pump. If you need hot water there is a kettle.

Type of Heating: Ozzy is fitted with a diesel heater, perfect for those chilly Scottish nights. You can control the temperature from the remote.

Conversion Story: Ozzy's owners met while backpacking Australia & New Zealand, We travelled around the beautiful countries in large & small camper vans falling more in love with camping experience every time. Once we moved back to the motherland Scotland we realised we had not explored Scotland at all. In 2020 we hired campervans from quirky campers and realised the campervan life obsession began. The van conversion took 5 months from designing, researching and learning throughout the experience. We did love every minute of it and hopefully we can expand our fleet soon. Ozzy is designed to be a modern farmhouse on wheels. We really wanted to ensure Ozzy is comfortable & off grid to stay long term and easy to use, we are so happy with the results and can not wait for Ozzy to hit the road with you.
Pick up / Drop off Times
| - | Pick up | Drop off |
| --- | --- | --- |
| Sunday | 7:00AM - 6:00PM | 7:00AM - 6:00PM |
| Monday | 7:00AM - 9:00AM | 5:00PM - 6:00PM |
| Tuesday | 7:00AM - 9:00AM | 5:00PM - 6:00PM |
| Wednesday | 7:00AM - 9:00AM | 5:00PM - 6:00PM |
| Thursday | 7:00AM - 9:00AM | 5:00PM - 6:00PM |
| Friday | 7:00AM - 9:00AM | 5:00PM - 6:00PM |
| Saturday | 7:00AM - 6:00PM | 7:00AM - 6:00PM |
Note: Campervan Hire prices are per 24 hours. If you request pick-up at an earlier time than your drop-off time the owner will quote you for the additional hours. Typically this is £12.50 per additional hour.
When would you like to go?
Sorry, there was a problem...
Vehicle Spec
Vehicle Type: camper-van
Make: Renault
Model: Master
Year: 2018
Vehicle Length: 6.25 metres
Vehicle Height: 2.6 metres
Length with hitch: 6.25 metres
Max Laden Weight (MAM): 3500 kg
Payload: 860 kg
Transmission: manual
Fuel Type: diesel
Registration: emailed when you book
Note: The hire of this vehicle is arranged by Quirky Campers ltd acting as the agent on behalf of Ozzy's owners. We make every effort to ensure that all the vehicles listed with us are of a high standard but cannot guarantee the condition of the vehicle. If you experience any problems please notify us as soon as possible.