Beryl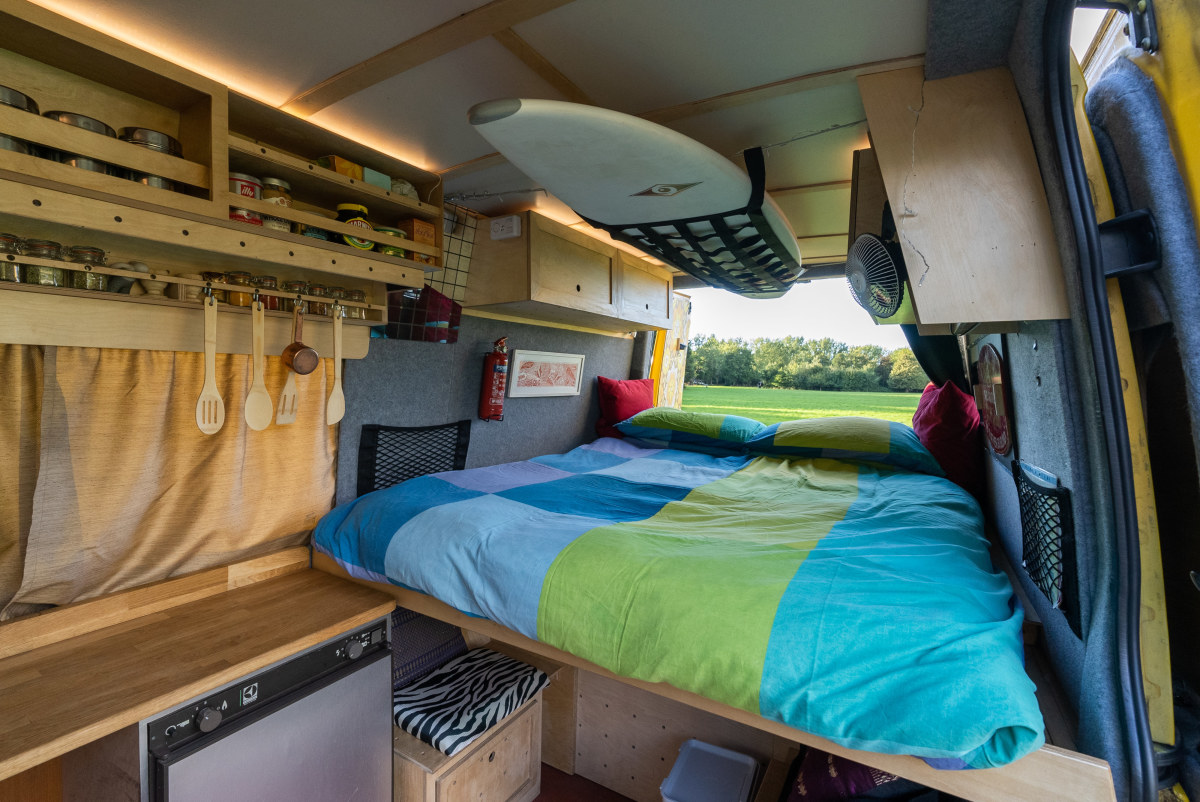 London
3 Belted seats 2 Adult berths 1 Child berths
Located in London, this 3 berth camper is the full package and is onboard to deliver you the ultimate family holiday! A cultural gem, Beryl has been transformed from an ex delivery van to a vibrant home away from home. Almost all of Beryl's interior has been crafted using recycled materials, making her one of a kind. Her bright yellow exterior, zebra print covered seats and groovy prints are guaranteed to put a smile on your face. There is a cosy double bed, sleeping 2 adults and a single bed designed to sleep a smaller adult or child. Calling all pup-arrazis, Beryl is also pet-friendly - just think about all those scenic pet pictures you could get?!

Beryl's is every cook's dream. Fitted with a double hob, oven and grill, you are truly in control and switch up meal times each night, depending on the occasion. The kitchen hosts plenty of extra storage for you to tidy away plenty of food, extra utensils and dog supplies. If it's a hot day, you can take lunch to go with the picnic set provided, perfect for a long hike up a mountain or a day spent at the beach.

Whether you choose to settle down in a campsite or venture off-grid, Beryl is prepared for all types of adventures. With an outdoor shower to wash away any mucky feet or paws, a compost loo and solar power, you have everything you need to stay comfortable and happy on the road.
Essential Information
Hob
Heater
Dining Table
Oven
Refrigerator
Kitchen Sink
Outside Shower
Toilet
Tow Bar
Solar
Leveling Jacks
Radio
Inverter
Pet Friendly
Double Beds: &nbsp1
Gas Capacity: &nbsp12 litres
Toilet Capacity: &nbsp10 litres
Waste Tank Capacity: &nbsp10 litres
Water Tank Capacity: &nbsp40 litres
About the Campervan
Description of Beds: Beryl sleeps up to 3 people. There is a pullout double bed 1.9m x 1.4m, which extends above the seating area and a second bed of 1.65mx 0.6m which is created across the seats with an infill panel, as this is below the foot of the main double bed (when extended) the opening is 0.5m high for second beds inhabitant. There are four pillows aboard, a duvet, sheets and extra blankets in case you get chilly, there are also two cushions. A kids sleeping bag will also be supplied 1.7m long.

Description of Seating: Beryl has 3 belted seats in the cab with headrests. The two fixed seats in the living area can be supplemented by a stool created by the coolbox with a foam topper cushion, it is possible to have 4 people in the living area in total without feeling cramped.

Description of Electrical Setup: The van has a large roof mounted solar panel, along with a split relay charger keeping the 115ah leisure battery topped up, if you're not stopping on a campsite with power that night, use driving time to charge laptops etc through the 600W inverter, it's much more efficient (although possible from the battery via the inverter also.)

If you are camping with mains power hook up there is one double socket with twin usb ports in the seating area and another identical double socket to the rear of the van underneath the bed in the 'garage' area. Opposite the seat with the double socket is a twin usb/cigarette lighter output with a power readout to monitor the battery. At the rear of the van on both sides there are twin usb sockets, very useful to charge your phone at night! Some people are bothered by the light they omit. I never have a problem with it but they have on/off buttons in case. In the rear wall of the van, again below the bed in the garage is another cigarette lighter outlet for the immersible shower pump.

Three main circuits - uplighters above the wall units bounce a soft dimmable ambient light onto the ceiling, worktop lights shine down from underneath the kitchen units providing a good working light, two reading lamps shine over your shoulder when sitting up in bed. In addition there is a separate light at the rear to illuminate the storage area under the bed, these all run off the 12v leisure battery, in the case (very rare) of it being run flat there is a small light by the sliding door which runs off the van battery which should tide you over , use minimally of course because you don't want to flatten that battery too! Also there is a possible 230v lamp which can be used anywhere in the living area with a hook up.

About the area: There's so many great things to explore in the vicinity
of where you will collect Beryl in North London, you're right on the edge of 'London's lungs' more commonly known as Epping Forest, Britain's most ancient woodland... a little further and you're at Broxbourne Lakes. You can head further east into Essex and beyond to Cambridgeshire and Suffolk or over the Dartford crossing and into the 'Garden of England' Kent, in under an hour!

Parking: Beryl stays at my workshop during peak times, leaving a car there could be arranged in exceptional circumstances (but it is a shared workshop and parking is usually limited to the individuals whose workplace it is) please discuss with me before booking. By far the easiest would be to get a Mainline train or underground to Tottenham Hale / Seven Sisters station (Victoria Line) where I could collect you or you could make a five minute walk to the workshop. In quieter times you could meet me in Chingford, Essex to collect where there is plenty of free on road parking.

Cooking Equipment: Included in the kitchen you will find a kettle, a large steel pot, a smaller pot (both with lids), large and small non-stick frying pans, a colander, cheese grater, veg peeler, two sharp knives and 4 bamboo utensils for cooking, separate meat and veg chopping boards, bottle opener, fire lighter, can opener and tea towels! There are cutlery, plates, glasses, beakers and mugs for three people. There are also plastic versions of everything for picnics. I have provided a thermal steel cafetière coffee maker, loads of spices and herbs, a coolbox for extra cold storage as well as several tupperware type containers with lids for leftovers. In addition to the two gas hobs inside, there is a single gas burner that you can use to cook outside or as an extra ring. Dust pan and brush, cleaning cloths/sprays/washing up liquid will also be provided.

Water and Sanitation: There is a cold water tap supplied by a removable 20L jerry can under the sink unit, also another 20L container to make total carriage capacity 40L. I fill these from mains water supply which ensure you have drink inking water from the tap. There is an external shower hung from the inside of the rear doors (creating a cubicle with the hanging shower curtain between them) that can be used by boiling the large kettle and filling a trug bucket positioned at the rear. There is also a removable composting toilet which stores away under the bed, and can be included in hire if required.

Audio Equipment: When you're on the road you can keep yourself entertained with the Kenwood Digital radio with USB plug-in and bluetooth, spotify compatible. There is a small bluetooth speaker in the living area, but not the best quality to be frank, so if you have a good quality mini rig speaker I would advise bringing it with you.

Type of Heating: There is a 230v bar heater providing low level radiant heat (only feasible to use with a 230v hook up) and hot water bottles to help warm your beds.

Extra Information: Beryl is my first self build camper van, i bought her six years ago at auction after retiring from her previous life as a DHL delivery van, hence the bright yellow... earlier this year when i decided a re-spray was needed my friends all had their suggestions as to what colour she should be, i preferred staying true to her roots with a beautiful bright cornflower yellow. Two years ago I had a reconditioned engine fitted, so even though the odometer reads 225 thousand, this engine has done just 40 thousand.

Conversion Story: So what about the interior. I am a carpenter and set builder and since buying Beryl have taken her to many music festivals in the summer months to work, as well as from Cornwall to Scotland, Wales to Norfolk and everywhere in between..In the beginning there was the small horse box window (now by the bed at the back) in the sliding door, the insulation throughout and lining and the wonderful vinyl wallpaper on the rear doors (from a washing powder commercial i worked on) to add some cheer! In fact almost all the materials used in the conversion have been recycled... lifting up the mattress to reveal the bed slats you'll notice they're painted with Google's colours (from an event), the sink/oven/three way fridge were all bought from a guy who'd given up on his own conversion. I made the cabinets, kitchen units, and installed the windows in a barn in France whilst visiting friends there foraging for mushrooms two years ago. The solar panel is from Bimble Solar who recycle panels, even the floor lino was leftover after an advert.

So let's just say I didn't have a firm plan for the overall design but by spending years travelling in and staying in her I formulated an organic conversion piece by piece, my starting point being the bright yellow, lots of brand new second hand birch ply and a love of boats, instead of trying to box everything in, and because of the way i was adding pieces at a time i preferred to keep some angular lockers/cupboards and seating which somehow makes me think of boats, a desire not to hide her shape but reference it in their angles.
She is my pride and joy.
Pick up / Drop off Times
| - | Pick up | Drop off |
| --- | --- | --- |
| Sunday | 8:00AM - 8:00PM | 8:00AM - 8:00PM |
| Monday | 6:00PM - 8:00PM | 6:30AM - 8:00PM |
| Tuesday | 6:00PM - 8:00PM | 6:30AM - 8:00PM |
| Wednesday | 6:00PM - 8:00PM | 6:30AM - 8:00PM |
| Thursday | 6:00PM - 8:00PM | 6:30AM - 8:00PM |
| Friday | 6:00PM - 8:00PM | 6:30AM - 8:00PM |
| Saturday | 8:00AM - 8:00PM | 8:00AM - 8:00PM |
Note: Campervan Hire prices are per 24 hours. If you request pick-up at an earlier time than your drop-off time the owner will quote you for the additional hours. Typically this is £12.50 per additional hour.
When would you like to go?
Sorry, there was a problem...
Vehicle Spec
Vehicle Type: camper-van
Make: Mercedes-Benz
Model: Sprinter
Year: 2008
Vehicle Length: 6 metres
Vehicle Height: 3 metres
Box Length: 4.3 metres
Length with hitch: 6 metres
Class / Floorplan: MWB High top
Max Laden Weight (MAM): 3500 kg
Payload: 500 kg
Transmission: manual
Fuel Type: diesel
Registration: emailed when you book
Note: The hire of this vehicle is arranged by Quirky Campers ltd acting as the agent on behalf of Beryl's owners. We make every effort to ensure that all the vehicles listed with us are of a high standard but cannot guarantee the condition of the vehicle. If you experience any problems please notify us as soon as possible.