Rosie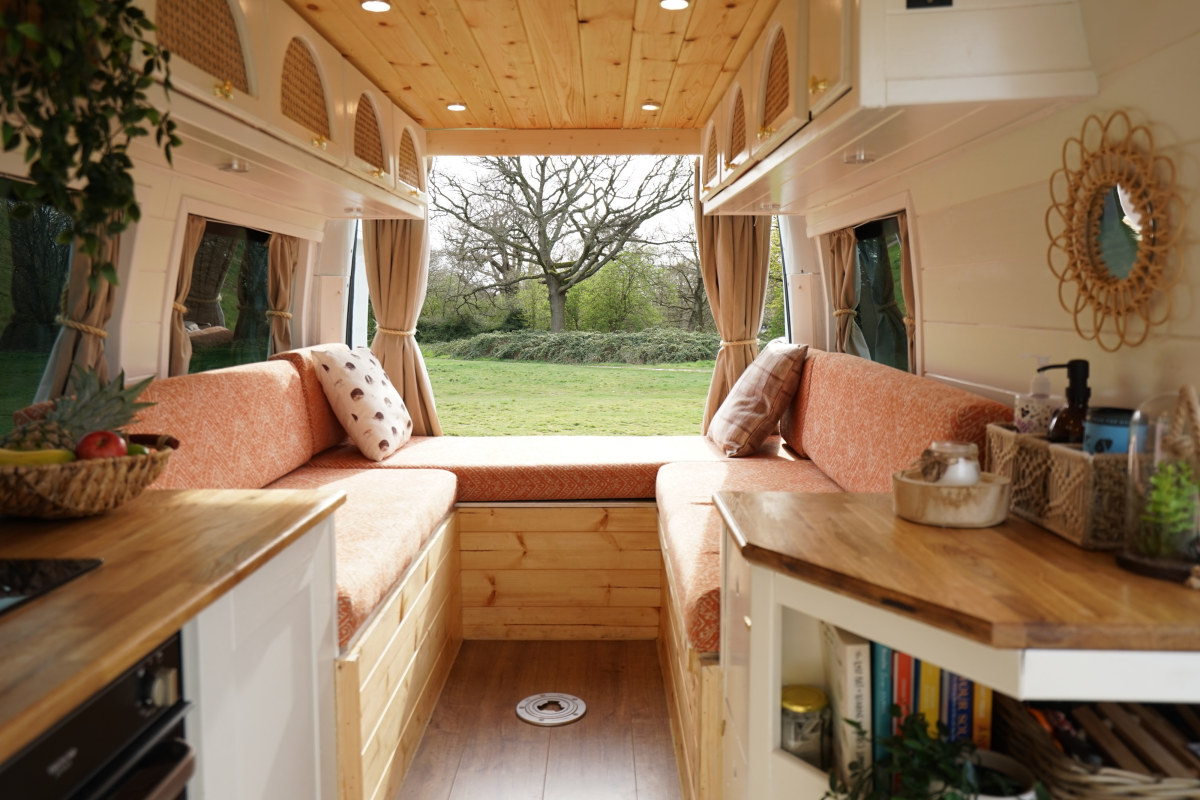 London
3 Belted seats 2 Adult berths
Move aside Mary, there's something about Rosie! Guaranteed to make you swoon, Rosie has been lovingly crafted to spark romance and comfort into your getaway. Every inch of Rosie's impeccable design has been well-thought out, from her decor to functionality. Her stylish whitewashed design has been complimented by earthy tones to create a calming and homely feel. By day, the large U shaped sofa is the heart of this camper, a space for you to stretch out with a good book or invite friends over for cocktails and games. At night, the sofa transforms into a spacious bed for two to collapse into after a long day of exploring.

There's a new romantic bistro in town and you've got the keys! Equipped with everything needed to whip up a delicious feast. Her 2 burner gas hob and oven open up a world of possibilities when it comes to cooking in a camper. Enjoy your favourite pasta dish with a mountain view one evening and a Sunday roast with friends and family by the beach another - the options are endless.

Campsite or off-grid, Rosie caters for all types of adventures. If you plan on surfing the waves in Devon, Rosie's wetroom is ideal for storing wetsuits. Fancy taking on the three peaks in Yorkshire? She has plenty of space to tidy away raincoats and hiking boots. Rosie also benefits from an outdoor shower which could be used to wash mucky paws, a heater so you can stay toasty no matter the weather and solar power to keep you charged on the go. Have you fallen for Rosie? Yeah we thought so!
Essential Information
Hob
Heater
Dining Table
Oven
Refrigerator
Kitchen Sink
Outside Shower
Toilet
Wifi
Ceiling Fan
Solar
Reversing Camera
Extra Storage
CD Player
Radio
Inverter
Pet Friendly
Queen Beds: &nbsp1
Water Tank Capacity: &nbsp15 litres
About the Campervan
Description of Beds: Rosie's U-shaped lounge area turns into a very spacious bed. The memory foam seating makes for a comfy base to rest your head at night. The inbuilt dimmer spotlights are great bedtime reading. Don't want to bring your own bedding? Not a problem - you can rent these as an added extra to minimise the pre-trip faff.

Description of Seating: Rosie has three belted seats with headrests, including the driver seat. The seating in the living area is big enough to accommodate six people around the table - great for evening dinners with friends. The U-shaped seating area allows for the maximum living space during the day, whether you're working remotely, enjoying a tasty dinner or relaxing with a good book looking out at an incredible view.

Description of Electrical Setup: Rosie is designed for both campsite and wild camping adventures and, most importantly, is easy to use (sometimes all those electrical switches can seem a bit daunting!) With many campsites offering electric hookup points, she can be easily hooked up when on site, meaning you can charge all your devices freely with no worries about the batteries. She also has two leisure batteries, which power all the electrics when not hooked up and are charged through the day via two 100W solar panels and a split charge relay, which charges while you drive. She's fitted with an inverter and has multiple charging points, including USB points and six three pin sockets in the living area.

About the area: Based in Limehouse, Rosie has a great central London location and just a 5 minute walk from the DLR.

Cooking Equipment: There's nothing better than boiling your kettle and enjoying a great cup of coffee in the morning, or tucking into a tasty dinner watching the sunset. Rosie comes with great kitchen facilities, including a gas oven because, let's face it, boiled and fried food from the hob gets a bit boring after a while! Say hello to delicious lasagnes, tray bakes and maybe even a Sunday roast! She also has a two ring gas hob, fridge, sink with running water and lots of storage for food (and wine!)
She also comes with large and small plates, bowls, mugs, cups, cutlery, cooking utensils, collapsible kettle, aeropress coffee maker, chopping board, chopping knives, 2 frying pans, 2 saucepans, tin opener, corkscrew/ bottle opener, lighter and food storage boxes. For cleaning, she has a hand-held hoover, washing up brushes and liquid, bin, compostable bin bags, tea towels, cloths and dustpan and brush.

Water and Sanitation: Getting a bit mucky is all part of the camping fun right? But, that doesn't mean we have to be smelly! Rosie comes with lots of optional add ons to keep you clean while on your adventure. These include a pressurised portable outdoor shower system, which is solar powered or you can heat your own hot water on the stove if you don't want to wait or it's a bit cloudy. She also has cold running water, powered by a water pump and water container under the sink, as well as a spare in the boot. The wet room is great for storing wet jackets and also doubles up as a bathroom, with a porta potty, providing a bit of privacy for when nature calls.

Type of Heating: You can stay toasty at night with a diesel heater located in the living area.

Extra Information: Rosie comes with lots of optional extras, to make your camping adventure even more fun. These include a small BBQ for outdoor cooking, camping seats, Wifi dongle for remote working, hammock swing to attach to nearby trees, bedding, towels, portable toilet, outdoor portable shower system. For your four legged friend, a large waterproof dog mattress which can be used indoors and outdoors is available too.

Conversion Story: Rosie's adventure started when her mum took a campervan trip with Quirky Campers and absolutely fell in love with the lifestyle and freedom that comes with van life. She found Rosie, who was at that point just an empty panel van, and started on the six month journey of having her converted. Everything inside Rosie has been picked based on lessons learned from previous campervan adventures, such as the benefit of having a seating/ bed set up for more space, an indoor wet room to hang wetsuits and rain jackets, loads of storage room and the added luxury of an oven to allow for more meal choices on the road!
Pick up / Drop off Times
| - | Pick up | Drop off |
| --- | --- | --- |
| Sunday | By arrangement | By arrangement |
| Monday | By arrangement | By arrangement |
| Tuesday | By arrangement | By arrangement |
| Wednesday | By arrangement | By arrangement |
| Thursday | By arrangement | By arrangement |
| Friday | By arrangement | By arrangement |
| Saturday | By arrangement | By arrangement |
Note: Campervan Hire prices are per 24 hours. The default pick up and drop off time is 2pm. If you request a pick up or drop off outside of this, the owner will quote you for the additional time. Typically this is £12.50 per additional hour.
When would you like to go?
Sorry, there was a problem...
Vehicle Spec
Vehicle Type: Campervan
Make: Vauxhall
Model: Movano
Year: 2013
Vehicle Length: 6.1 metres
Vehicle Height: 2.6 metres
Max Laden Weight (MAM): 3500 kg
Payload: 500 kg
Transmission: manual
Fuel Type: diesel
Registration: emailed when you book
Note: The hire of this vehicle is arranged by Quirky Campers ltd acting as the agent on behalf of Rosie's owners. We make every effort to ensure that all the vehicles listed with us are of a high standard but cannot guarantee the condition of the vehicle. If you experience any problems please notify us as soon as possible.