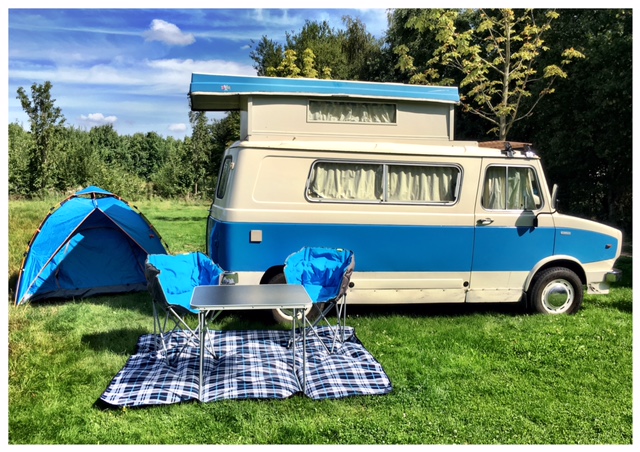 Vehicle Description
*OPEN TO REASONABLE OFFERS AS LEAVING THE COUNTRY*
This is a British Leyland's workhorse van known as the Sherpa and she is named Hyacinth (as you will see from the licence plate number too). The Sherpa is famous for being in the James Bond film Jaws. Although this one is beautifully painted in blue and cream (rather than brown!) with a roof rack and silver eyelids over the headlights to give her character. She is a Head Turner/ Horn Beeper / Thumbs Upper / Attention Grabber. In other-words people love her when they see her and it makes them smile and react warmly.
I have taken her to festivals and around Europe and I have spent the last 2 years doing her up (please see the Updated List below). I am selling her because I am leaving the country so open to reasonable offers.
At present Hyacinth can do 90 mph (yea I know fast!) but she enjoys happily sitting at 60 to 65 mph on motorways (the 'sweet spot'), and will overtake VW campers and lorries going up hills (I think that even surprises them!). She has extremely low mileage for her age at only 70k!!
The van is in my view more practical and more fun to drive than more expensive VW rivals. On the inside, the Sherpa has a lot more space than a VW camper-van. The roof pops up, and you can stand, cook, and so on, inside the van. The cooker and sink with a foot pump to a water tank underneath work. The fridge/freezer, powered by the leisure battery and a switch, is brand new. The van has the usual power hook-up for use on camp sites.
There is a dining table (2 choices – one a bit like a really funky surf board and the other brown wood) and seating for four, and a huge double bed that is assembled from the 2 front seats and the dining long seats. In the pop up roof are two stretcher style bunks that could be used by small children or to store luggage out of the way. There are sensible, re-oiled cupboards that have had added shelves, although British Leyland did a good job of making the space usable. All seat cushions (front and back), block out curtains, roof, carpets, cushions, etc. are all brand new and match the colour of the outside of the camper-van being blue and cream (with a couple of cushions being Union Jacks to show she is English).
Updated List (last 2 years):
Outside:
New Brakes and Drums
New Alternator
New Steering Knuckle
New Batteries: Main and Leisure
New Spark Plugs
New Fan Belt
New Front Lights and Rear Lights
New Indicator and Light Switch
New Additional Bright Rear Light for reversing
New Window Wipers
New Windscreen
New Fuse Box
New Wiring Throughout
New Side Mirrors
New Roof Rack
Inside:
New Fridge/Freezer
New Detachable Stereo
New Speakers
New 4 Sockets for Charging
New Dimmer and Strip Lights Inside
New Inside Switches
New Seats Front and Back
New Carpets and Mats
New Head Lining
Varnished Cupboards and New Shelves
New Back Cupboards
New Blackout Curtains
New Curtain Tie Backs
New Cushions
New Tailor Made Sheet
New Tailor Made Mattress Protector
New Head Boards
New Glove Compartment
New Rear Mirror
New Euro Tunnel Travel Kit
New Travel Games
New in Kitchen: Big and Small Plates, Big and small Bowls, Mugs, Cups, Egg Cups, Glasses, Cutlery, Cutlery Tray, Kettle, Washing up Bowl, Picnic Blanket.
Extras: Fire extinguisher, Warning Triangle, Plastic Ramps x 2, Old Sherpa Mechanical Books, Fuses/Fan belts/etc.
Note:
It may perhaps go without saying, but this is a classic vehicle that uses 1970s technology. A basic understanding of how 1970s vehicles work, and a degree of mechanical sympathy in using them, are helpful if you are to run a camper of this age. This is not a modern van with fuel injection, power steering, air-con and so on, but that is part of the fun. The steering is not as heavy at low speed as you might expect, not least perhaps because of the small wheels and tyres. She is fully working and extremely funky now if you want to just use her for festivals/camping, although she is also a great investment if you want to bring her back to her very top condition. A re-spray would make a huge difference to her and what she is worth in value!
Please note that I am not a mechanic or a vehicle trader, although I have learnt a lot on the way. She is an old van and to be treated with respect. Hyacinth is beautiful, reliable, fun, has a lot of character and is quite a rarity. Can you tell I will miss her 😉
Information:
Fuel Type: Petrol (Unleaded)
MPG: 13.9lit/100km (20.3MPG) – 10.1LIT/100km (28MPG)
Maximum Weight: 3,500 kg
Number of Gears: 4 Gears
Tax/ MOT: Exempt
Condition of the Engine: Good (see Updated List)
Condition of the Body work: Beautiful Blue and Cream with some rust/peeling paint. Could do with a respray but considering it hasn't had one in 45 years it is looking amazing
Service History: See Updated List
Please note: Quirky Campers do not inspect the listings for accuracy or check campervans in person. We have asked sellers to provide evidence of certificates and paperwork however you MUST check yourself that the information provided is present and correct. You will need to exercise the normal due diligence when buying any vehicle.
Current Mileage
70,000miles
Huge Comfortable Double Bed made from the 2 front seats and 2 long dining seats: good for two adults or even three adults! Length of Main bed: 2m / Width: 1.5m
Two Stretcher Style Bunks in the pop up roof: suitable for children or thin adults or storing luggage. Length of Bunkbeds: 2m / Width: 0.6m each
Maximum Weight (MAM or MTPLM)
3,500kg
Unladen Weight Verified?
NO - the vehicle has not been weighed since completion
Gas sign-off supplied
Gas Safe Certificate