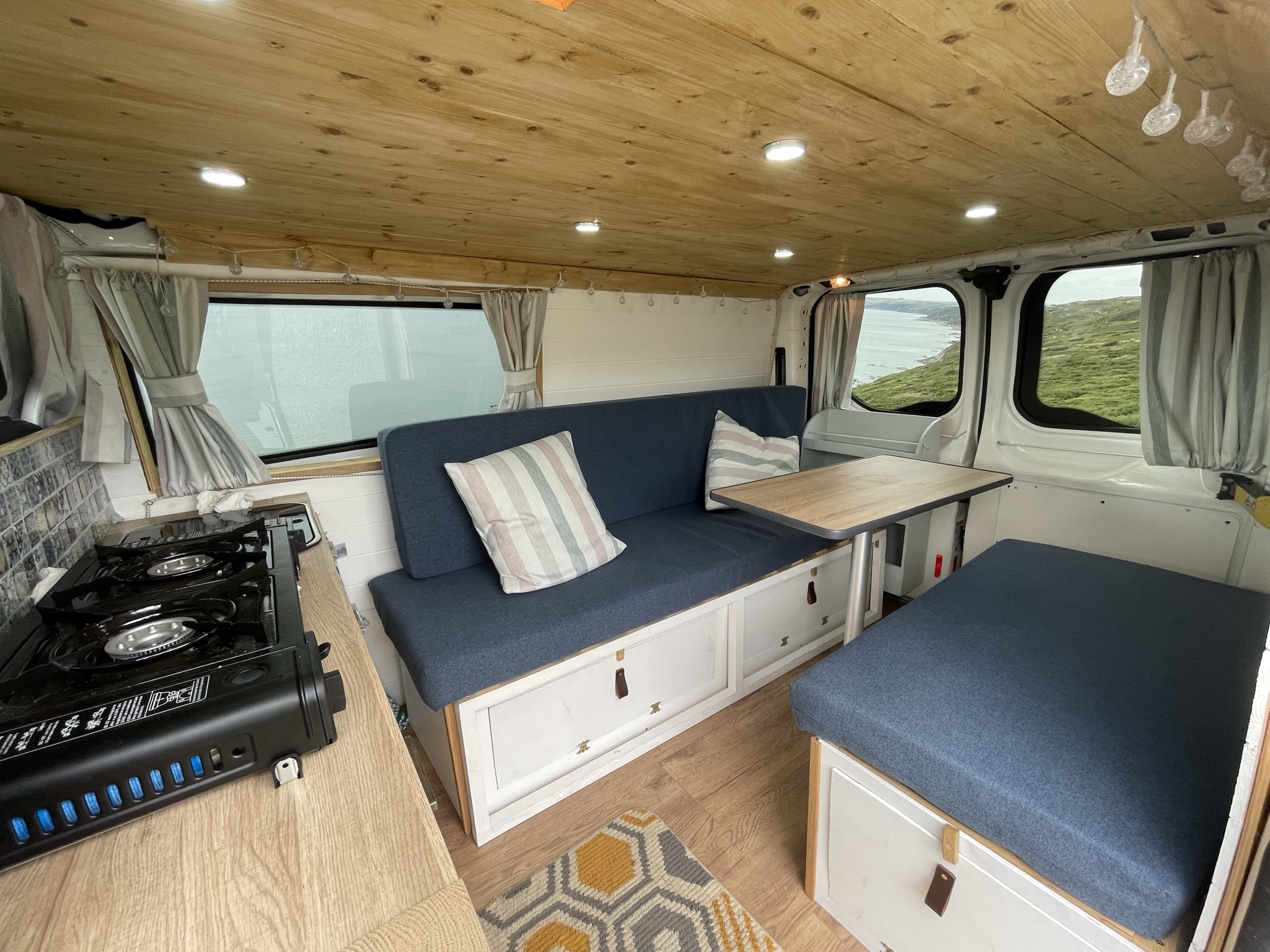 Vehicle Description
Ford Transit Custom 2016 Campervan Conversion. 2.2l Diesel, 105750 Miles.
Manual 6 Speed
MOT until March 2022 with just a low tread advisory on one tyre. Tyre has been changed.
Full Service History.
Towbar with electrics.
Reversing camera wired to be on permanently as a rear view camera.
Body work is good, with a few scrapes here and there due to it's work van history.
2 Previous owners. Builders van until 103000 miles. Second owner had the van for a month but realsied it was too small for his needs. Then I purchased and self converted for weekends away of which it's been faultless for. Selling due to wanting a van for longer trips.
Beds Description
Bespoke sliding bed which extends to full width to meet a fixed bench on the passenger side. Bed is fully beech slatted and is very comfortable.
I'm 6ft1 and fit perfectly.
When in it's 'Stowed' position, it provides space for a quick release table for dining and socialising.
Conversion Description
Background:
I purchased the vehicle in mid first lockdown as a project and spend countless hours designing and crafting the conversion.
I'm looking for a bigger van for more extended trips, hence the sale.
Design:
I wanted the classic white cladded look with high quality wood design flooring for contrast. The navy blue of the cushions goes really well with the interior. Solid oak trim was used to finish edges of floor and bed.
General:
– Insulation: Fully lined in silent coat for sound proofing. Foil bubble wrap coated on top of that to provide a vapor barrier over all exposed metal work.
– 70% tinted windows fitted to the side sliding door (with opener) rear barn doors and drivers side.
– Roof bars fitted
Kitchen/Living space:
– Household Sideboard from John Lewis modified to fit behind the cab seats and house electrics, water and the cooker ontop.
– Sliding doors on runners
– Removable double burner. (We like to also cook outside)
– Stainless steel sink with black glass top with cold running water and waste tank below.
– Tiled splashback around kitchen area.
– 2 Drawers.
– 2 built in upholstered seats, one of which houses the leisure battery, with some extra room to spare for storage.
– Very hard wearing laminate flooring in a dark oak style
– Blackout curtains fitted to all windows and cab separator.
Bed space:
– Fixed bed section plus a sliding section to form a full width bed. Doubles as comfy sofa/chill area.
– Doors with leather handles on the front of the larger bench bed for storage. Additional cupboards and lift-able bench for additional storage.
– Rear storage unit mounted to rear door.
Electrical:
– Main lights: 6x LEDs ceiling mounted.
– Fairy lights powered by USB or battery operated by remote.
– Main control panel has 5 on/off switches. Lights and Water Pump.
– 1x Double USB socket plus 12v cigarette lighter socket.
– 110AH Leisure battery. Charged via solar and split charge relay.
– 800w Pure sine wave inverter.
– 150w Solar Panel with Victron MPPT controller and Bluetooth module.
– Split charge relay, charges leisure battery when driving.
Water:
– 15l water tank with submersible pump.
– 15l waste tank.
– Both tanks are easily removable.
Gas:
Dual burner is fueled by two small gas canisters which are engaged/disengaged by a lever on the front
Other General notes:
– Radio + Bluetooth
– 2 keys, main remote key and spare
– Carpeted mat in cab area
Registered Vehicle Type
Panel Van (meets DOT standards)
Base Vehicle Condition
Used
Converter Type
Self Build - Handcrafted Start-up
Converter Condition
Used - Excellent
Maximum Weight (MAM or MTPLM)
2,900kg
Unladen Weight Verified?
NO - the vehicle has not been weighed since completion
Gas sign-off supplied
Gas free
Please note: Quirky Campers do not inspect the listings for accuracy or check campervans in person. We have asked sellers to provide evidence of certificates and paperwork however you MUST check yourself that the information provided is present and correct. You will need to exercise the normal due diligence when buying any vehicle.