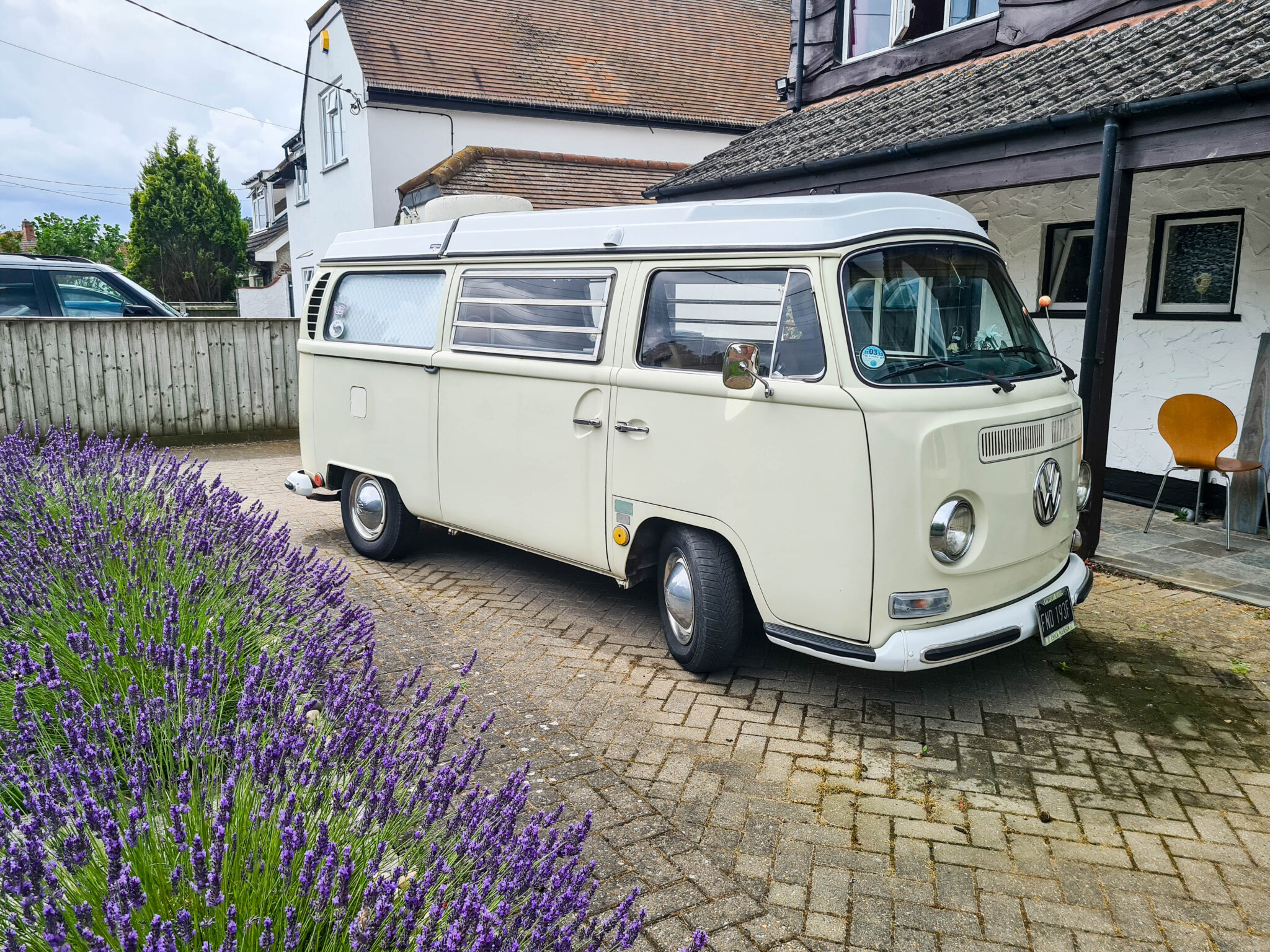 Vehicle Description
Our beloved Gladys is a very rare 67/68 Type 2 Westfalia with her original interior.
First registered in US on 1st Jan 1968, first registered in UK April 2009 (still has original California US number-plate). 2 previous UK owners.101,000 miles (we purchased in 2013 with 90,000 miles). All panels are straight and original, underneath is solid. Front floor replaced in around 2012 from previous owner, the only welding done was a small patch on front floor but decided to have whole floor replaced to give a better look.
Currently running a twin port 1600 with single carb with no issues, pulls strong and pretty good on fuel. In seven years of owning her she starts first time every time. I have her looked at at the start of every season by a local mechanic who has owned VW's for over 30 years, any work that is needed has always been done. Genuine German front and rear drums. Deluxe front grill, Deluxe Bumper trims, Quiet single pack exhaust.
Colour is L87 i think….. probably best colour. Recently had driver and rear side sprayed due to scratching the paint. Slight difference in new paint colour as matching colour to original is a very difficult job.
It has standard but rare 68 interior all in excellent condition for her age. The spare wheel that originally sat in the rear has been replaced with extra cushion which makes a big difference for two adults sleeping. Double roof bed for two small people and front Hammock too. Can take 4 passengers plus driver with seat belts for 3 people in rear.
It has a leisure battery with RCD Unit and 240 Volt hook up. 2 double sockets and 3 12 volts sockets. No alloys – not a fan. Only modernisation is the stereo in the front which pairs to your phone. It has been lowered slightly which gives a great look and a slightly stiffer ride.
If we were keeping her we'd probably look to replace the canvas for the pop top (current one has a small tear) in the next couple of years but not a job that needs doing.
Sounds amazing….smells amazing!! No road tax required, insurance costs us around £200 per year including breakdown cover.
Not desperate to sell but purchase of T6 means she won't get used as much now and she deserves to be enjoyed and shown off, we would like another family to enjoy her as much as we have. Open to sensible offers around the asking price and she's worth every penny.
Beds Description
Rock N Roll Bed downstairs and pop top bed for 2 small people upstairs.
Registered Vehicle Type
Other - see description for explanation
Base Vehicle Condition
Used
Converter Type
Professional - Factory Fit
Conversion Condition
None - Base Vehicle Only
Maximum Weight (MAM or MTPLM)
3,500kg
Unladen Weight Verified?
NO - the vehicle has not been weighed since completion
Gas sign-off supplied
None
Please note: Quirky Campers do not inspect the listings for accuracy or check campervans in person. We have asked sellers to provide evidence of certificates and paperwork however you MUST check yourself that the information provided is present and correct. You will need to exercise the normal due diligence when buying any vehicle.