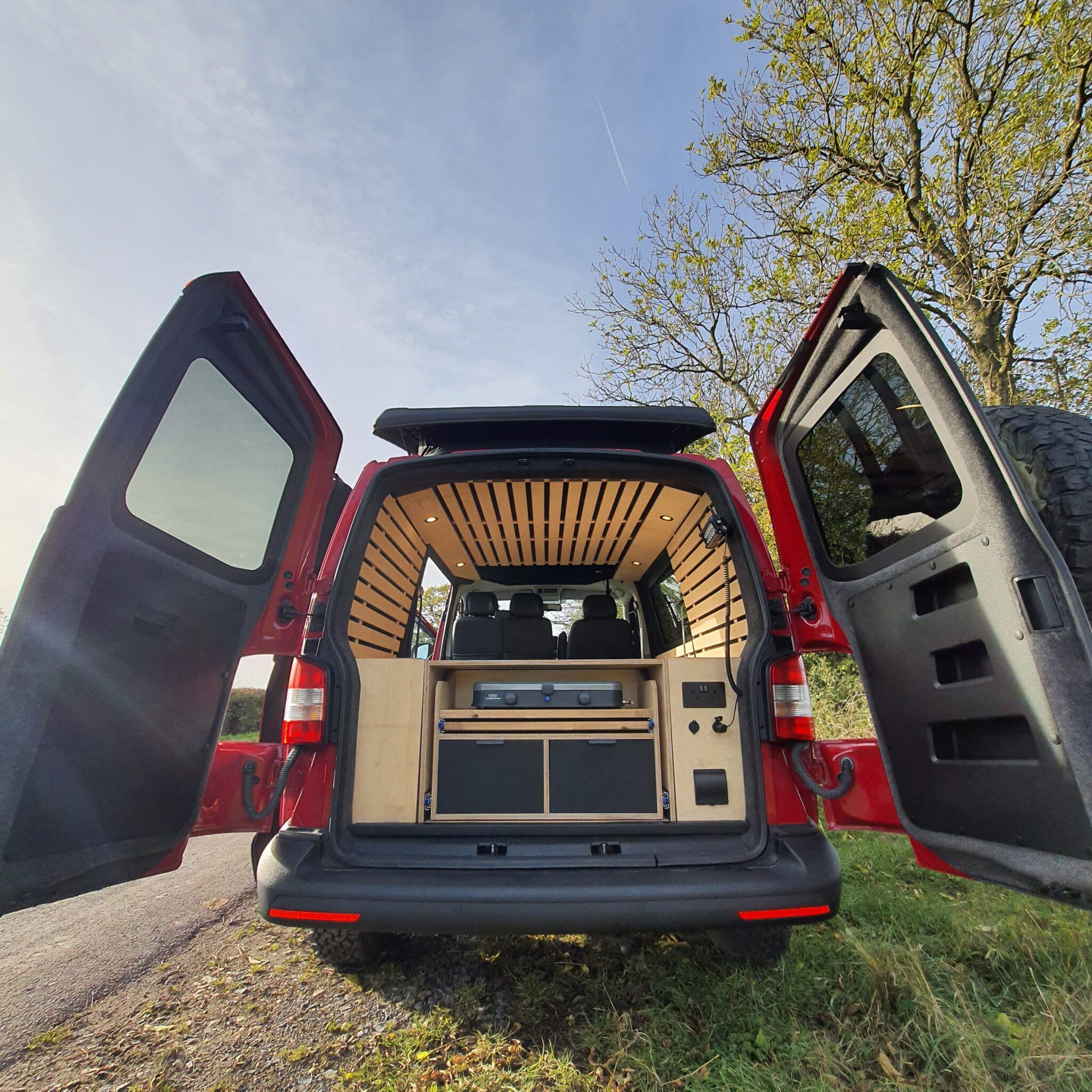 £39,500
Volkswagen Transporter T5.1 4Motion T32 Highline 2.0TDI 140BHP
120,000 miles
Vehicle Description
VW Transporter T5.1 2014 Highline Kombi
T32 4Motion 2.0 TDi 140BHP with Diff Lock (very rare!)
120,000 miles
Full Service History
Recent Service + MOT
MOT Until September 2022
1 Previous Owner
Beds Description
UP – Storm Pop Roof with 120cm wide x 210cm long roof bed + comfy 50mm custom upholstered memory foam mattress
DOWN – 140cm long x 110cm wide guest/kiddie bed + comfy 50mm custom upholstered memory foam mattress
Conversion Description
Little Red has been designed, specified & built to be a totally unique, fully modular & super functional, off-grid adventure van that can comfortably travel 6 & sleep 4 (2 adults upstairs in the pop roof + 2 children downstairs) – with heaps of storage space for all your equipment & as well a pull-out kitchen for adventure cooking immersed in nature!
Little Red will happily take you wherever your next adventure calls – and take you there in rugged style! This rare 4×4 van with (4Motion System + Diff Lock) can take you on to a deserted beach or muddy field, beating the crowds every time for the ultimate freedom camping experience.
The VW 4Motion System is amazing, driving all four wheels at once to give superb grip when combined with the chunky BF Goodrich All Terrain Tyres. The rear differential lock option can be used if the terrain gets tricky with a simple push of a button, meaning the rear wheels of the van will keep driving you forwards – even when on rutted, muddy and bumpy tracks. The Seikel lift kit isn't just for looks, giving an additional 50mm of ground clearance and adjustable suspension settings should you need to tweak things. The full off-road package really is fantastic – resulting in an extremely capable off-road vehicle that can rival many dedicated 4WD jeeps & pick-ups!
This is a real chameleon of a van, modular in design with its flexible seating options that easily pop in and out giving you a chance to travel 6 people & go camping with 4! You can run the van with just the 3 up front (leaving the 3 kombi seats out, as well as the modular camping box) giving the full SWB Transporter load space of 2.4m – perfect for moving larger items in the van. Or you can pop the double kombi in to give seating for 5 or add the final single kombi seat to complete seating for 6. Leaving the camper box out still offers a massive boot space of 1.2m – ideal when you need to use the van as a people carrier or for a run to the shops! Adding in the modular camping box and loading up the coolbox gets you the full camper rig – ready for another adventure!
Every part of this build has been professionally hand-crafted and lovingly created by the Slow Road Campers team using the very best components & appliances – resulting in a high-quality van that you can enjoy & cherish for years to come…
We've absolutely loved having him as our daily driver for the past 10 months – and will be VERY sad to let him go – but go he must!
Read on for specs/features/components/appliances……………
Siekel Lift Kit installed by Volkstrek (2020)
BFG KO2 All Terrain Tyres on 17" VW Steel Wheels (Powder Coated Black)
Super flexible Kombi set up with double passenger bench up front, fitted with Kiravans swivel & 2+1 Kombi seats in the rear which can be easily removed to allow the van to be used as a cargo van.
Full Alpine System with ILX-F903D Head Unit (Sat Nav, Apple Carplay/Android Auto, Rev Cam, DAB Radio, etc), 100W In-Line Amplifier, Upgraded R-Series Component Speakers up front & G-Series 6×9 Speakers in the rear + Alpine HD Reverse Camera with VW Parking Sensors
Full Swamper Bodykit finished in Black Raptor
Wheel Arches & sills sprayed with Black Raptor
Wheeliams Rear Door Wheel Carrier in Black Raptor
Stiches + Steel Awning Multi Rail & Stitches + Steel Tarp Awning (check out here for more info https://stitchesandsteel.com/collections/awnings/products/s-s-tarp?variant=34602821943456)
Storm Pop Roof with roof bed + custom memory foam mattress
The rear cargo area has been stripped, fully sound deadened, insulated, vapour barriered, newly panelled & carpeted – then finished off with a unique Baltic Birch Plywood horizontal slatted style from floor to ceiling. Looks amazing! All Baltic Birch has been treated & finished with Osmo Clear Matt Top Oil. The rear cargo floor has been fully sound deadened & a solid 14mm engineered oak flooring laid. For additional storage, the rear barn doors and passenger sliding door have been fitted with Kiravans door store inserts, all finished in Black Raptor.
For your comfort & temperature control, there is a Miro Airo 2Kw Diesel heater with thermostatic control mounted under the van – with the heater outlet & control installed at the rear of the driver's seat. A quick 5 minute blast gets the living space toasty warm!
The electrical system is pretty serious – with a 110Ah TN Power Lithium Leisure Battery, Victron Orion DC to DC Charger (30Amps), Victron BMV712 Battery Monitor, Victron Multiplus Compact 1600W Inverter/Charger (70Amps) + Digital Multi Control. This powers the LED touch dim spot lights, diesel heater, Dometic CFX35 Coolbox + a couple of quick charge USB outlets + a couple of standard 12v cigar style outlets. From the Multiplus there are also 2x double 230V sockets for laptop charging & running 'household' appliances (rated up to 1600W). There is a 230V Hook Up Inlet to allow mains hook up charging and operation of the electrical system via Hybrid Power Assist when available.
In practical terms, this system is capable of running the coolbox, lighting, USB charging and the odd hit from the inverter for laptop & cooking appliances without driving or plugging into mains for easily 5 days.
In the cargo area behind the Kombi seats is a modular (so can be removed) camping kitchen set up that pulls out from the rear barn doors on heavy duty full extension lockable drawer slides. The camping kitchen is constructed from Baltic Birch Plywood & staved Oak timber for the work surfaces. There is a great space for your choice of a camping gas double burner stove or induction (wattage depending). Underneath is a handy pull-out solid oak worktop/cutting board. Beneath that are 2 good sized drawers to store kitchen utensils, cookware & food. The awesome Dometic CFX35 Coolbox is stored on the opposite side of the camping kitchen, accessed from within the van. It can easily be moved around the van and used in various locations once set up to camp via the multiple 12v outlets.
The way we've designed the kitchen unit to fit into the rear cargo space between the two wheel arch storage boxes (passenger side houses the awning kit, factory jack & mains hook up lead + plenty of room for more! / driver side houses the mega-electrical system), with a custom mattress laid across the width of the van to create a great sized kiddie bed (140cm across the van x 110cm 'wide') or cosy adult guest bed/chill out area.
We built the van specifically for us as our daily driver, which would comfortably travel up to 6 people and sleep 4 (2 adults upstairs + 2 kids downstairs).
We've just come back from a wicked trip up to the highlands of Scotland and the van was an absolute joy on the long, beautiful & winding NC500 route. With the fantastic four wheel drive capabilities – you never have to worry about where you put the van on the road, or when you park up somewhere for a wild overnighter. He's also taken us out to Pembrokeshire – as well as countless day trips & weekenders around Devon & Cornwall.
He'll be sadly missed – but the time has come to pass him on to the next intrepid adventurers. Will it be you?!
The van will be sold privately by us (the owners of Slow Road Campers), rather than through the business – so no VAT will be applied.
We're happy to offer the buyer our usual 6 month warranty on all of the campervan build elements of the van (excludes any mechanical, bodywork or specifically 'vehicle' elements). Any appliances and components would be the responsibility of the buyer to register with the manufacturers (as per our Bespoke Builds)
There's a couple of images of the van in-build on our Instagram here: http://www.instagram.com/slowroadcampers
We also have heaps of other pictures – happy to send more over if you'd like?!
Also happy to do a video call walkaround prior to a viewing if required…
For the full range of vans we've built, please check out here: https://www.slowroadcampers.com
The van is available to view/test drive in Lea, Wiltshire, SN16 9PD.
Also very happy to field any additional questions anytime.
07549 768447
Registered Vehicle Type
Panel Van (meets DVLA standards)
Base Vehicle Condition
Used
Converter Type
Professional - Handcrafted
Conversion Condition
Used - Excellent
Maximum Weight (MAM or MTPLM)
3,200kg
Unladen Weight Verified?
NO - the vehicle has not been weighed since completion
Gas sign-off supplied
Gas free
Created by an approved Quirky Converter
Please note: Quirky Campers do not inspect the listings for accuracy or check campervans in person. We have asked sellers to provide evidence of certificates and paperwork however you MUST check yourself that the information provided is present and correct. You will need to exercise the normal due diligence when buying any vehicle.