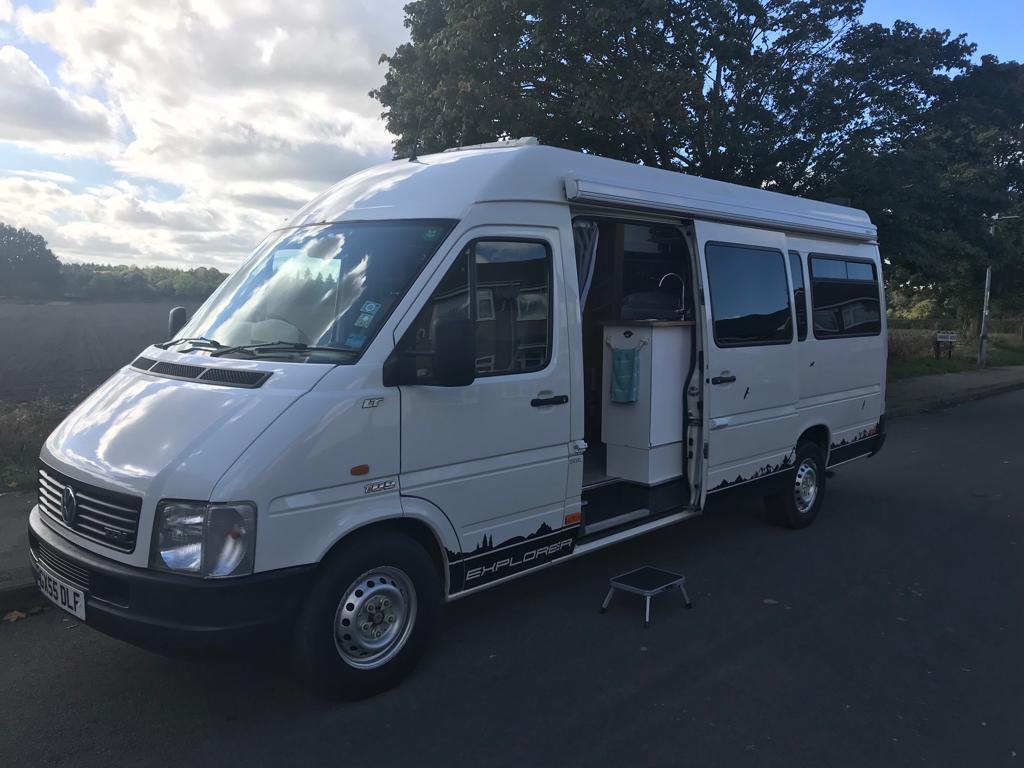 £32,950
Volkswagen LT35 2.5TDI LWB
71,650 miles
Vehicle Description
The van has a remarkably detailed service history and is in excellent condition for its age, there is no rot anywhere on the frame or chassis. The bus was operated by London Hire as a disabled minibus with a hydraulic lift. The service history pack that I received with the camper is 2cm thick detailing everything ever done to the van. The DVLA MOT history checker shows all MOTs and an average of 4000 miles driven per year.
I purchased the van on quirky campers in May 20, after a semi-professional conversion, to use as a base for climbing and paddle boarding and it's been faultless! I purchased the van at 62,000 miles and have driven just under 10,000 in 18 months. Here is a list of maintenance/servicing that I've had done since the purchase:
62337 miles – Thorough mechanic inspection upon delivery, new vacuum pump and brake fluid, new oil and filter.
63486 miles – New cam belt and water pump as these had not been changed from new.
67429 miles – All glow plugs replaced due to poor cold weather starting.
68500 miles – 2 new front tyres and oil and filter replaced by VW in North Macedonia.
The van is registered as a 'van with side windows' as when I applied 6 months ago the DVLA did not think that the graphics were obvious enough that it was a camper. They were satisfied in all other respects and the associated letters will come with the service history should you wish to add further graphics and apply again. The van weighs in at 3080kg with driver and drinking water (not certified) and has an MOT until 11 May 22.
Beds Description
1 double bed 1.4m x 1.8m (4'6 x 6'0)
1 single bed 0.6m x 1.8m (2'0 x 6'0)
Conversion Description
My wife and I have been all over the UK in all seasons and had an incredible time. In August this year I managed to secure 10 weeks off work, so we headed south through France, Italy and then Greece including several Greek islands. This once in a lifetime trip allowed us to enjoy the most magical scenery, culture and food and the off-grid nature of the van meant that we had the most fantastic sunsets and sunrises on deserted mountain tops, vineyards and island beaches. The van was truly superb and did not miss a beat during the whole 5500 mile trip.
However, I have now been sent to work in Cyprus and shipping the van is eye wateringly expensive, so we are sadly selling the van before flying off to our new lives. If you're looking for a lovingly cared for van that has not previously been a tradesman's workhorse this is the one. It is a fantastic camper.
Built in features:
4'6 x 6'0 double bed with memory foam mattress and cool max cover,
2'6 x 6'0 single bed below the main bed (blue material on the pictures),
2x captains chairs in the front allowing 4 to sit around the table together,
12v electric 40L absorption fridge which is silent,
2x 100w roof mounted solar panels with a Victron charge controller,
Split charge relay to charge the 2 under seat leisure batteries whilst driving,
Techsine TS1000 inverter with 2x UK plug and 2x USB socket,
Internal LPG tank, refillable at most petrol stations via an external connection,
Thetford LPG 2 ring hob,
Daewoo microwave,
Remote control diesel heater,
Remote control, dimmable lights along the length of the van and above the hob,
Reading light and water bottle holder above the bed,
Rewire security DB2 GPS Tracker with GPS Live app, subscription until Jul 22,
Vibration sensing alarm (very basic but works well),
Milenco van door dead locks on the sliding and rear doors,
Hidden electronic safe bolted to the frame, 4 digit code and back up key,
Air suspension with a pressure gauge by the driver's seat & 12v compressor,
Battery operated Co2/smoke detector,
Mains wired LPG Gas detector by the floor,
2x fire extinguishers – one by the driver and the other in the wardrobe,
Wireless reversing camera mounted on the roof, activated by the reverse lights,
Pioneer stereo and 160w active amplified subwoofer – 2x Bluetooth connections and USB,
6 Kenwood speakers, 2 in the cabin, 4 in the living space ceiling,
Tow bar rated to 130kg nose weight,
Scooter/motorcycle rack and warning sign for Italy and Spain (worth £350),
Full length Fiamma F45 awning in light blue,
Huge under bed storage area with D rings and hooks installed for securing luggage,
Overhead cockpit storage for 2x yoga/sleeping mats,
Large, opening skylight,
Shower/toilet cubicle and drain made from marine plywood and sealed with varnish,
Professionally installed 'Explorer' graphics from Beatnik Decals.
Extras included in the sale:
Fiamma duo safe front door, security bar,
Stoplock pro steering wheel lock,
Fiamma levelling chocks,
16A campsite power adapter with 3 UK plug and 2x USB sockets (does not plug into van),
Fiamma awning hooks to hang lights/plants etc,
Fiamma awning bad weather tie down kit,
Reimo Hulsberg window air vent grills,
New Dometic Patrol 20L cool box – Slate,
Hand pump shower,
Porta Potti,
Bamboo shower mat – used outdoors for showering off sand at the beach,
Numerous bungees and nets used to secure the storage area,
Mosquito netting for the between the rear doors and the bed as well as for the skylight,
All window curtains and shower curtain,
All cutlery, plates, glasses, kettle and cafetiere to get you on the road ASAP.
Registered Vehicle Type
Other - see description for explanation
Base Vehicle Condition
Used
Converter Type
Professional - Handcrafted
Converter Condition
Used - Excellent
Maximum Weight (MAM or MTPLM)
3,500kg
Unladen Weight Verified?
NO - the vehicle has not been weighed since completion
Gas sign-off supplied
None
Please note: Quirky Campers do not inspect the listings for accuracy or check campervans in person. We have asked sellers to provide evidence of certificates and paperwork however you MUST check yourself that the information provided is present and correct. You will need to exercise the normal due diligence when buying any vehicle.