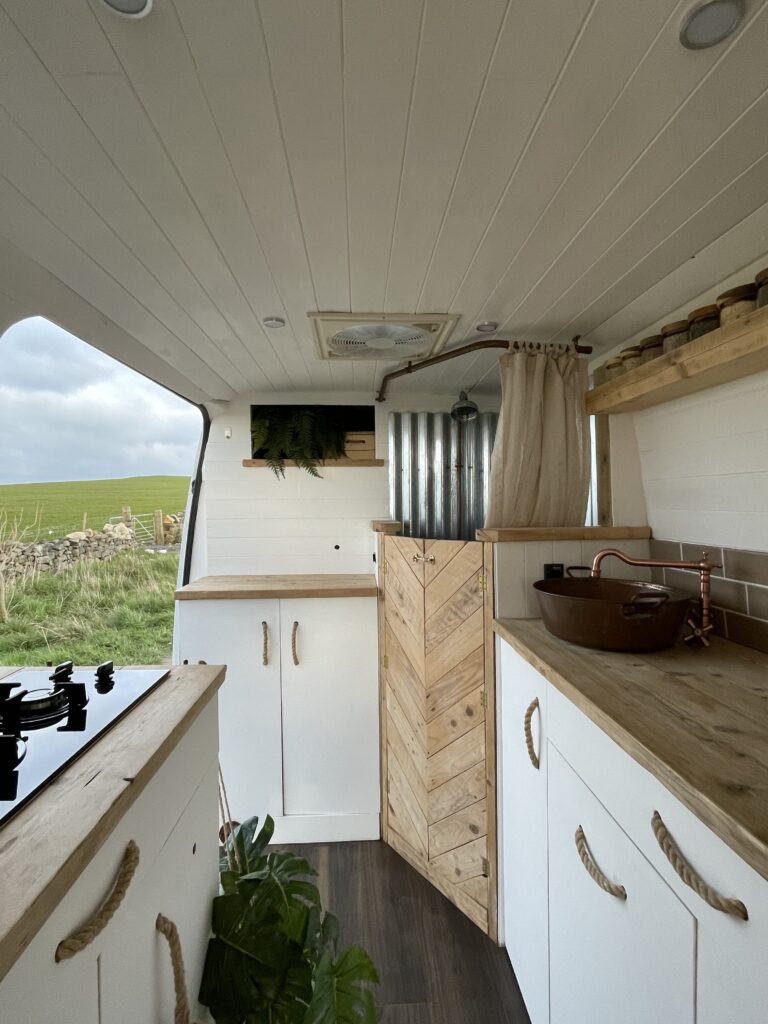 £49,500
Mercedes Sprinter 313 CDI LWB
Used
78,000 miles
2 Berths
Vehicle Description
White Mercedes Sprinter LWB 2016 (Euro 6 / ULEZ compliant) manual van in great condition. Diesel, full service history. MOT'd and fully serviced before handover.
Beds Description
The large sofa area tuns into a double bed super easily, by pulling out a top draw from one side to join the other bench. There's space the length of the bed underneath, suitable for dog owners. The cushion covers have been upholstered with a beautiful and soft material, with a zip alongside each one so that they can be washed instead of using a bottom sheet.
Conversion Description
This 2020 conversion is the ultimate off-grid space, a calm and spacious home with a neutral interior to nourish the soul.
From the organic materials to the aged brass detailing, this is a home to be envied.
The layout is optimum for space and looks. One of the best features of this conversion is the floor space, ability to walk all the way from one end to another, and all without crouching (unlike many vans).
A great space for part or full time van dwellers, holidays and rental businesses. This type of van rents for up to £200 a night, from April to September that's up to £36k a year.
Fundamentals
– Sheep's Wool Insulation
– Laminate Flooring for Easy Cleaning
– Linen Curtains with Brass Curtain Rails
– Firm Foam Upholstered Bed
– Overhead Shelving
– Portaloo
– White Plywood Walls
– Brass Basin and Tap
– Brass Shower Head and Piping
– In-Cupboard Fridge
– Large Corrugated Shower
– Rug Runner, Cup Hooks, Kitchen Shelving
Electrics
– Solar Panel
– Campsite Hook Up
– Leisure Battery
– Inverter
– 4 Internal USB Ports
– Plug Sockets
Heating & Gas
– Malaga Water Heater
– Under Slung LPG Tank with External Fill point & Internal Gas Level Dial
– Diesel Heater
– 2 Burner Gas Hob
– Gas Safe Certificate
Windows
– Large Kitchen Ventilation Fan (In & Out)
– Large Window on Sliding Door
– Windows on Rear Doors
Water
– 100L Fresh Water Tank, External and Internal Fill Point
– 35L Underslung Waste Water Tank
– Water Heater for Sink and Shower
As you walk through the side door you enter the kitchen and bathroom area, with long deep countertops, there's lots of room to prepare food or decorate your living space if you're static for a while. There is a large sink and two burner gas hob atop the natural wood countertops.

Hidden underneath resides a fridge, and storage for food and kitchenware. The sink and shower have hot water which, with the cooking appliances, runs off of a 15L underslung LPG tank, refillable from the outside, there is an indoor gas dial to tell you how full it is. The heater can also be powered by electricity.
The shower's low barn-style doors allow you to have that dreamy shower with a view.
This van is designed to be totally off-grid. The 130AH leisure battery is charged by a rooftop solar panel, your vans smart alternator whilst you drive and a 240v hook up for when you park up.
The warmest source of ambient lighting are the LED backlights in cubbyhole and shelve units. Spotlights are positioned throughout it you want full and bright lighting.
To the rear of the van is the seating and bedroom area, this houses lots of storage space, a 100L fresh water tank refillable from the outside or inside.
Registered Vehicle Type
Panel Van (meets DVLA standards)
Conversion Condition
Used - Excellent
Belted Seats
3 Belted Seats
Vehicle Length
6.85 meters
Vehicle Height
2.50 meters
Maximum Weight (MAM or MTPLM)
3,500kg
Unladen Weight Verified?
NO - the vehicle has not been weighed since completion
Gas sign-off supplied
Gas Safe Certificate
Please note: Quirky Campers do not inspect the listings for accuracy or check campervans in person. We have asked sellers to provide evidence of certificates and paperwork however you MUST check yourself that the information provided is present and correct. You will need to exercise the normal due diligence when buying any vehicle.