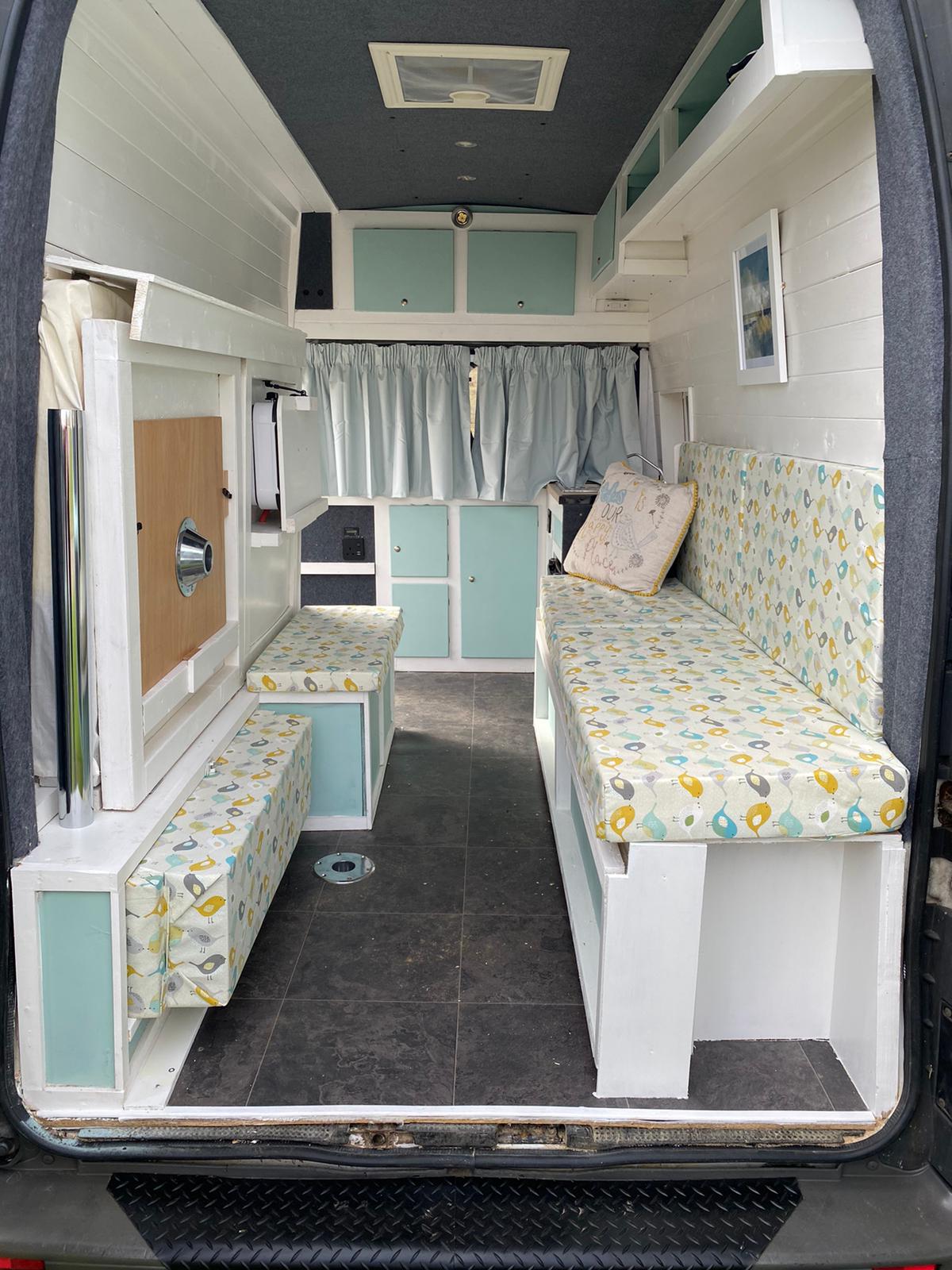 Vehicle Description
2.0 Litre, 6 speed manual, diesel. Service history with last service done Jan 2021. Will have full 12 months MOT. New Gearbox and Clutch fitted Sept 2020. New starter motor and battery Jan 2021.
Conversion Description
Lovely spacious van but small enough to park in supermarket car parks or tourist venues. I have converted this myself initially to use on my retirement but this is now 2 years away so decided to sell with a view to doing another nearer the time. This vehicle drives superb with excellent comfort and economy.
Hob and table fold away to provide extra space and when the bed is in use meaning with the extra few inches provided by the long wheel base there is still room to use the sink and toilet without having to move everything in the middle of the night. Additionally the high top provides standing room inside so no bad backs from crouching.
Fully insulated with all the following being brand new. Electric hook up with 2 way consumer unit, 240v sockets withintegrated USB ports, split charge relay to charge leisure battery without draining starting battery, 12v ceiling and mood lighting with additional USB socket, SMAD 30 litre 2 way fridge, 2 burner gas stove, roof vent, side window with 2 integrated blinds, rear porthole windows, deep sink with 12v tap and water tank linked to exterior refill mount, portable toilet, drop down side mounted bed with 4 inch foam.
Please note: Quirky Campers do not inspect the listings for accuracy or check campervans in person. We have asked sellers to provide evidence of certificates and paperwork however you MUST check yourself that the information provided is present and correct. You will need to exercise the normal due diligence when buying any vehicle.
Make and Model
Renault trafic LWB Hi-Top
Current Mileage
170,000miles
Registered Vehicle Type
Panel Van (meets DOT standards)
6 foot long full width fold down bed to comfortably sleep 2 adults
Maximum Weight (MAM or MTPLM)
3,010kg
Unladen Weight Verified?
NO - the vehicle has not been weighed since completion
Gas sign-off supplied
None