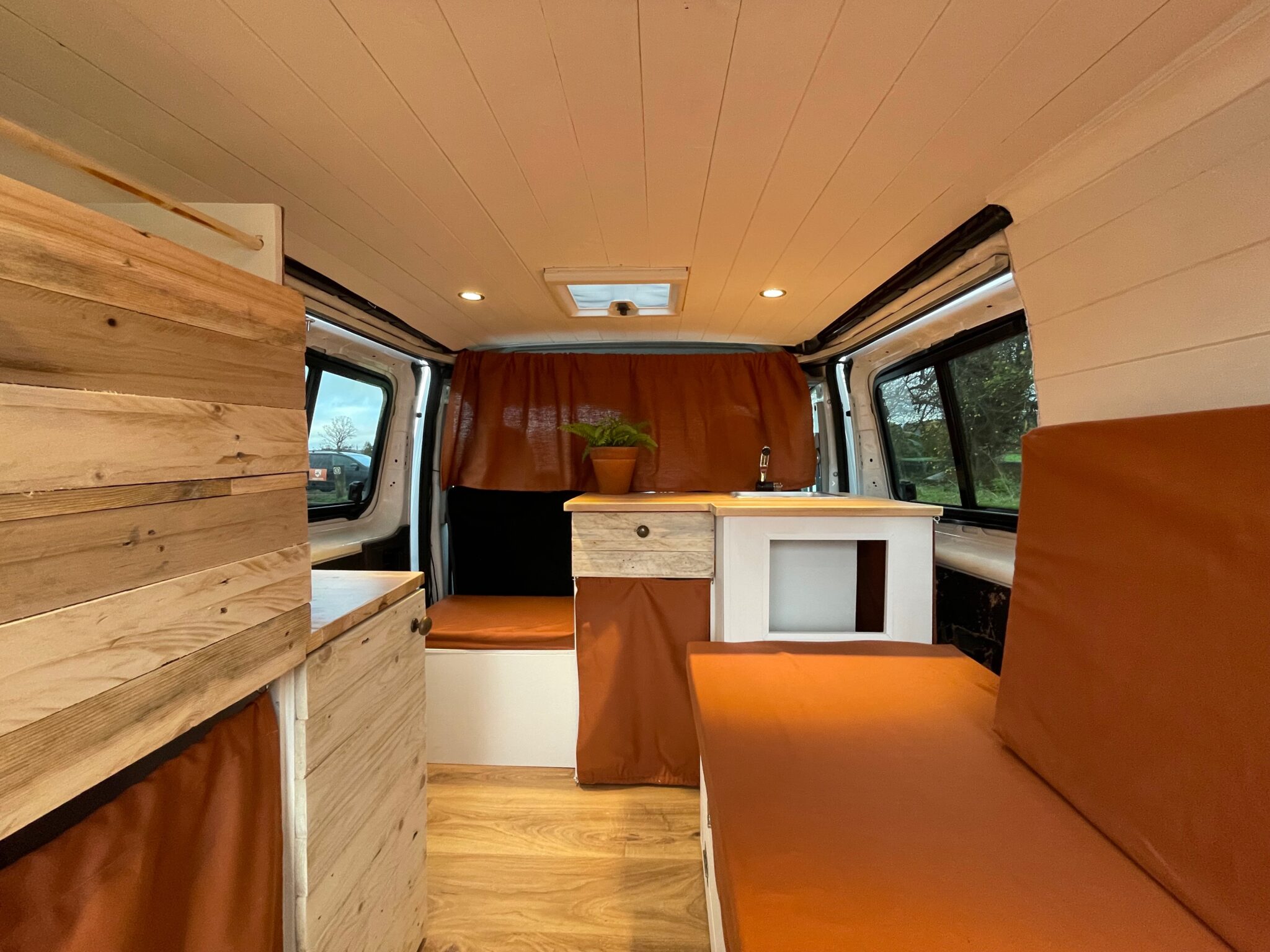 Vehicle Description
2013 Citroen Dispatch 1200 L2Hi HDI 1560CC
Diesel
5 gears
MOT
Valid until May 2022. All advisories from previous MOT have been rectified: All bulbs have been changed, Drive shaft fixed.
Service
The van has recently undergone a full service which can be seen in the service log book along with all previous services.
Bodywork
The body of the van is in great condition, there a slight dent in a rear bumper but otherwise spotless.
Beds Description
L shaped seating area that transforms into a double bed (175cm long) made of 7cm high density foam for a firm bed/ seat with custom made upholstery
Conversion Description
Caratel Campers
We are campervan builders who love building and creating cosy homes on wheels, where you can get out and see the UK or further afield in comfort and style. We try and use as much reclaimed materials as possible to create a bespoke one of a kind campervan.
We love the size of this van as it is an ideal day to day van but is also the perfect size for your next adventure.
Internal fittings
Fully insulated 25mm celotex on walls and floor and recycled plastic
Timber cladding through out the interior
Seating/ Bed
The L shaped seating is made up of 7cm high density foam for a firm bed/ seat with custom made upholstery. The sofa transforms into a double bed by sliding the slats out from underneath the seat.
There is an additional seat by the sliding door which also houses the Domestic fridge and is a great space for putting your shoes on before going on your next adventure. We have also created a pull down table where you can either work from or a perfect spot to enjoy a cosy meal.
Kitchen
There is an L shaped kitchen at the front of the van which houses a sink and tap which are pumped by a Whale pump from a 10L water canister that can be accessed by the other sliding door. There is also a 10L water waste canister.
The kitchen units are made bespoke for this van and contain a lot of storage space. There is a Dometic Tropicool TCX14 portable fridge hidden under the low seat which is connected to the mains power but is also portable.
Electrics
1x 110ah AGM leisure battery
15psi Whale pump
240V mains (signed of by an electrician)
Victron Blue Smart IP22 Bluetooth Battery Charger – 12V 15A, 1 output
Renogy 100 Watt 12 Volt Monocrystalline Solar Panel
Victron Smart Solar 75/10 MPPT Charge Controller
Victron Orion-Tr Smart 12/12 18A Isolated DC-DC Battery to Battery Charger
Victron Smart Shunt bluetooth monitor
LED ceiling lights
2 x USB ports
1x 13amp socket for use when connected to mains at a campsite
We only use Victron products where applicable as they come with a brilliant warranty but are (in our opinion) the best on the market and worth spending that bit extra for piece of mind. All items are bluetooth enabled and so can be viewed at any time on your mobile device from the Victron app.
Storage
There is a lot of storage in this campervan as we know how vital this is. There are 2 pull out drawers which can be accessed from the rear of the van, one contains a portable cooker – Camplux JK-8620 Portable 2 Burners and the other for more storage.
We welcome any questions so please do feel free to get in touch. You can also see some of our previous builds on our website or Instagram page.
Registered Vehicle Type
Panel Van (meets DfT standards)
Base Vehicle Condition
New
Converter Type
Self Build - Handcrafted Expert
Maximum Weight (MAM or MTPLM)
2,000kg
Unladen Weight Verified?
YES - the vehicle has been weighed since completion
Gas sign-off supplied
Gas free
Please note: Quirky Campers do not inspect the listings for accuracy or check campervans in person. We have asked sellers to provide evidence of certificates and paperwork however you MUST check yourself that the information provided is present and correct. You will need to exercise the normal due diligence when buying any vehicle.